Liverpool's prized asset: Trent-Alexander Arnold
Last season, Jurgen Klopp and Fenway Sports Group made no extravagant transfers. Liverpool still managed to finish in the top four and earn a Champions League spot from which they derived full value. They are in the semi-final this week against Roma. The Reds went trophyless in 2016/17 but delivered a warning to the rest of the Premier League. They were coming.
The Reds have had an average reputation for producing youngsters. That has changed under Klopp. In the U17 FIFA World Cup, Ryan Brewster led from the front, among an Anfield contingent in the team, and had an amazing tournament. Ben Woodburn was named U19 captain by none other than Steven Gerrard. But there was another country boy. Trent-Alexander Arnold won the Young Player of the Season award last year after breaking into Klopp's plans. After a stunning season as the German's preferred right back, the youngster with three first names is drawing comparison to a Merseyside legend with two, the aforementioned Steven Gerrard.
Arnold made his first-team debut just two weeks after his 18th birthday pulling on the famous red shirt at Anfield against Tottenham Hotspur in the fourth round of the League Cup in October 2016. He featured 12 times across all competitions in the 2016-17 campaign. This season, he's more than doubled that, surprising everyone, Klopp included. Unbeknown to most, he'd learned from past masters.
When I'd go to Anfield, I wouldn't really watch anyone else. I'd be staring at them two (Jamie Carragher and Steven Gerrard). Being able to see someone in the first team who's come up the same way that you have, played on the streets, and the fields, and the Sunday League pitches of Liverpool, it gives you that bit more motivation.
His fascination with the two key players in Rafa Benitez's squads might explain why Alexander performs much better in the Champions League than domestically. He manages 5.5 tackles and interceptions per 90 in Europe but only around four in the league. It's an indication he must still develop physically.
Goals in Europe in 17/18:

Trent Alexander-Arnold: 2
Everton: 2
The criticism isn't to say he's disappointed against Premier League teams. Facing Manchester City in the Champions League quarter-final, he was the most influential player on a pitch that also boasted Mo Salah, Roberto Firmino, David Silva, Kevin de Bruyne, Vincent Kompany and former Liverpool winger Raheem Sterling.
When team sheets were announced, it was shocking to see the local boy given the assignment to contain Leroy Sane. He had struggled versus Man United's Marcus Rashford and against Crystal Palace star Wilfried Zaha at Selhurst Park. He was the youngest English player to start a Champions League quarter-final game. City and Sane were licking their chops at the opportunity. Critics wondered what Klopp was thinking. Was it to promote a native son in front of the Kop? Klopp put that theory to rest.
The reason he is playing is not because he is Trent or a Scouser. It's only because of his quality.
Arnold proved the doubters wrong and deepened Klopp's trust. He completely nullified Leroy Sane on the wings, winning the Man of the Match award on both the occasions he had faced the German winger. There was no panic, only composure, over the two legs. His maturity is astounding for a teenager. He has also become the latest tip hoping to break into 23-man England squad.
Style of play
Trent is the ideal athlete: tall, lean, strong, and fast. It gives him an edge against his peers. It's his football brain that allows him to compete with his elders, however. He is tactically astute, can read the game, and anticipate opponents' intent. That level of comprehension helps him contribute at both ends of the pitch.
During his academy days, he played as a central defensive midfielder. Many players have played both the CDM and RB position in the recent past. Bayern's retired captain Phillip Lahm is perhaps the most skilled at both. As a midfielder, Alexander-Arnold's ability to intercept passes became exceptional. His reflexes allowed him to knock off any attacker driving forward. Arnold can also switch plays, always overlapping and exchanging positions with his other full-back.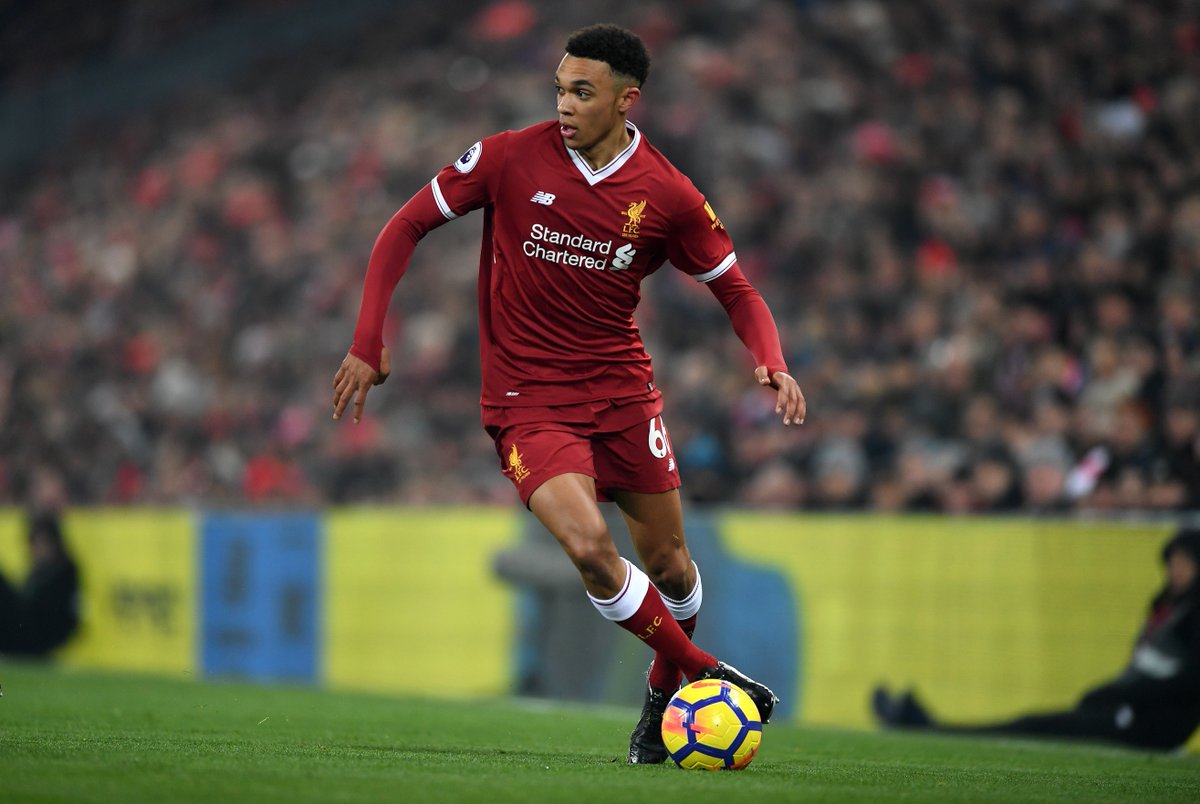 Trent Alexander-Arnold's game by numbers vs. Bournemouth:
103 touches
100% take-ons completed
69 passes
10 crosses
7 long balls
4 interceptions
4 chances created
3 tackles won
1 assist
Phenomenal display (again). 🔴
https://t.co/ATCp44qTmi
He is also a great dribbler. Klopp loves his full-backs to have that quality. It can cause havoc in the final third. Against Tottenham in 2016, Arnold confounded Steve Davies with his excellent anticipation and awareness down the halfway line. Another Steven who knows the player well had the following to say.
Trent Arnold has a terrific chance of making it as a top professional. He's quite leggy but he's got a lovely frame and seems to have all the attributes you need. He has the right attitude and comes from West Derby, home to Melwood. So Trent is another Scouser and apparently, just as I tried to be John Barnes and Steve McMahon, he grew up pretending to be me while playing in the Merseyside parks. He can play as a number six, a holding midfielder, but he's versatile and I've seen him fill various positions. I know England are all over him. -- excerpt from Steven Gerrard's 2015 memoir, My Story.
It would be a mortal sin not to mention the youngster's passing abilities. The Englishman has a >90% pass completion rate this season both in Europe and the Premier League. He is always involved in build-up play, free kicks, taking corners, and regularly teaming up the front three and driving the Liverpool forward line. It came as no surprise when his extraordinarily accurate curled ball eluded Nathan Ake and arrived perfectly for Mo Salah to do the rest against Bournemouth. Arnold was awarded the man of the match. Again.
What's next?
His 30th appearance this season triggered a pay raise for the teenager. Now, it is reported the club will offer the 19-year-old a four-year deal to keep him at the club. The future is very optimistic. Trent Alexander-Arnold has overwhelmed everyone this season and won Klopp's heart. Forget Mo Salah and Virgil van Dijk. The youngster is Liverpool's go-to man.