Why Valencia may rue Marcelino sack
Marcelino was axed as Los Ches boss after only three matches this season.
Forget Tuesday's Champions League victory at Chelsea. Ignore those flashy moments of individual brilliance in Camp Nou. Valencia is in a crisis born out of Marcelino's shocking dismissal. Los Che could rue parting ways with the manager.
Marcelino's exit wasn't entirely based on results but unrepairable differences with owner Peter Lim. While the Spaniard and Mateo Alemany enjoyed a harmonious relationship as coach and director, Lim was the odd one. He demands a monopoly of control.
Denis Suarez and Rafinha were both wanted by Marcelino in the summer. Lim and one of his advisors – super-agent Jorge Mendes – had other ideas. The two players instead ended up at Celta Vigo. Rodrigo Moreno's near departure to Atletico Madrid threw more fuel on an already raging flame, paving the way for an indifferent start to the campaign.
Valencia have picked up one victory from three La Liga matches. They started sluggishly with a 1-1 draw against Real Sociedad at Mestalla then crashed on the road in Vigo. Marcelino did get it right against Mallorca albeit too late as Lim had already made up his mind.
Such false start isn't strange under Marcelino. Valencia endured a six-game winless streak in 2018/19. There was a disappointing defeat to Espanyol, and helpless share of the spoils with Atletico Madrid, Levante, Real Betis, Villarreal and Vigo. Even when that run ended at Sociedad in November, Los Che entered another phase, failing to conjure maximum points in succeeding four matches. However, when they eventually found their rhythm, it lasted a long time.
Such was the case in Marcelino's two-year spell. In 2017/18, Mestalla faithful witnessed an unbeaten La Liga start which spanned 13 matches. Defeat to Getafe in December ushered another stage. Valencia dropped points in 10 games but still sneaked into the Champions League places. They repeated that feat last season.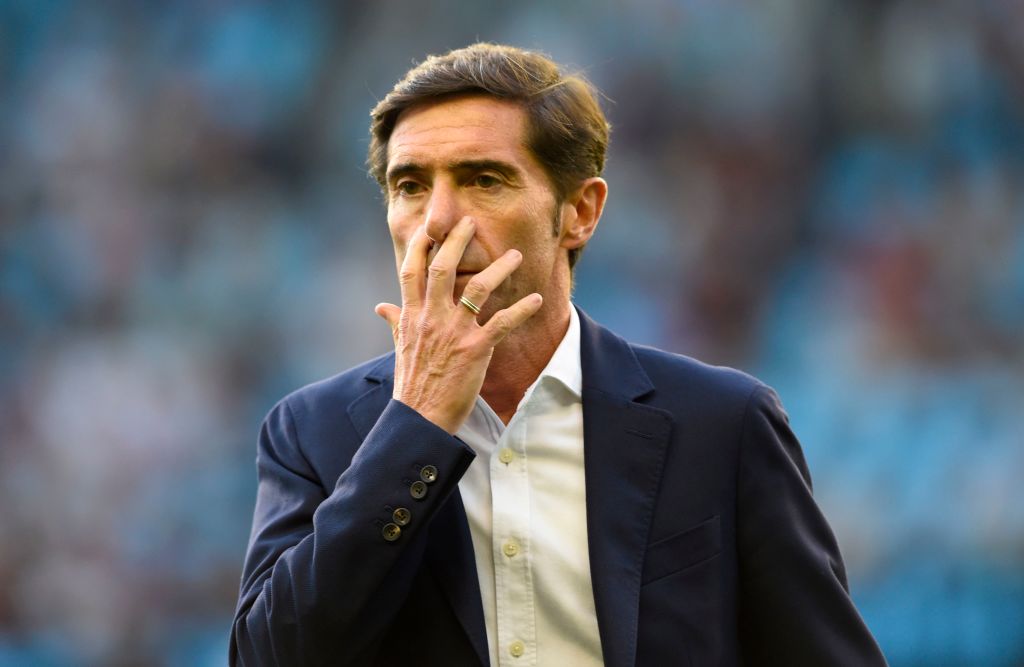 Marcelino LaLiga record with Valencia:
W 3⃣8⃣
D 2⃣4⃣
L 1⃣7⃣
Only Barcelona (5⃣) and Atletico (1⃣1⃣) have lost fewer matches during Marcelino's reign as boss of Los Che
https://t.co/8OqmiVPJFj
Marcelino arrived at Ramon Colony in 2017 when Valencia were flirting with relegation. They finished 12th in each of the prior two seasons, lurching through crises with six managerial changes in the previous 18 months alone. Under the Villaviciosa-born, Los Che twice finished fourth as well as beating Barcelona to win their first trophy in over a decade, the Copa del Rey.
Marcelino gave Valencia an identity. In a 4-4-2 system, his side always wanted the ball and, more importantly, craved for its return once losing it. They were attractive, fast, fluid and tough to break down. The gaffer afforded his wing-backs offensive license, approved wingers to cut in while the strikers roamed around the box. His defensive approach was compact, rarely allowing disasters in goal.
Marcelino had a special bond with Los Ches. Everywhere he's worked, players gave their hearts. Especially those he helped resurrect their careers. Outrage accompanied his recent sack. Ahead of the Champions League game at Chelsea, no Valencia player met the media on Monday night.
In terms of expertise and experience, there aren't many current serving managers in Spain on Marcelino's level. In fact, only Ernesto Valverde and Diego Simeone outperformed the ex-Villarreal gaffer in the last two seasons. During that time, Barcelona (five) and Atletico (11) were the only sides to lose fewer league matches than Los Ches.
Albert Celades appears to be already resisting the toxic environment inherited. Lim's new man followed up a difficult 5-2 defeat at Camp Nou with a powerful display in England. The owner may feel vindicated, more so judging by Marcelino's poor record against Barcelona and English teams.
The Celades experiment, though, may ultimately collapse. This is his first senior role in the dugout. The 43-year-old's coaching career had been almost entirely spent with age-group teams or as an assistant. Exuberance is insufficient in a robust Spanish top-flight. Valencia should have stuck with Marcelino.