Is Manchester United's best good enough?
You can't say enough good things about Luke Shaw. The Southampton-schooled Manchester United left-back was well on his way to an excellent career when a double leg break halted him in his tracks. After a long recovery, he then endured Jose Mourinho's relentless abuse to win back his starting job and an England call-up. As a defender, he's more tenacious than a junk-yard dog whenever an opponent breaches the left side of United's third. With the ball at his feet, he's a steamroller looking for asphalt. Given Paul Pogba's inconsistency and feud with Mourinho, not to mention David de Gea's season from hell, he's a fully deserving Manchester United Player of the Year and Player's Player of the Year. He deserved the day off on the final match day to make room for deserving academy players/
Unfortunately, that isn't enough good things to say about a fullback. As noted, his first instinct in possession is to look ahead to see if there is space to carry the ball forward. By comparison, Liverpool's Andrew Robertson looks further, hoping to find targets in the box or attacking third with whom to connect. A ball sailing through the air always arrives in dangerous positions before one dribbled along the turf. Jurgen Klopp's man creates goals. Ole Gunnar Solskjaer's does not.
Over the course of his eight-year first-team career, Shaw has ten assists in all competitions. Transfermarkt logs him in at 173 appearances totalling 13,680 minutes. Including his lone goal, he directly involves himself in a finishing move every 1,243 minutes or nearly 14 games. Compare that to Robertson. This season alone, the Scot recorded 11 Premier League assists and two more in the Champions League over 4,137 minutes. He hasn't scored for the Reds but his creativity results in a goal every 376 minutes or just over four games.
Paul Pogba rang a header off the bar in United's match against Huddersfield last week when there was still hope for United to qualify for the Champions League. He is a beast in the air as well as a trickster with the ball at his feet, regardless of the lack of respect some fans give him. Romelu Lukaku is another aerial threat. When Jose Mourinho was in charge, Marouane Fellaini was thrown on late as often to find a goal as prevent one. How much more dangerous would the Red Devils be with fullbacks like Robertson and Trent Alexander-Arnold [a goal and another 16 assists for the Merseysiders] whipping crosses into the opponent's 18-yard box?
Liverpool isn't the only successful Premier League club to exploit their left-backs' crossing ability. In 44 combined appearances, Manchester City's Benjamin Mendy [16] and Oleksandr Zinchenko [28] split 10 assists between them. Sead Kolasinac and Nacho Monreal contributed nine and seven helpers respectively for Arsenal. Danny Rose wasn't as integral to Tottenham's attack this season with five assists, Tottenham exhibiting their usual contrariness to most successful sides. The goals came from the right for the North Londoners by committee. Kieran Trippier [5], Serge Aurier and Kyle Walker-Peters [3 each] kept Mauricio Pochettino's front four well-fed. Maurizio Sarri isn't one to rotate players but Marcos Alonso [7] and Cesar Azpilicueta [9] bombarded their opponents for Chelsea.
Shaw upped his game in 2018/19 yet his five assists in 41 appearances come in at half the amount Mendy and Zinchenko produced for City, less than half for Robertson and less than a third of Kolasinac and Monreal's production. In essence, they are right-back numbers. When you factor in Antonio Valencia [0], Matteo Darmian [0], Ashley Young [3] and Diogo Dalot's[3] service from the right flank, it's evident Manchester United's lack of threat from those positions puts them at the bottom of the Premier League top six by some distance.
Fans and pundits point primarily to the central defence and defensive midfield as summer transfer window priorities for the Old Trafford outfit. They also want to see another creative midfielder, a proper right winger and maybe a centre-forward unveiled in June and July. Seldom do they discuss the fullbacks.
Dalot's three assists in limited appearances offer hope for the right-back role but it's the other side which tends to be more involved in the final third for their rivals. Maybe United should be in the market for a left-back with an eye for a pass.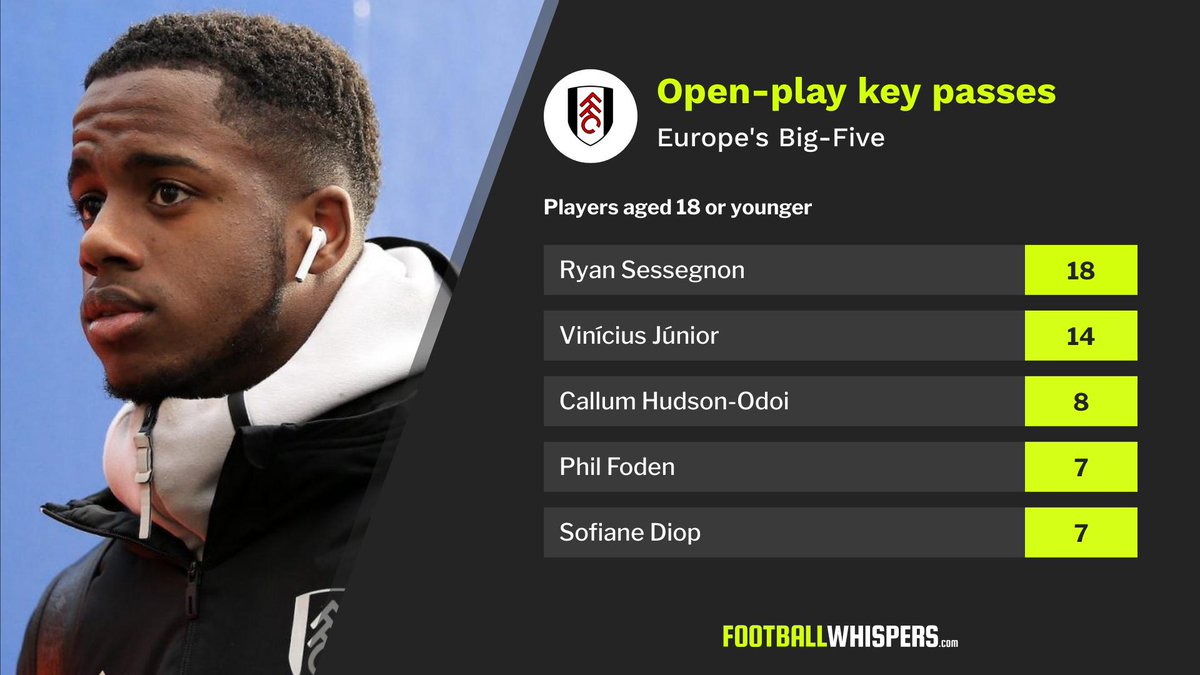 Ryan Sessegnon is set for Championship football again after showing loyalty to Fulham last summer. Should that loyalty be tested further?
Few other promising options exist. Monreal is 33, Fabio Coentrao 31. Jake Bidwell made a bit of noise with Queen Park Rangers but, at 26, isn't yet at Shaw's level. If they look further afield, Young Boys Loris Benito is 27 and provided a half-dozen assists in the Swiss Super League. He is as questionable as Bidwell.
If Sessegnon is the best option on the market, he should be United's target. They are too far behind Arsenal, Chelsea, City, Liverpool and even Spurs at left-back to gamble on potential or tiring legs. The 20-year-old logged a half-dozen assists in the Premier League even though Slavisa Jokanovic lost faith in him over the summer despite the youngster's stellar Championship campaign. Claudio Ranieri never gave him a proper chance.
The Londoner's gushing tweet after Tottenham's stunning fightback against Ajax further fueled rumours he's Spurs-bound. If that's the case, United can make a move for Danny Rose to rotate with Shaw. Maybe the competition will boost both their numbers.
Again, Luke Shaw made an evolutionary leap in the 2018/19 campaign. He plays for the shirt as well. It seems massively unfair to replace him in the starting XI. That said, unless Ole Gunnar Solskjaer is convinced Shaw can double down on his attacking play without forsaking his defensive responsibilities, a hard decision must be made. United are simply too far behind to settle for half measures.