Luton 2-1 Mansfield: Hatters edge Stags in second half comeback
With the Easter holiday games now completed we can look back at the English leagues. This time we'll be focusing in on a League Two clash between Luton Town and Mansfield Town. Luton have been hovering in second place for a while and Mansfield lurking just below the playoffs for a considerable amount of time.
Kevin Johnson was the match official for the clash at Kenilworth Road. A few corners and freekicks had been awarded during the opening stages,but nothing really came about until 21 minutes in. Hatters forward Danny Hylton shot from long range only for the ball to head well over Mansfield's goal. A few more chances came about in Luton's favour but the opportunities were missed. Mansfield's first real attempt didn't arrive until 30 minutes in. Zander Diamond's header from close range ended up over the bar from a resulting corner.
Mansfield found the breakthrough inside 34 minutes from a Kane Hemmings shot. The Oxford United loanee managed to seal his 11th goal for the Stags this season. Mansfield boss David Flitcroft would have been happy about scoring the first goal and they continued to carve out chances as the first half drew to its conclusion. With both sides heading in at halftime Nathan Jones would have been asking for more urgency from his players in the second 45.
Luton created chances but you'd certainly expect more from a team with their quality, while Mansfield proved to be more clinical in front of goal. Jones would have made his message clear. More chances, with better conviction, and they'd be more than capable of turning this match around.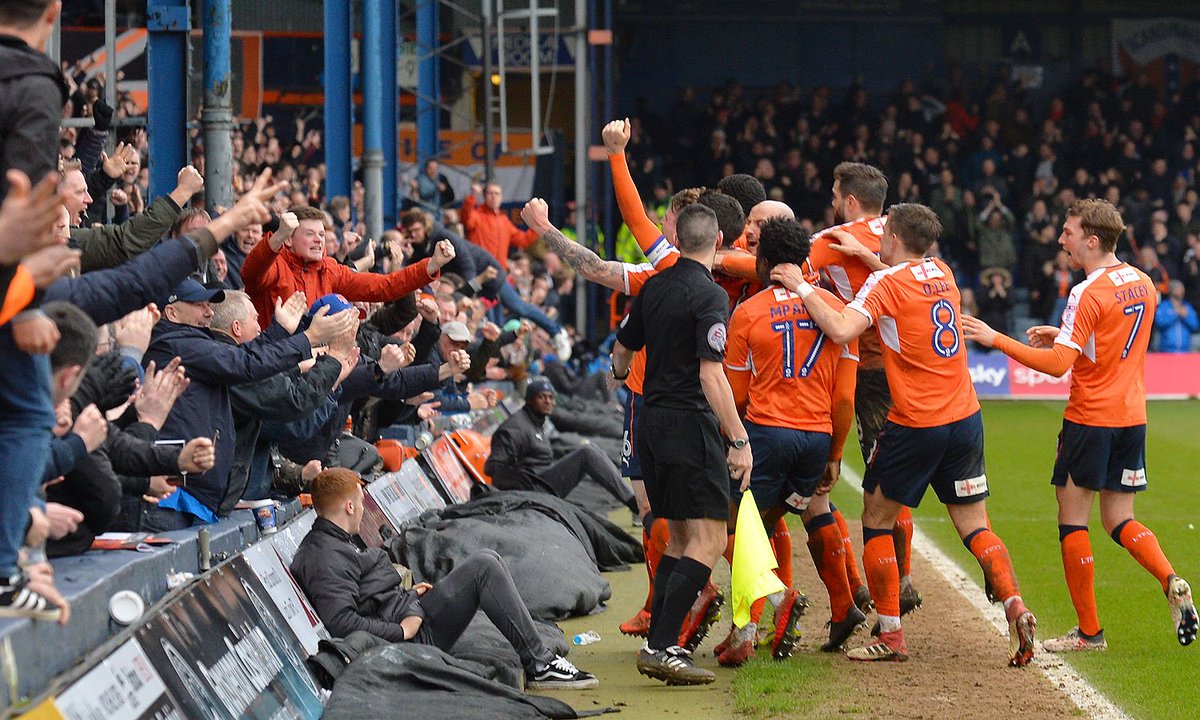 NJ: "They've worked tirelessly to get a pitch that was playable. It wasn't ideal for how we play, but they worked so hard and a lot of credit goes to the four of them. Today we sit there on 77 points, and that's due in a big part to the work they've done. 👏 #
HattersHeroes
#
COYH
https://t.co/l33Ulk9iNs
Luton came out with the first chance during the second half, as their attacking players grew into the game. Olly Lee attempted a shot which just missed to the right of Mansfield's goal. Elliott Lee also made an attempt only to be saved by the Stag's Conrad Logan between the sticks. Inside 54 minutes Luton had another chance. This time, Glen Rea struck the crossbar with an effort from outside the box. It seemed like the halftime pep talk had urged the Hatters to step up another gear.
Kane Hemmings managed to make Mansfield's first attempt of the second half on 60 minutes only to miss the target. Just a minute later Luton got on the scoresheet. Pelly Ruddock-Mpanzu set up James Collins from close range to make it all square with Collins scoring his 19th goal of the season. This now means he is only two behind League Two's current top scorer, Kee.
There were more chances for both sides after the equaliser but Luton found their rhythm. Rea found the back of the net with a close-range effort. This goal was the defender's first of the campaign and a vital one, to say the least. Luton did go on to force a few more saves out of Logan but eventually, Luton were the convincing victors.
There wasn't much difference in possession as Luton were 52/48 in favour but had twice as many shots on target with eight in total. For League Two you wouldn't think there would be much of an attendance but there were over 9,500 fans to support their sides!
This result leaves Luton in second place who hope to at least achieve automatic promotion even though they would like to chase down Accrington Stanley for the title. Mansfield have now lost their last three games, not winning in six. David Flitcroft will not have an easy time with the playoffs now just two points above them.
Luton next plays Yeovil away who are currently in 17th place while Mansfield host Crewe in 18th. Every game is vital from now on and Luton look set to be comfortable in automatics while Mansfield will have to find points from somewhere if they at least want a playoff spot.
The League Two playoffs are hotting up and each individual spot is getting tighter every game. The remaining fixtures can cause for some really exciting and tense football between many sides in the dogfight.