Man United's dynamic front three starting to prove worth
Man United's scintillating front three are starting to sizzle...
Background Image Via: Flickr/Daniel. CC BY 2.0.
Throughout my lifetime, Manchester United Football Club have been synonymous with two things; developing young footballers, while playing swashbuckling football - most notably down the wings.
In the post-Sir Alex Ferguson era, the Old Trafford outfit has gotten somewhat away from that. In large part, it's their own fault. After all, what else would you expect when choosing to appoint the likes of David Moyes, Louis van Gaal and Jose Mourinho?
For all his flaws and managerial inexperience, Ole Gunnar Solskjaer fully understands the 'United way'. His United side are always looking to use their attacking dynamism, although sometimes the inconsistency in youth decides to rear its ugly head...
Bashing Solskjaer for letting both Romelu Lukaku and Alexis Sanchez leave without replacement has been a recurring (often deserved) theme. However, the Norweigan's United mantra has always remained the same. He wants to build for the long-term rather than the quick-fix - and the club, on the whole, is starting to reap rewards.
We're beginning to see the behind-the-scenes hard work come to the table. Perhaps we would have seen it sooner but for an attacking line plagued by injuries. United's attacking trio seemingly all require each other's presence to be at full functionality. Either that or Anthony Martial truly is the vital cog in this sometimes well-oiled machine...
Against a Brighton & Hove Albion side who have so often been built upon a solid backline, Daniel James, Marcus Rashford and Martial had a field day. The trio bring the perfect blend of desire, speed and technical craft to hurt any defence - and this is just the beginning.
We have to start with the hometown hero. Rashford's emergence in the 2015/16 was arguably the most exciting thing to happen at the Theatre of Dreams over the last half-decade. Though I think it's fair to say that United supporters thought the now 22-year-old would have become more prolific at this point. His last two full seasons have yielded thirteen goals apiece. With a certain £75million Belgian now gone, Rashford was expected to kick on. The Englishman has already netted nine times (largely while playing as a winger) and is looking stronger than ever. He's certainly in line for his best statistical season.
Martial's Manchester United career is certainly interesting. The Frenchman introduced himself to fans in the perfect way, by scoring the eventual winner with a stunning solo goal against Liverpool on debut. He'd go on to net seventeen times that season. He hasn't gotten close to that tally since, though, under Solskjaer, the 23-year-old looks happy again. Martial is leading the line superbly and there's no question that his all-round game has improved drastically. His form is trending upwards again fresh off of guarantees about playing time (something which hasn't been free-flowing over the last couple of seasons) and a shiny new contract.
As for James, well, he may be the new kid on the block but my, he's taken to life in the Premier League like a duck to water. Like his two pals, James scored on his Premier League debut at Old Trafford against quality opposition. He backed that up with goals against Crystal Palace and Southampton - while remaining a constant threat every single time he walks out onto the pitch. Obviously, his pace is just unbelievable, though with each passing game we're seeing more elements added to his game. You have to admire his toughness as the only way to beat speed these days is kicking lumps out of you...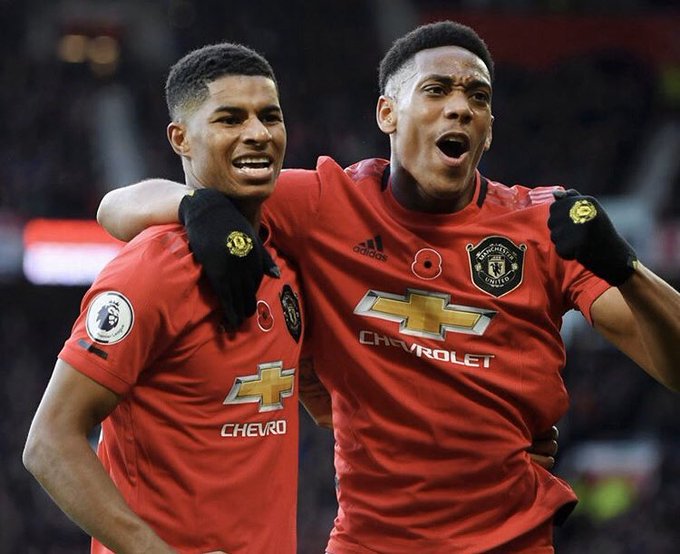 Marcus Rashford & Anthony Martial in 2019/20:
👤 – 27 combined appearances
⚽ – 14
🅰 – 6 assists
A deadly duo 🙌🇾🇪
https://t.co/rpmkqq07hM
What's exciting for me is that these guys are only going to get better. As they learn each other's strengths and weaknesses, the connection between the trio will only grow. What's most important is that all three stay fully fit for the season's remainder. Quite frankly, Solskjaer needs these guys to continue to flourish if he wants to stay in a job...
The early signs have been good and we're starting to see why Lukaku, Sanchez et al were allowed to move on. Sprinkle in some Jesse Lingard, throw some Mason Greenwood in the mix and add a splash of Paul Pogba's exuberance and talent, this United team could form the perfect cocktail of attacking skill.
Don't forget that the season is young and with a stout back four and David de Gea in-behind them, the Old Trafford club always have a chance at winning fixtures. Sure, they'll continue to have struggles throughout this season but it's a learning curve. It's about learning from mistakes and using them to your advantage going forward. For now, though, one thing I know for a fact is that opposing defences don't envy going up against Daniel James, Marcus Rashford and Anthony Martial.