Money now dominates the Manchester Derby
Mourinho and Guardiola sport Manchester derbies.
As mentioned in previous ramblings, I didn't come to football until later in life. I grew up in Canada, played hockey in the street and schoolyards all year round, only kicking a ball during recess at school, where hockey sticks were expressly forbidden. For reasons other than my first experience with political oppression, I turned onto football. Because I was older [in my 20s], it was a different learning experience than a boy growing up in the culture originally.
Take the word 'derby'. I pronounced it durr•bee. At first, I thought it was a hat. Patrick MacNee used to wear one on The Avengers, a show my stepfather loved. Charlie Chaplin sported one as well. Gerry, my step-dad, was fond of the roller derby, too, and watched the Kentucky Derby every year. I'd paid enough attention at school to know words sometimes have multiple meanings but a gentleman's rounded hat, a brawl on rollerskates in which men and women [usually] took turns and a horse race that people dressed up to watch while sipping bright green drinks with a funny name brought home the breadth of possibilities involved. Then I began working on yachts where I met several Brits and other Europeans who happily immersed an eager student in a comprehensive course on the beautiful game. My education included a brief language lesson to the effect durr•bee was in fact pronounced dahr•bee.
The lesson also informed me a derby was neither a hat nor a race, although a brawl could occasionally be spawned during one. The latter because a derby brings together two rival clubs who attempt to gain or maintain the upper hand in their long enmity. Of course, you know this, and that derbies are a treat to watch even for neutrals, considering the passion with which teams play and the lengths they will go and pains endure to win.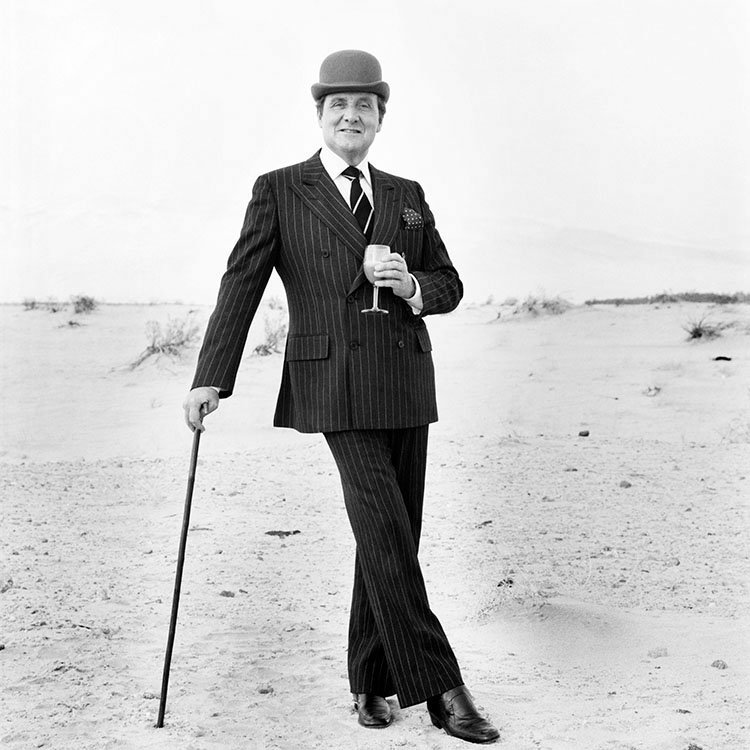 Actor Daniel Patrick Macnee is best known for his role as the secret agent John Steed in the 1960s series 'The Avengers'.
https://t.co/j8TR2MRqTg
A derby's rarity adds to the excitement, as though the two teams have been caged for months [rather than merely playing other opponents] and cannot wait for the gate to be raised so that they may go for each other's throats. Other factors raise a derby's quality as well.
The fundamental element is proximity. Teams must be in the same city or region for a derby to take hold. Sheffield's Steel City Derby began it all. It took place this Friday for the 143rd time. Through a Cameron Dawson penalty save, Wednesday, the North-siders, preserved a goalless draw against United, who occupy the southern portion of the industrial city. Humans are territorial. We're here and they're there is more than enough cause to come to blows.
The Owls and Blades are football's oldest clubs but Sheffield's grittiness plays a major part in the rivalry's endurance too. At least one working-class team is essential to a proper derby. Genteel clubs and their supporters are too polite to really get the juices flowing, whereas the audacity of their obvious inferiors thinking otherwise brings out the nasty posthaste.
Politics is a handy log to stoke the fire. Sovereignty and the desire to shed the yoke and be free to choose one's destiny erases the distance between Barcelona and Madrid twice every year for El Clasico.
Religion fans the flames as well. Protestants and Catholics can't wait for the Old Firm to resume hostilities on 29 December, especially now that Rangers are more competitive with Steven Gerrard at the helm, waiting to match wits with his former Liverpool boss, Brendan Rodgers.
Two sides comparable in quality are a critical necessity. Rangers and Celtic, Real Madrid and Barcelona are both rivalries between their respective leagues' most feted clubs.
Comparable quality was the missing ingredient in the Manchester Derby for the longest time. United were almost always the superior side, contending for titles. City were usually midtable or worse. it was too one-sided. Sheikh Mansour's arrival resolved the issue. For the last decade, Manchester's two halves have been on equal or near-equal footing on the pitch. Did I mention something earlier about the audacity of obvious inferiors?
Fan surveys of both clubs, the results published on Quora, illustrate a problem that long plagued the Manchester Derby. Only one side cared.
The gap in quality hurt the rivalry between Manchester City and United until Roberto Mancini's Citizens won the Premier League. The accompanying survey, which looks to have been taken during the 2011/12 season [based on David De De Gea and Carlos Tevez's presence] illustrates how one-sided matters were. United were more concerned with fending off Arsenal and Liverpool than City. They'd shrug off a defeat in the derby as unimportant even while City fans celebrated madly. Not anymore.
Now City is the aggressor in the battle, United on their heels. Sir Alex Ferguson's departure had much to do with that because the unique characteristic that now exists in the Manchester Derby is money. They are the two clubs with the deepest pockets in football. They exist just seven kilometres apart. When City had no money and Fergie was around, the Glazers had no need to spend. When Sheikh Mansour began backing the club and Fergie left, United's owners foolishly saw no need to change.
I've written there wasn't, myself. If Fergie could manage a team to be more than the sum of its parts, so could other managers. The Scot won enough titles proving the point. To the degree that money is often an excuse to take the easy way out, I still believe that. A truth I missed, however, was Sir Alex lost two Champions League that suggest the point has its limit. Those defeats came to Pep Guardiola on fairly even terms, with money removed from the equation. Each had an eventual five-time Ballon d'Or winner at his disposal. Sir Alex had Cristiano Ronaldo; Guardiola countered successfully with Messi.
Jose Mourinho did something the great United boss couldn't. He denied Guardiola another Champions League on his way to defeating Bayern Munich with Inter. He didn't have a Ronaldo but enjoyed the full financial backing of Massimo Moratti. He knows how to defeat Guardiola but also might know it's next to impossible over a full Premier League season without the support the Catalan enjoys at the Etihad. Possible UEFA sanctions against the Sky Blues for violating Financial Fair Play are too late. City's squad is in place.

While Manchester United is a club that prides itself on youth development and promotion from within, an arms race may be the only way to keep up with City. Like it or not, this has become the Money Derby.