Guardiola can't wake from recurring Champions League nightmare
Most people forget Ashton Kutcher's attempts at serious acting. When it comes to Butterfly Effect, I can't. The 2004 thriller about a college student who repeatedly travels back in time to make a better future only to return to progressively worse consequences sticks in my head. It's not Kutcher's performance or the film's special effects. It's the curse of being a control freak, desperately wanting to make things better but just digging a deeper hole. Kutcher tries so hard [spoiler alert] he ends up like the Black Knight from Monty Python and the Holy Grail. I can relate. After the painful defeat to Tottenham in the Champions League quarterfinals, so can Pep Guardiola.
The difference between Kutcher and Guardiola is that, on a tactical level, the Manchester City manager doesn't want to change. He believes that persisting in his positive philosophy, however long it takes, will convince the world to change on its own. When everyone plays his brand of football and his club has the most money, he can forget Ashton Kutcher. It's Pinky and the Brain time.
As evil plans go, it's not a bad one. With each season in the Premier League, more clubs try to play like the Sky Blues whether or not they possess the necessary skill. Wolves and Fulham came up from the Championship by emulating City, bought players and continued trying to build play from the back at the next level. Nuno Espirito Santo recruited the right players. Slavisa Jokanovic didn't. Unai Emery joined the converted when he came to Arsenal, signing the adept Bernd Leno to take over for the cumbersome Petr Cech. Similarly, Jurgen Klopp signed Alisson Becker to replace Loris Karius. Hugo Lloris learned to play with the ball at his feet for Tottenham.
Unfortunately, the very idea of convincing everyone to play positive football is the flaw in his scheme. While he doggedly clings to his revolutionary ideas, others build on them, leaving him behind. For them, it's an evolution rather than a revolution.
Persevering into a third Premier League campaign, the Catalan boss encounters progressively worse outcomes. No taking over the world, just repeated episodes of Punk'd.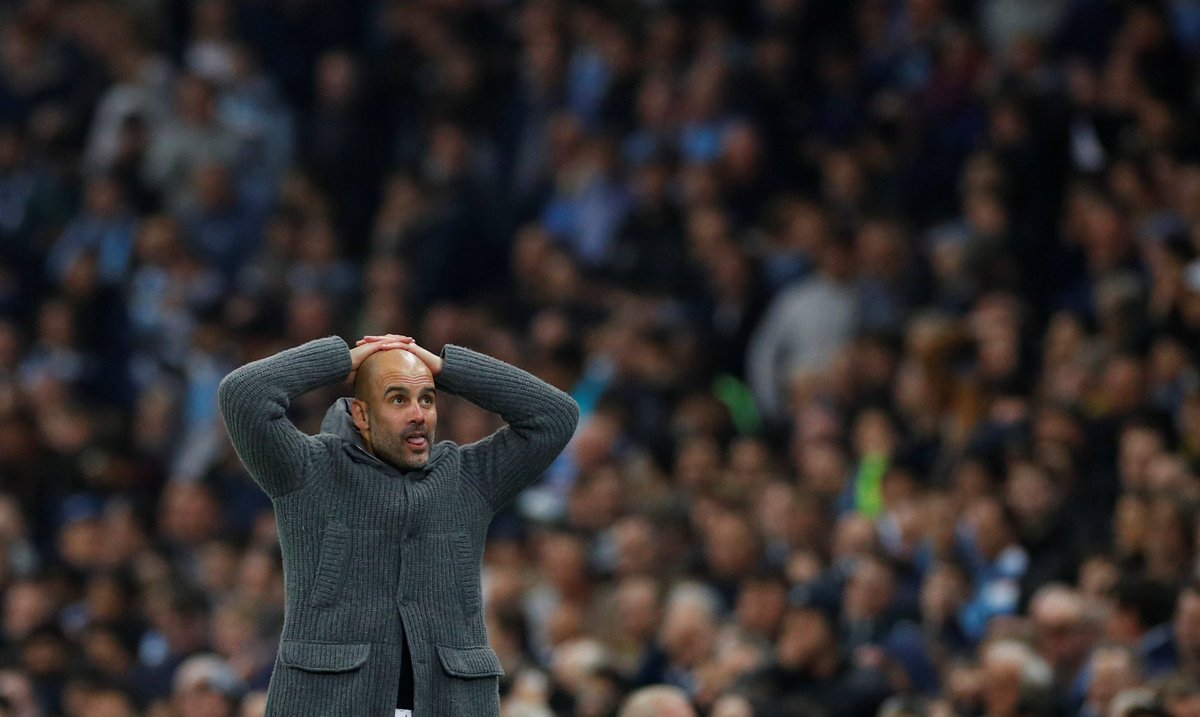 Pep Guardiola in the Champions League for Manchester City:
📆 2017:
❌ Man City 6-6 Monaco
📆 2018:
❌ Man City 1-5 Liverpool
📆 2019:
❌ Man City 4-4 Spurs
💷 Over half a billion spent.
👎 Not got further in the competition than David Moyes
https://t.co/BDXkXG2D7q
In his debut turn, City started great guns before fading late when unbelievers resisted. It was his first managerial season without a trophy. Leonardo Jardim and Monaco out-positived Guardiola and the Citizens in the Champions League quarterfinals.
His sophomore campaign was similar albeit more insidious. Sheikh Mansour's money bought Benjamin Mendy and Bernardo Silva from Monaco to help eliminate that threat. More English clubs adopted positive methods. The glory road appeared open. City won the EFL Cup and ran away with the league title. Then Wigan played David and Goliath with them in the FA Cup. Will Grigg's one accurate stone hit Pep between the eyes. Another old nemesis, Jurgen Klopp, led Liverpool to three victories over Pep's City, including both legs of the Champions League quarterfinal. Adding to the misery, Manchester United stormed back through Paul Pogba to delay the Etihad's Premier League celebrations for a week. Wile E Coyote never had it so rough.
This season promised even more. Pep took an unprecedented quadruple deeper into the campaign than any manager previously carried one. After Liverpool jumped to an 11-point lead by New Year's Day, City reeled them in. The league lead now switches back and forth as each side wins another match but the Citizens hold a game in hand. The title is theirs if they win out.
On Wednesday night, the quadruple promised to come even closer if they could dispatch a Tottenham side that lost Harry Kane in the first leg's opening 45. Vin Diesel and the Rock weren't in attendance for the second leg but it was fast and furious nonetheless. Four goals in the first 11 minutes and a fifth on 21 left the tie finely poised. Spurs held the edge on away goals. City needed another goal in the second half. Sergio Aguero provided it. Then VAR upheld a cross that deflected in off Fernando Llorente's hip. The Sky Blues had to score again. With time running out, they did. Christian Eriksen's back pass found Sergio Aguero, who found Raheem Sterling, who found a way past Hugo Lloris to the Champions League semifinal.
Bedlam. Absolute bedlam. But shortlived.
Stunned silence ensued when VAR ruled out the goal for offsides. Eriksen's backpass deflected off Bernardo Silva, late of Monaco, before finding Aguero, offside by the width of his body. Absolute bedlam turned to utter anguish. And the pain could be just beginning.
City are in the FA Cup final against Watford, a match they should win. If they drop points in the Premier League, however, Liverpool could pip them to the title. Moreover, the Reds are in the Champions League semis. The nouveau-riche Mancunians could end up with a cup double while the Merseysiders claim the Premier and Champions League crowns. Guardiola would know exactly how Ashton Kutcher's character felt waking in a wheelchair in Butterfly Effect's final scene.
It isn't a stretch to imagine Liverpool conquering Europe either. Barcelona seem a tall task but Klopp's squad measures up favourably.
Building from the back, since that's what Pep recommends, the matchup between Marc-Andre ter Stegen and Alisson in goal is a push. Choosing between Gerard Pique and Virgil van Dijk is another coin flip. Joel Matip has more experience and composure than Clement Lenglet but both are mistakes waiting to happen. At left-back, Jordi Alba seems a clear cut choice over Andrew Robertson until you remember the Scot leads the Reds in assists and is a ferocious rather than absentee defender. On the other side, Trent Alexander-Arnold is more consistent and dangerous than either Sergi Roberto or Nelson Semedo. Advantage to Liverpool's rearguard.
Barcelona takes the initiative in midfield but not necessarily control. Sergio Busquets has more experience than Naby Keita but if Jordan Henderson starts, the defensive midfield is a wash. Fabinho will be charged with nullifying Ivan Rakitic and has the chops to do the job. The question is whether Georginio Wijnaldum can make Artur think twice about taking too advanced a position?
The front lines? Barca boast Lionel Messi but Mo Salah is nearly as dangerous. Then come the two former Reds. Luis Suarez hasn't had much love in the Champions League this term. Sadio Mane owns it. Philippe Coutinho is an enigma. He can be brilliant or invisible. On the other hand, Roberto Firmino is ubiquitous. Add in the fact that the Anfield forwards feel a strong obligation to track back and defend while their Blaugrana counterparts absolutely do not, and you can imagine Liverpool in Baku to face either Tottenham in an all-England final or Ajax.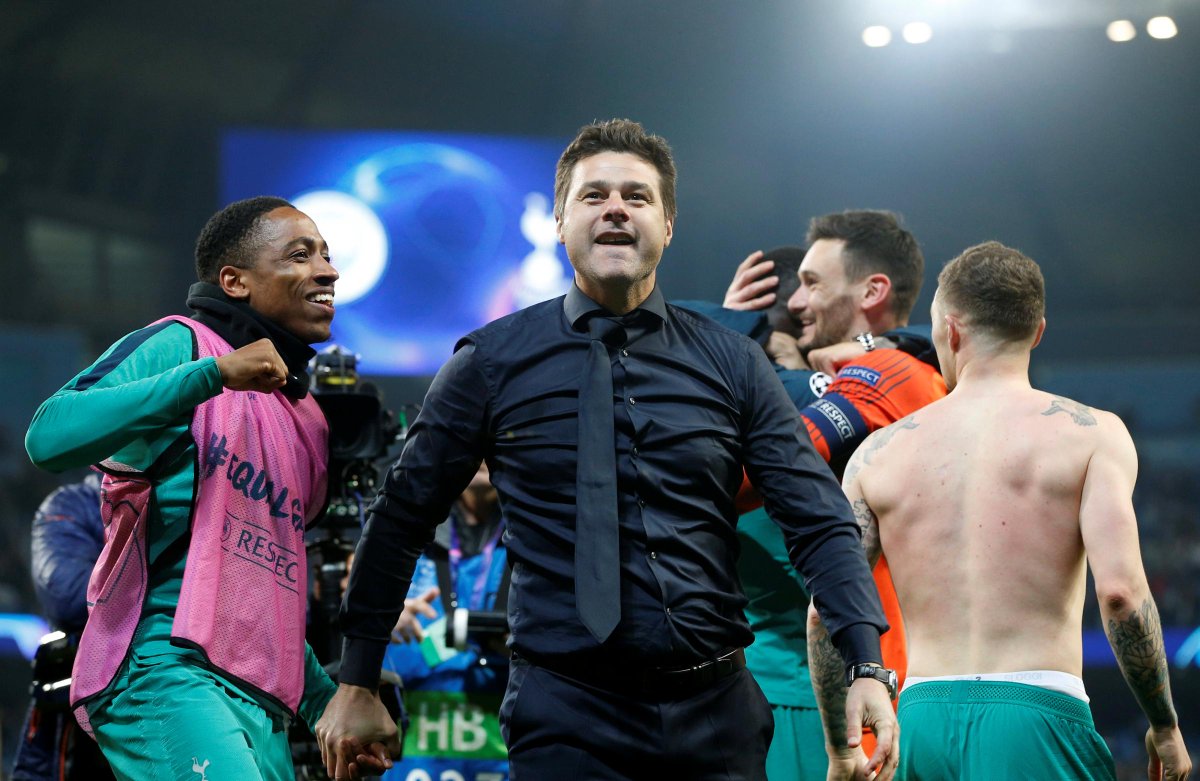 Pep Guardiola's mantra in 2019 was that the quadruple was "nearly impossible". Now that it truly is, I-told-you-so carries very little value. Further, if his season continues to unravel, his credibility will go with it if he leans on that crutch. How can he champion unrelenting positive football but hedge his bets? On the other hand, if City does hold it together to win a treble, it will be cold comfort without the Champions League. The nightmare continues.
Perhaps worse, the former Barcelona and Bayern Munich manager's job is entirely secure. Txiki Begiristain and Ferran Soriano built this club for him. He will make further tweaks to the lineup in the summer. Small adjustments that, on their face, should strengthen the side, promising a better future. From August through March, we can expect City to be an even more intimidating juggernaut. The question is what the Butterfly Effect has in store for Pep next April and May?