Raheem Sterling matures; silences critics
Manchester City and England star Raheem Sterling raised his game to another level on both stages in 2018/19. Pleasantly, he's also raised his game off the pitch.
Ever since he forced his way out of Liverpool when just 20-years-old, Sterling's been depicted as rebellious, immature and irresponsible. He's been photographed clubbing, showing off fancy cars and a tattoo of an assault rifle on his calf. Much of it was blown out of proportion. Certainly, some stories were racially motivated. But the player also threw a bit of gasoline on the fire.
In truth, he is a hardworking footballer who joined the Reds from Queens Park Rangers in 2010, developed his game, chased his professional ambitions, started and cared for his family. Like any young man, he's far more mature than he was four years ago. He is learning how to express himself with dignity and intelligence.
Perhaps more than his public image, fans grew impatient with his play. At both Anfield and the Etihad, he developed a reputation as a speedy winger with skills who couldn't find the final ball.
He came close to winning a Premier League title on Merseyside, combining forces with Luis Suarez and Daniel Sturridge, an attacking trio dubbed the SSS. Always, though, Sterling was perceived as the weakest link.
When he chose to leave, the Kop assumed money was his primary motivator. All the tabloid gossip didn't dissuade them. He quickly became a reviled figure. City piled up talented players courtesy its Abu Dhabi ownership's unlimited funds. Sterling was one among many.
Many also saw Manchester City as a team just piling up players based on their financial backing from the Abu Dhabi owners and Sterling was one of them. His €63.7 million price tag came with expectations he would hit the ground running. He ran so fast, few could keep up, but he could not hit the goal. In his three years as a first team player for Liverpool, he mustered 23 goals in 129 appearances. He hit 10 in 47 during his first campaign at City. In his second season under Pep Guardiola, he struck for 23 in 46 games. In 40 matches this term, the numbers already reach 19 in 40. Along with his public persona, his finishing has matured.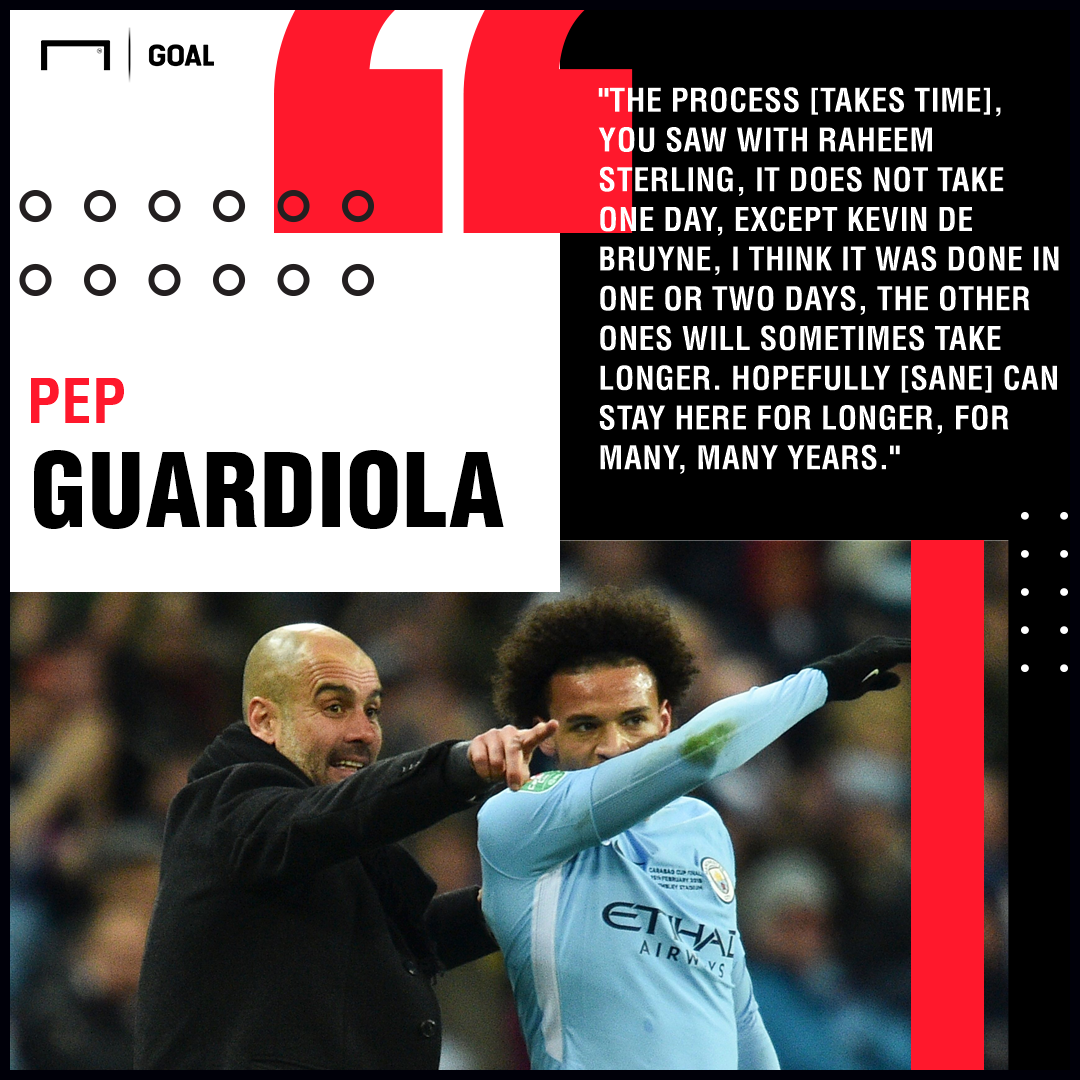 Kevin de Bruyne: ✔️
Raheem Sterling: ✔️
Leroy Sane: 🔜?
Pep Guardiola expects the German star to extend his stay with Manchester City.
https://t.co/KxQOVrPwtO
Pep Guardiola trusted him from day one, acknowledging that players don't usually develop overnight. It took three years but there are many more to come. When he became the second England star to score a hat trick for club and country in the same month, the world saw what the former Barcelona boss did three years earlier.
Rather than using the credibility that irrationally accompanies peak performance to flash his style and wealth, he speaks out on societal issues. He has made racism a personal cause after suffering abuse in December at Stamford Bridge. He takes the media to task for enabling discrimination with biased coverage. Not so long ago, football fans just wished the player would just stop, on and off the pitch. Now, they're thrilled that he can't be.