Manchester City won't join the Invincibles
There's no doubt Manchester City is playing the best football ever seen in the Premier League era. Pep Guardiola has imprinted his unique style on the Etihad and it's bringing forth wondrous results. In a match billed as an early title decider, the title was probably decided early. City dispatched rivals United 2-1 in the biggest Manchester Derby in recent history. The win extends City's lead to 11 points over the Red Devils, 14 over Chelsea.
At the moment, City is unbeatable. Guardiola can field some of the best players in the world, too. Yet, here's why Manchester City will not join Arsenal and Preston North End as English Invincibles.
Shallow defensive corps
If you're talking about attack, then sure, Manchester City can rival Barcelona and Real Madrid, let alone teams in the Premier League. The story takes a turn for the worse when you zero in on the Sky Blues' defensive frailties.
At Old Trafford, Manchester City fielded a back four comprising Kyle Walker, Vincent Kompany, Nicolas Otamendi and Fabian Delph. That's not a bad defensive line, but when you consider the fact Vincent Kompany has missed 35 games through injury in the past two seasons, it doesn't fill you with much confidence. When you watch Delph mishandle a ball, leading to United's only goal, then allowing it to nearly happen again, alarm bells ring.
Guardiola confirmed after the match that Kompany had suffered another knock. With John Stones out until 2018, who's going to replace the captain? Eliaquim Mangala is the only suitable option with the crammed holiday fixture list on the horizon.
Delph, as industrious as he may be going the other way, will be a constant target until Benjamin Mendy returns. The former Villa captain will be exposed again. When he is, City's opponent may not gift them two easy goals from set pieces in the manner United did. Sooner or later, chickens come home to roost.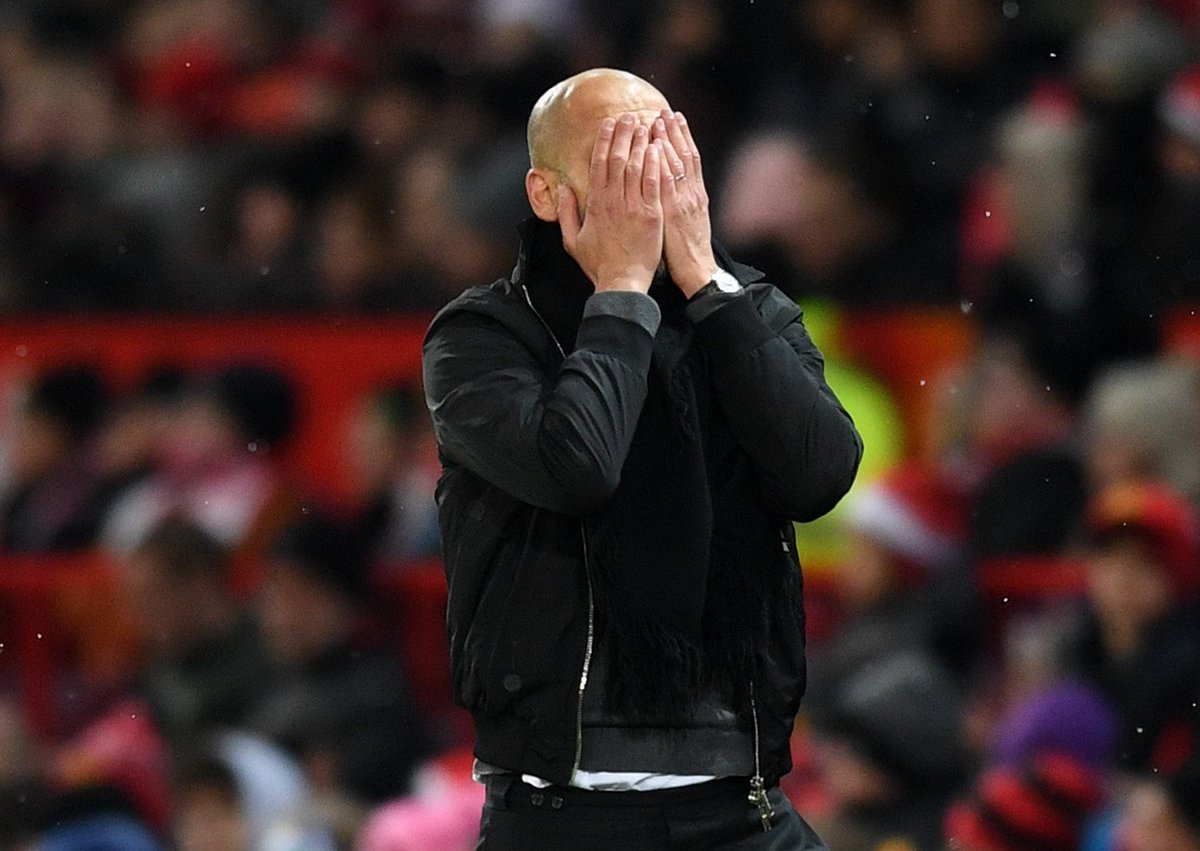 46 - Manchester City's 46-point total after 16 games this season was enough to secure 8th position in the Premier League at the end of 2016-17. Madness. #
derbyday
https://t.co/UPLdwK5M76
A hard road ahead
I'm not here to argue Manchester City won't win the league. That's all but a foregone conclusion. Yet, there's no way they can replicate Arsene Wenger's Invincibles. Pep's squad has passed all its marquee tests to date with flying colours, but it's away from home that the Invincibles truly established themselves.
In the new year, Manchester City must travel to Anfield, the Emirates, and Wembley Stadium. Liverpool, Arsenal and Tottenham aren't quite United or Chelsea, but they're formidable opposition at home. Last season, Spurs didn't lose one match while retiring White Hart Lane. They picked up 53 from 57 available points. Life hasn't been so rosy at Wembley, but Mauricio Pochettino's side has still only lost once. Liverpool have yet to lose at Anfield this season, although they've drawn four of eight matches. Arsenal has only lost to United at the Emirates, while beating its other seven opponents. City's win at Old Trafford is, a good start, but there's still a difficult gauntlet to run.
Sometimes the fall cometh without pride
Before Sunday's encounter, cracks had appeared in City's armour. Narrow wins over Huddersfield Town, Southampton, and West Ham had played out. A champion must sometimes win when not at its best, to be sure.
In the Champions League, though, Pep's side fell to Shakhtar Donetsk in Ukraine. Rather than a must-win, it was a meaningless match.
Invincibility is a matter of pride as much as ability. It's about refusing to lose even when nothing is at stake. Arsenal had that strength of will. So did the 1888-89 Preston North End side that did an Invincible double, winning the league and FA Cup. City didn't demonstrate that level of commitment.