What can Marcus Rashford learn from Kylian Mbappe?
Background Image Via: Pixabay. Used under Creative Commons.
On a chilly Tuesday night at Old Trafford, Manchester United were humbled. Paris Saint-Germain showed their true class, even without both Neymar and Edinson Cavani. It was Kylian Mbappe's moment. He truly delivered.
Before the game, the obvious Marcus Rashford/Mbappe comparison came to the fore. After the first leg, that talk stopped. Immediately. Red Devils fans got to witness the sheer brilliance of Mbappe, who's rapidly emerging as one of the world's best.
This isn't a knock on Rashford, either. The Mancunian is a wonderfully gifted player in his own right. It's just that Mbappe is already on the world-class level. Aged just twenty. That's borderline insane. PSG's star man has already won trophies galore, including a Ligue 1 title and a World Cup crown. Having played 144 club games while scoring 75 goals in that time is ridiculous. He was still a teenager until a month ago.
Rashford has played ten games more, he's also a full year older. He's scored 42 club goals. That's 33 less than his French counterpart. Where I will give Rashford some leeway is the fact that he's often chopped and changed his position. He's now working under his third United manager; both Louis van Gaal and most notably, Jose Mourinho, used United's #10 more sparingly than everyone would have liked. Mbappe was the main man at AS Monaco. I think it's more than fair to say he's on the way to earning that title in Paris.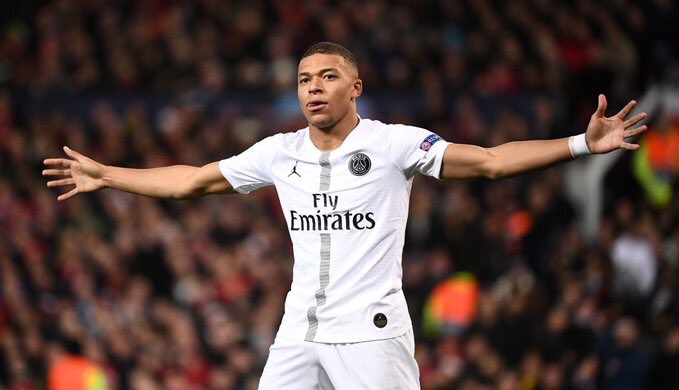 United fans were throwing about Martial/ Rashford comparisons with Mbappe, absolutely laughable. 20 years old and he's already performing on the elite stage, the potential he has is mad.
https://t.co/P7qKqVa82O
In the head-to-head battle between Mbappe and Rashford, it wasn't just the fact that the former got himself on the score-sheet. Despite being a year younger, the Frenchman looked nerveless. His first half was a relatively quiet one. He didn't touch the ball anywhere near enough. At that point, the game was still level. Mbappe knew his moment would come, that's the difference between the very good and the elite.
After one smart, speedy, darting run into the penalty box, United's defence was carved open. Mbappe's first-time finish, sweeping the ball past the best goalkeeper in the business, was precision and striking intelligence at its finest.
Up the other end, Rashford began to look flustered. The ball started bouncing off him. The passes weren't coming off, the runs in-behind looked more forced. When you're down it's easy to get frustrated. It doesn't help that all the pace around him had headed down the tunnel due to injuries. Juan Mata's hardly a speed demon while Alexis Sanchez looked like he was trudging through mud. But, then again, Mbappe had to play the full game without his two finest attackers, Rashford had to cope for 45 minutes, at home. The Englishman couldn't break through, the Frenchman could.
It's true that one moment separates the pair. The margins at the world-class level are so minuscule. Can Rashford get there? Absolutely. Is Mbappe the better player right now? Certainly. Simply put, Mbappe is an athletic freak of nature. Rashford's wonderful in his own right, but it's just not fair to compare him to someone who could well become one of the greatest to ever play this sport.