How will Manchester United approach the post-COVID transfer market?
As usual, supporters expect Ole Gunnar Solskjaer and United to shop for luxury items to brighten the squad when more practical tools are needed.
With the Europa League Final on Wednesday, Ole Gunnar Solskjaer traveled lightly to Molineux this Sunday, leaving most of his key players in Manchester to gather their strength ahead of the more meaningful match. Content with the supporting cast's 2-1 victory over Wolves, Manchester United fans can look ahead to the prospect of their first silverware under the Norwegian's guidance. If you're wondering how Ole intends to set up the squad, looking back one fixture might help.
Returning to Old Trafford for the first time in 14 months, 10,000 Manchester United fans enjoyed themselves despite their differences with ownership during the Red Devils' final home match of the 2020/21 season. Edinson Cavani's long strike with Fulham keeper Alphonse Areola out of his goal welcomed them back only for Joe Bryan's second-half equaliser to spoil their fun.
Sky studio analysts, Graeme Soueness and Jimmy Floyd Hasselbaink, earned their wages by debating whether Bruno Fernandes touched David de Gea's clearance to put the Uruguayan onside. They concluded he did not because the dot on the ball did not waiver. VAR official Simon Hooper needed more evidence to overturn Lee Mason's call on the pitch, however, understanding that the dot won't wobble if the touch is actually a flick that doesn't alter the path on which the ball is travelling. Setting aside advanced physics and Bruno's post-match confession that he didn't think he touched the ball, Hooper also knew it was Mason's final appearance as a match official before the Bolton native moved permanently into the VAR booth next season. People often receive gifts when moving into a new home.
More important than Souness and HasselBaink's conjecture was match commentator Gary Neville's speculation that Solskjaer's starting XI against the relegated Cottagers could very well be who he intends to send out for the Europa League final. Taken together, that nugget and Cavani's goal expose the distinct difference between the type of players supporters hope to see brought in this summer and how the club needs to strengthen.
To catch up those who didn't see the match, Ole deployed a 4-2-3-1. Victor Lindelof returned to the right side of central defence with Axel Tuanzebe standing in for the injured Harry Maguire on the left. Aaron Wan-Bissaka and Luke Shaw appeared in their customary right and left-back positions. Scott McTominay and Fred played the holding midfield roles with Mason Greenwood, Bruno and Paul Pogba ranging from right to left in attacking midfield. Cavani was the lone striker and De Gea manned the sticks.
A European final demands a manager's best XI. Assuming for the moment that GNev has indeed read Ole's mind, what does that lineup tell us about United's transfer needs v fans' desires? The ensuing train of thought runs in reverse order to the players mentioned above.
Goalkeeper
Selecting the Spaniard rather than Dean Henderson against Villarreal doesn't settle the argument over which keeper is the presumptive number one. One's form has declined in recent seasons while the other's has risen. Although De Geal loyalists would say I'm out of my mind, the duo are currently close enough in quality for an honest debate to be had.
To oversimplify, Henderson is the more commanding and aggressive presence whereas De Gea holds a significant advantage in experience, especially in big matches. Yet, quality is almost certainly irrelevant to the manager's team selection and United's summer plans. Even if Ole considers Hendo his first choice overall, De Gea's years of service command sufficient loyalty that Solskjaer will trust him to see out the cup duty to which he's been relegated and, although rumours circulate around both netminders, it would be a shock for the club to sell either this summer.
In short, De Gea has always been the more likely to get the nod in Gdansk.
Striker
Again, Edinson Cavani annexing the number nine role isn't a shock. Anthony Martial is injured and the first syllable in Mason Greenwood's surname remains the operative one in describing the scoring prodigy. That is why Solskjaer was so chuffed when the Uruguayan recently confirmed another year in Manchester.
Of course, there are those itching for the club to take another run at Borussia Dortmund wunderkind, Erling Haaland, after Solskjaer mentored his lanky young compatriot at Molde but couldn't convince him to come directly to Old Trafford from Red Bull Salzburg.
Unfortunately, supporters shouldn't expect the courtship to be renewed in June. Haaland is locked in at the WestfalenStadion through the summer of 2024. BVB CEO Hans-Joachim Watzke can name any price. Despite reports of financial difficulties due to COVID losses, he isn't so desperate as to hold a fire sale that would send the club plummeting toward the bottom of the Bundesliga table.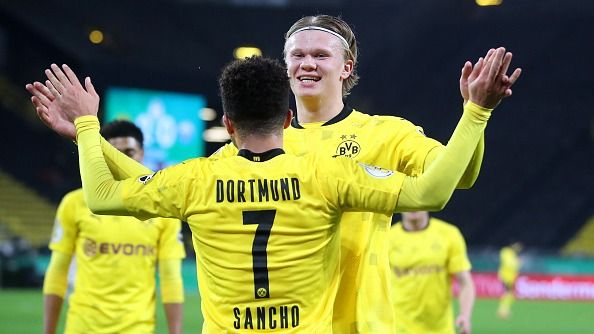 Forward
On the other hand, there's reason to be more optimistic that the Red Devils can land Haaland's running mate on the right flank, Jadon Sancho. The German club did struggle financially without fans in the seats and the English winger has been something of a disciplinary issue for der BVB with pundits speculating his misbehaviour was tied to homesickness.
Contractually, he is on the German club's books until June 2023. Given that the 21-year-old is entering the penultimate year of his contract, leaving Dortmund only 18 months to extend or sell the player before he can negotiate a free transfer with other clubs, Dortmund ought to be more willing to make him available.
The positive for BVB is that United are hardly the only club interested. Domestically, Liverpool, Chelsea and Arsenal may all be in the mix. Then, there is the possibility of Barcelona or Real Madrid, both looking to recover after Atletico Madrid broke their hold on La Liga's title and Juventus, no longer Scudetto holders after an eight-year Serie A reign. Watzke can take the entire summer to draw the highest bid for a player valued at around £90 million.
For their part, Sancho would finally provide United with the bona fide right winger they have sought for more than a decade. Yet, as wonderful as that sounds, GNev pointed out the problem acquiring Sancho presents for Solskjaer's team selection. One of United's brightest stars was absent from the XI who faced Fulham. The Cottagers are one thing but how can Gary Neville possibly believe Ole won't start Marcus Rashford against Villarreal?
The short answer is your best individual players don't always comprise your best XI. Solskjaer has two world-class players who are distinctly more influential on the left side of attack than anywhere else. According to Transfermarkt, Rashford produced 11 of his 21 goals and nine of his 15 assists in all competitions while manning the left wing. Pogba, coming late to the party due to injury, produced two goals and six assists from his grand total of six and nine.
Neville alleges the Babyfaced Assassin has been opting for Pogba of late because he believes Monsieur Labile brings more to the table in terms of his all-around game and thus is undroppable.
On long balls over the top, Rashford accelerates behind defences where he's a deadly finisher. In the final third, he can take one, two, even three defenders on and test the goalkeeper. He can link up in imaginative, intricate fashion with teammates in close quarters. Finally, he is a set-piece wizard.
Pogba lacks Rashford's pace but matches his dribbling, shooting and dead-ball skills. In addition, he is an aerial presence in the box and boasts a stunning range of passes that allow him to create opportunities for teammates that Rashford, despite his own artistry, simply cannot. If he can only start one, Ole apparently insists it must be the Frenchman.
Again, according to GNev, starting both is not an option given the manager's view that neither is as effective as Greenwood on the right. I'm assuming he means when the youngster is in peak form, as he is now. What Neville didn't clearly state but inferred is that Pogba is a] a defensive liability in a double pivot and b] cannot exploit his full skill set from a deep-lying position.
If a healthy disrespect for Neville's tactical acumen causes you to doubt Pogba should be first choice on the left, go back to the delayed match against Liverpool, during which Reds left-back Andrew Robertson twice ran down Rashford when the United winger had a significant head start. Solskjaer must be concerned the former 20-goal scorer's injuries have cost him a step, making him a more impactful option coming fresh off the bench on the hour just as opposing defenders begin to fatigue.
Competition for places is all well and good but signing Jadon Sancho after extending Cavani almost certainly puts Rashford and Greenwood on the bench to start every match. Having been in charge of the youth team, Solskjaer is not one to stunt the development of such promising academy products.
Attacking Midfield
Obviously, in his 4-2-3-1, Solskjaer places forwards in all three advanced midfield roles. Add Jadon Sancho to the mix and the gaffer won't be able to give Donny van de Beek greater responsibility in his second Premier League season after being overly cautious in acclimating the former Ajax sensation to English football.
Rather than a like-for-like successor to Juan Mata, Ole seems to be grooming the Dutchman to become his version of Alan Smith. Sir Alex Ferguson brought the former Leeds star to Old Trafford to wreak havoc on defenders with his blend of skill and physicality. Van de Beek isn't as pugnacious but was utterly brazen in running at defenders with pace during his time at the Johan Cruijff ArenA. This United squad can use a wrecking ball in the centre of the park.
With Van de Beek's role likely to be expanded, United doesn't need to invest heavily in the attacking midfield this summer.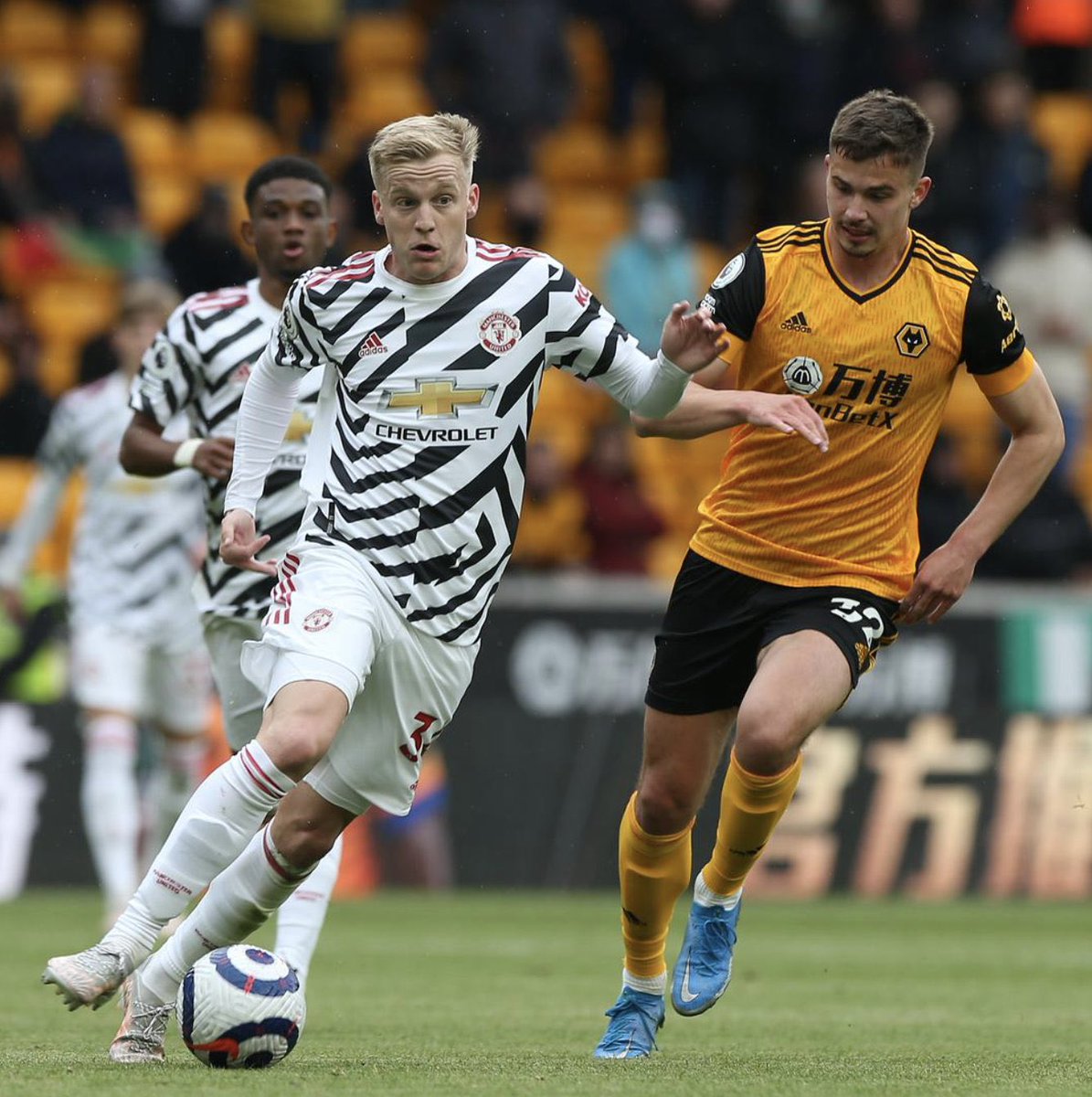 Donny van de Beek's game by numbers vs. Wolves:
89% pass accuracy
6 ball recoveries
3 tackles attempted
3 fouls suffered
2 tackles won
1 clearance
1 shot
A tidy showing. 🇳🇱
https://t.co/zag1XIsICu
Defensive Midfield
Finally, we're drifting away from the glamourous positions catching supporters' eyes and venturing into areas where the club lacks depth and must reinforce.
Achieving lasting success is a tricky thing. A balanced squad is about more than having top players throughout the roster. It's also about finding the right blend of youngsters, talent in their prime and veteran leadership.
Nemanja Matic's experience gives him the calm, composed presence under pressure that Scott McTominay remains two or three years from achieving. Unfortunately, the Serb's 32-year-old engine has too many miles on it. He can no longer recover when caught out like he once did. Meanwhile, Fred is supposed to be the talent in his prime but three years into his Old Trafford career he still struggles to find himself as more than a one-dimensional defender.
In order to meet Jose Mourinho's expectations, the Brazilian completely exorcised his offensive game. Under Solskjaer, he hasn't been able to resuscitate it. Ask supporters occupying the 30-40th rows behind goal. At Shakhtar Donetsk, Fred was a complete midfielder and a deadly set-piece specialist. Now he eavesdrops on Bruno, Pogba, Rashford and Luke Shaw as they confer before free kicks and occasionally releases wild volleys from which even stone-footed centre-halves turn away in embarrassment.
Fans who desire an established destroyer who can link with the attack immediately point to West Ham's Declan Rice. If he wasn't signed through June 2024 and hadn't been handed the captain's armband to indicate how much the Hammers managing and ownership Davids, Moyes, Sullivan and Gold, all desire him to stay, the erstwhile Irishman would be the obvious choice. As it stands, United would need to significantly overpay, assuming Rice wants to leave the London Stadium.
The same likely applies to the most interesting holding midfielder who might be available on the foreign market. Marcelo Brozovic made 42 appearances for newly crowned Serie A champions Inter. He scored two goals and seven assists when he wasn't busy closing the door on attack-minded opponents. United sent two key players, in the form of Romelu Lukaku and Ashley Young, to former Chelsea boss Antonio Conte when he launched his project at the Giuseppe Meatta. That said, asking after the 29-year-old would certainly test Conte's gratitude. As like as not, he intends to extend the player himself.
Given how few legitimate destroyers are out there to be had and how frequently United started matches poorly despite deploying a double pivot to shield the defence, it's possible the Red Devils' problem is transitioning from defence to attack. The answer might be to partner Van de Beek's skills on the ball with McTominay to start matches on the right foot, then send in Fred on the hour to close out matches.
Fullbacks
Aaron Wan-Bissaka, Luke Shaw, Alex Telles, Brandon Williams and, when needed, Axel Tuanzebe. With Diogo Dalot also on the books for the moment, Solskjaer is spoiled for choice here.
Central Defence
On the other hand, this is where the manager most desperately needs help and, as luck would have it, might find capable and affordable assistance readily available.
Pep Guardiola needed four seasons and how many millions to replace Vincent Kompany even though the Belgian hung around, largely in the trainer's room, until 2019. This season, Ruben Dias appeared to be the answer. For the first time in the Catalan's tenure, Manchester City won the Premier League primarily due to their stifling defence. Yes, they scored ten more goals than United but let in only 32, four better than second best Chelsea.
Solskjaer already has his Ruben Dias in Harry Maguire. The difference is that the Spaniard didn't do it alone at the Etihad. John Stones finally came good with Aymeric Laporte and Nathan Ake proving equally reliable when rotating into the squad. While Victor Lindelof competently anchors the right side, the drop-off to the brittle Eric Bailly and Tuanzebe is significant. The problem is even worse when you remember that Phil Jones is next in line
Although he's on the wrong side of 30, Roman Saiss presents an interesting option for a United defence who struggle to move the ball up the pitch.
Happily, the market is more accommodating in this area. A slew of solid centre-halves have contracts expiring in 2022. Real Madrid's Raphael Varane is the biggest name, with the 28-year-old valued at £63 million by Transfermarkt. He is a clear upgrade on Lindelof. Yet, there are other choices if, as expected, Los Blancos encourage the Frenchman to put pen to paper on a new deal. Ignoring John Stones for obvious reasons, Nicklas Sule [25 and valued at £33.3 million] and Mattias Ginter [27/£31.5 million] are available from the Bundesliga, as is Milan's Alessio Romagnoli [26/£27 million]. But if Ole prefers defenders familiar with English football, he can pursue Burnley's James Tarkowski [28/£22.5 million] or choose a Chelsea option, either Andreas Christensen [25/£25.2 million] or Antonio Rudiger [28/£22.5 million].
In addition, Wolves Romain Saiss is out of contract this summer. The 31-year-old is probably the most astute choice from aging defenders who can be had on the free this summer. Bayern's David Alaba is more known for his skill on the ball than his work without it. Real Madrid captain Sergio Ramos is a loose cannon that, with age, is ever more likely to explode in his manager's face. Jerome Boateng? Yes, the 32-year-old is still playing.
Saiss' well-rounded game compares favourably to Victor Lindelof and he plays on the right side. If Solskjaer is in fact concerned about transitioning to attack, the Frenchman might improve his backline. As exciting as they are, neither Erling Haaland nor Jadon Sancho can contribute in the area where help is most needed.