Marc-Andre Ter Stegen deserves Manuel Neuer's place in Germany's goal
After standing out at club level, Marc-Andre ter Stegen is fit to replace Manuel Neuer at Germany
Lionel Messi is widely considered Barcelona's knight in shining armour. He is on the attacking front. When it comes to defensive work, Marc-Andre ter Stegen's brilliance between the posts rescued many valuable points this season.
When Messi bowed out against Sevilla, last weekend, the German goalkeeper took it upon himself to save Barcelona from doom. Ter Stegen put in an incredible performance, making more than one superhuman save to keep Barca in control and move them atop the table. Messi's assist and goal put the Cules up 2-0. Ter Stegen secured the crucial win with his incredible work. Sevilla managed to score two. They could have collected five had the 26-year-old not saved his defences' blushes on multiple occasions.
However, Ter Stegen's heroics aren't reserved for such emergencies. The former Borussia Monchengladbach #1's been underwriting Barcelona's defensive frailties since Ernesto Valverde took charge. It's more noticeable when the attack struggles.
MATS was excellent for the Blaugrana last season, attaining 18 clean-sheets from 33 Liga games, equalling David de Gea's Premier League total with Manchester United. With Barca's defence struggling, he only has two in eight games this campaign. Barcelona's defence is not quite as bad as United's right now, but they're still shaky at the back.
The German keeper puts in equally commendable performances for Barcelona as De Gea more famously does for the Red Devils. He shows cat-like agility and awareness inside the penalty area, makes sensational diving on a regular basis. He deserves to be ranked among the world's best, defensive woes in front of him notwithstanding.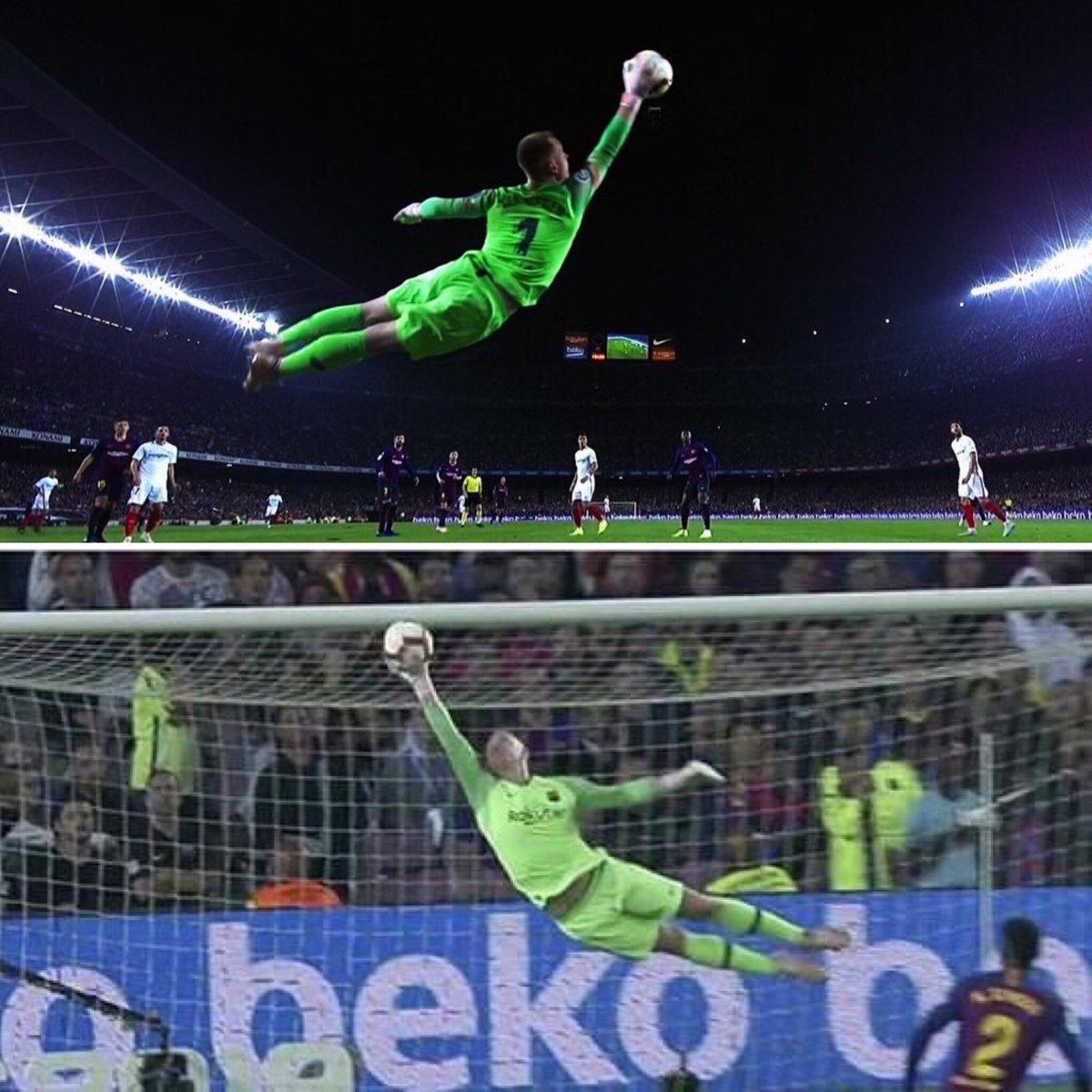 Samuel Umtiti, last season's best defender, remains in recovery from a World Cup injury. Gerard Piquet's instability is exposed. Yerry Mina is missed as a third option following his sale to Everton. Barcelona's wing-backs aren't that proficient either, adding pressure to the centre-halves and narrowing the transition to attack, which assists opposing defences.
Ter Stegen averaged 2.6 saves per game last season. It's 2.7 in this campaign. The Blaugrana's defence is easily penetrated. Two-thirds of the shots MATs faces come from inside the penalty area. It bears repeating. He's earned crucial points for Barcelona to pull them through problematic moments.
Despite his heroics at club level, Ter Stegen cannot break through as Germany's number one. Manuel Neuer's daunting figure stands in his way. Joachim Loew needs to understand how important someone like Ter Stegen can be for the national team.
The Barcelona keeper wasn't given a single minute to play in the World Cup after Neuer made himself available at the last minute. Without match fitness, the Bayern captain and 2014 World Cup champion was uncharacteristically poor in Russia. The typically commanding keeper did Die Mannschaft no favours with his fumbles. Neuer hasn't been at his best since his injury limited his mobility.
On the other hand, an increasingly confident Ter Stegen ventures further from goal with great effect. His shot-stopping more than matches his countryman's in the bargain. Not only has Ter Stegen's reflexes improved, he's developed physically. He holds his own in a crowded six-yard box and comes out with authority to claim corners and crosses. Perhaps most importantly, his demeanor has also developed. He's far more vocal and demonstrative in marshalling Barca's defence.
The shocking mistakes Neuer's made with Bayern this term expose his decline. It's time for Loew to promote Ter Stegen. Neuer can serve as a mentor but a diminished role will help him focus on rediscovering his form. Ter Stegen has already shown impeccable ability. Always alert to danger and ready to produce superhuman saves, his time is now.
If Loew wishes to save Germany from further decline, he must clear away the deadwood. Manuel Neuer is an excellent beginning. Ter Stegen's unrelenting work for Barcelona proves he's not only ready to sit on Neuer's uncontested throne; he's can outperform his compatriot for the national team.