Marlon Santos: Introducing the latest debutant at Barcelona
Marlon Santos finally earned his La Liga debut for Barcelona against Las Palmas. Though it came with a little bit of misfortune befalling other players, it was certainly a memorable one for the youngster.
Marlon was thrust into action after Javier Mascherano pulled out during warm-up, Jeremy Mathieu through injury, suspension to Sergi Roberto coupled with Gerard Pique's illness. Barca maintained their barrage on the La Liga winning 4-1 with Neymar notching a hat-trick. But it was the 21-year-old who earned plaudits for a composed showing partnering another promising defender, Samuel Umtiti, in what could become a fixture for the club.
"I want to congratulate Marlon because it is not easy playing for the first team, away from home in those circumstances.
He is training and playing with us because he has what it takes," captain, Andres Iniesta, told the
club's official website
.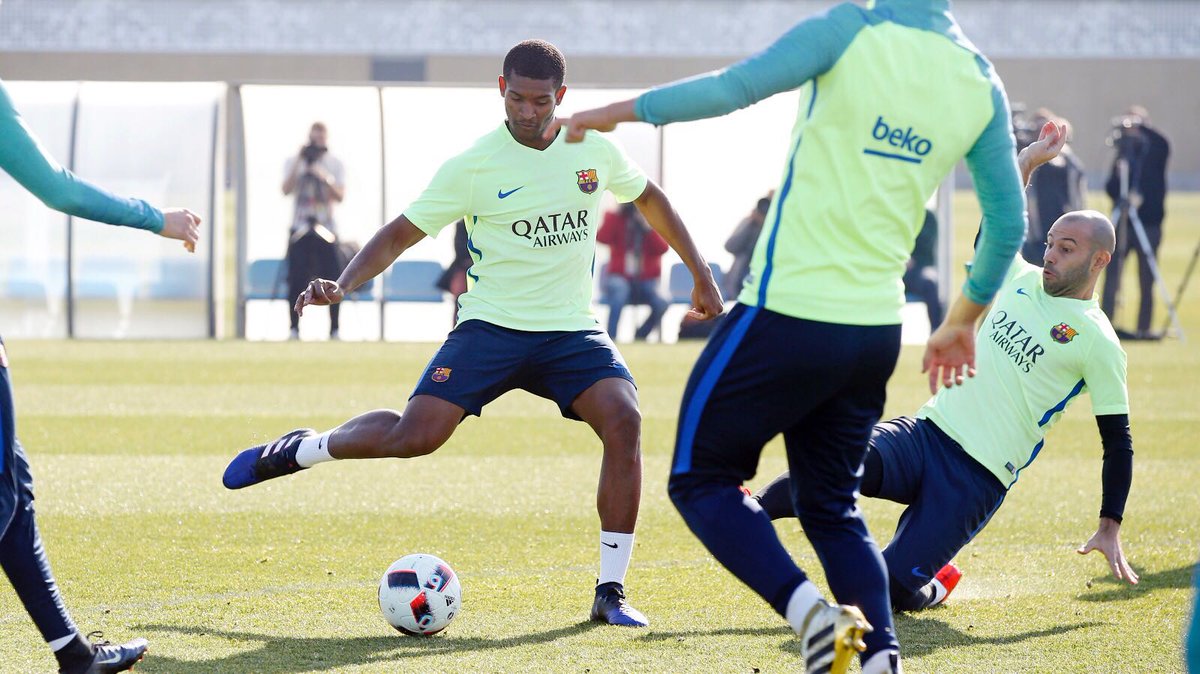 Marlon had already featured for the Catalans in the Champions League, replacing Pique in the 2-0 win over Celtic in November. However, his top-flight bow came with higher stakes as Barca sought to maintain the pressure on Real Madrid in a title race that will go to the wire.
"I have lived it as a unique opportunity of my life and I tried to give the maximum,"
the youngster disclosed to told
Barca TV
. 
"I was prepared. I work for this, the opportunity appeared and now I have to continue working. I felt safe because both [Samuel] Umtiti and [Marc-Andre] Ter Stegen conveyed confidence to me. I was a bit nervous at the start, I could feel it in my stomach, but I managed to control my emotions. I appreciate the support of all my teammates and the opportunity they gave me."
The talk now is that Marlon has made a great case for becoming part of the defensive rotation in place of Mathieu, who is likely to leave, even if Mascherano stays. But who is this new kid on the block? Here's all you need to know about him.
Where Marlon Santos from?
Marlon, whose full name is Marlon Santos da Silva Barbosa is Brazilian born in the Municipality of Duque de Caxias, Rio de Janeiro.
When did he begin his career?
Just like every other kid in Brazil, Marlon's childhood dream was to become a footballer. His breakthrough eventually came in 2013 when he joined Fluminense as a teenager.
What's his best position?
Marlon predominantly plays as a central defender but started his career in midfield. While at Fluminense, injury to a teammate forced his coaches to redeploy him to defence and ever since he has continued to wax stronger in that role.
What are his strengths?
Strong, intelligent and superb at reading and anticipating play, Marlon is fast maturing into the modern breed of defenders. He has consistently been compared to countryman, Thiago Silva, who also began his career at Fluminense. The pair possesses similar physique, composure in possession, tactical intelligence and ability to create chances from the back.
Has he been capped by Brazil?
No, but has featured for the South Americans at various youth levels. With the U20s, he took part in the 2015 World Cup, where Brazil reached the final but lost to Serbia. With the U23s, he took part in friendlies in November 2015.
When/how did he join Barca?
Marlon moved to Camp Nou on loan last July with an option to make the deal permanent if he features five times before the end of the season. Apparently, he hasn't made up to that number but it appears Barca are already convinced by his abilities.
"It's been done for a while -- everything is finalised between Barca and Fluminense,"
his agent, Fred Moraes, told Radio Barcelona.
Why so long before debut?
Partly cos Marlon wasn't properly registered for the La Liga until the new year. The club almost got into hot waters for trying to field the player in the 1-1 draw against Real Sociedad in November. Marlon was named among the substitute and came close to coming on for Pique in stoppage time. Had he featured in that game, Barcelona would have been penalised - a reminiscent of Real Madrid's expulsion from last year's Copa del Rey for fielding an illegible Denis Cheryshev.
Is he the religious type?
Yes. Just like many Brazilians, the 21-year-old is a proud Christian. He often publishes religious messages on his social media accounts, including bible passages.