Is Marouane Fellaini's Manchester United revival inspired by Belgium's World Cup?
When Jose Mourinho fought the board and fans to re-sign Marouane Fellaini in the summer, his sanity was questioned. Sentiment said he wasn't a "United player." Good riddance; sign someone like Jorginho or, more popularly, Sergej Milinkovic-Savic in his stead.
Mourinho reiterated Fellaini's importance to the team, that his exit would be a big loss. Most people, myself included, didn't understand how the Portuguese could be so enamoured with an awkward, floppy-haired player who wasn't quite a centre-forward nor defensive mid. The Belgian made himself useful in certain matches with the odd late goal. Otherwise, he was a midfielder who couldn't dribble or an impact sub only good for winning aerial duels in either box. His unattractive play and limited ability rubbed supporters the wrong way, especially those obsessed with United's playing style.
Cut the World Cup, Roberto Martinez picked the frizzy-haired Belgian to start in his midfield against Brazil. The odd move paid off. He bossed the midfield, restricting Neymar and Phillipe Coutinho while Belgium beat Brazil 2-1. Critics did their usual about face, hailing the move as inspired. Rio Ferdinand called the former Evertonian a "monster" due to his defensive skills.
Even so, few expected Fellaini to reprise the role in a Manchester United shirt. With Michael Carrick permanently in the dugout, these Red Devils needed a conductor occupying the midfield base. New import Fred and fellow Brazilian Andreas Pereira, showed glimpses of a dynamic midfield. Pereira returned improved after a year at Valencia but lacked the authority to screen a midfield. Fred's one of those players who requires time to adjust to harsher treatment in the Premier League. Back to back losses against Brighton and Tottenham, forced Mourinho to go back to basics with his new midfield combination against Burnley.
Fellaini anchored the midfield triangle. He denied opponents access to the eighteen-yard box, freeing up Nemanja Matic to recover and recycle possession. Paul Pogba freely roamed the final third.
The new combination delivered back-to-back wins. Fellaini starred against Watford at Vicarage Road, preoccupying Troy Deeney so that Chris Smalling and Victor Lindelof could devote their attention to Andre Gray. Critics love the new midfield. Belatedly, fans are christening the Belgian as one of their own.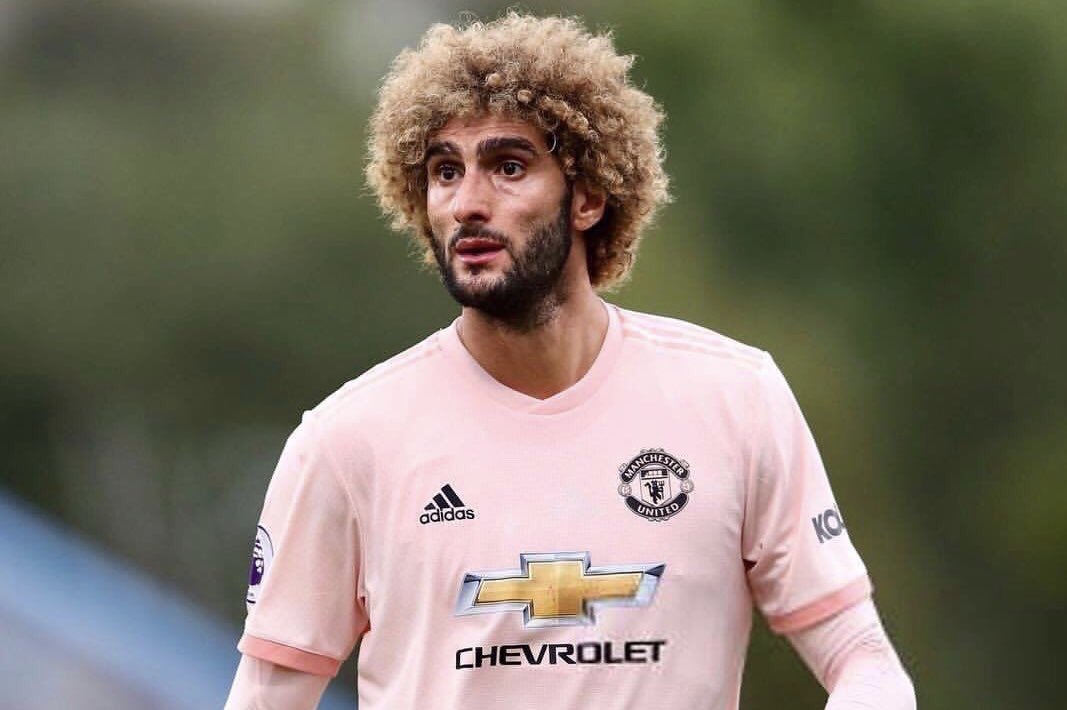 Marouane Fellaini vs Watford
🔘 4 Tackles
🔘 5/6 Aerial Duels Won
🔘 5 Clearances
🔘 10 Ball Recoveries
🅰️ 1 Assist
#MUFC
https://t.co/GO3KdZCYIY
Credit for this change in scenario belongs to the new faces in the dugout. Keiran McKenna and Michael Carrick's influence is revitalising United's play. Pogba attributed his performances to Carrick's advice. Mourinho commented how McKenna's set-piece drills achieved the desired result against Watford. While Mourinho's a masterful tactician, two footballing minds with fresh ideas can only help.
They took a page from Roberto Martinez's playbook for the World Cup, using Fellaini's defensive ability as cover for a dynamic, intensified, high-pressing, midfield that can win balls then transition directly into attack.
Despite Watford's late surge in the last match, Fellaini's contribution parallelled David De Gea's. Their work preserved all three points. While it's still early days, signs reassure. United may have found the final piece to their midfield puzzle.