Maurizio Sarri needs time to transform Chelsea
Maurizio Sarri can be forgiven for looking like a fish out of water when Manchester City tore apart his Chelsea team in the Community Shield. The Italian had no answers to Pep Guardiola's well-oiled machine. Chelsea were beaten fair and square. The former Napoli boss could only watch in resignation while his side collapsed like a house of cards.
It's just the Community Shield. Normally, a single match isn't enough to predict a team's performance for coming season. Their decisive 3-0 win yesterday against Huddersfield said as much. Except, in this case, things aren't normal. Chelsea's identity and tactics are in disarray, transition if you prefer a more diplomatic assessment.
Yes, the Stamford Bridge outfit won the Premier League title twice in four campaigns. The Blues also collapsed twice in the same period, playing under three managers during that span.
As a Chelsea manager, you live or die by your immediate results. You must deliver faster than Domino's Pizza or you're shown the door. Not even the self-proclaimed "Special One" bucked the trend. In the last eleven seasons, 12 managers took charge on 14 occasions, including Jose Mourinho's second reign and Gus Hiddink's interim stint in 2017. That's a new manager nearly every campaign. When you consider three Premier League trophies, four FA Cups, one each from the Community Shield, League Cup, Champions and Europa League silverware also fit through the revolving door at Stamford Bridge, it's difficult to argue against the intentional chaos. So much for thinking long-term.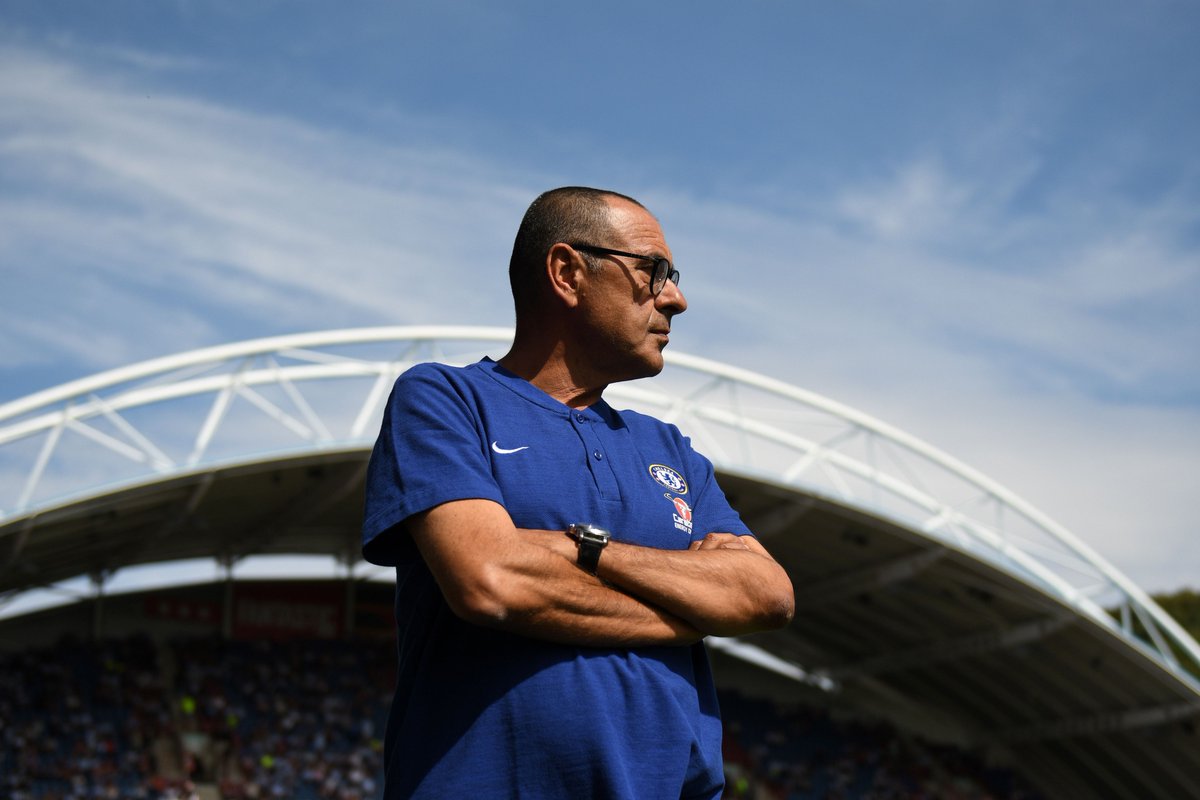 3 - Chelsea's 3-0 win was the largest margin of victory in their first Premier League game under a new manager since 2008, when Luiz Felipe Scolari oversaw a 4-0 win against Portsmouth. Introduction.
https://t.co/vF0vjSGD3w
Conventional wisdom says you let a winning manager do his job. Nor do you tinker with a winning formula. Where did that take Arsenal under Arsene Wenger? How long will Liverpool and Tottenham wait to fill their trophy cabinets under Jurgen Klopp and Mauricio Pochettino?
It isn't ideal but it's the environment Sarri insisted on entering. He must produce immediately and must be grateful an unimproved Huddersfield side were first on the fixture list. Arsenal are next, however, and converting a squad built to play defend-first/counterattack second football to a Sarri-ball team does not happen overnight. First, he needs the right players. Second, the right mentality. Finally, he requires time for the players to assimilate his methods, imbibe and then express them on the pitch.
The former banker has been in England for more than three weeks. His team's performance in the Community Shield showed he's yet to stamp his image on the side. Playing flat-track bully against schoolboy Huddersfield proves nothing. His Napoli team played beautiful free-flowing football, both pleasing to the eye and productive. Results included a famous, long-awaited victory in Turin against Juventus near his final campaign's conclusion. Sarri won no trophies in three years as Napoli boss. Regardless, he left an indelible mark on the club with his playing style and competitiveness.
In the Champions League, he drew high praise from Pep Guardiola after the two came head to head in the competition's group phase. Turning Chelsea into a relentless attacking team can happen. It's why he was chosen to replace his compatriot. The owner-in-exile, Roman Abramovich, has long desired to possess such a club, but the transition won't happen in a few weeks. As observed in the match against Manchester City at Wembley, Chelsea are miles from their destination.
Manchester United and Liverpool also have stronger squads than the Blues. The Naples-born manager must also learn the English game, how its tactics affect his style, in turn how he can exploit them. It took Antonio Conte three months to find his footing, Guardiola a full season. It may take the Italian tactician more than a season to come into his own in the Premier League.
Whether the club hierarchy is patient enough to reap the fruits of his teaching is questionable. History argues against it. We can only wait and see.