Does Pep Guardiola need to take emergency measures at centre-back?
When a club spends £150-200 million or more on players in each and every summer transfer window it's difficult to feel sorry for them if they are hampered by a single player's absence. Aymeric Laporte's knee injury will keep him out of the lineup for six months according to reported estimates. Left with only John Stones and Nicolas Otamendi as pure centre-backs, Manchester City's hipster manager, Pep Guardiola would be tearing out his hair if he didn't shave and wax his scalp regularly.
Newly promoted Norwich City isn't complaining after exploiting the dubious partnership for a 3-2 victory Saturday at Carrow Road.
To be fair, the opening goal wasn't Stones or Otamendi's fault. Kenny McLean headed home Emiliano Buendia's near-post corner on 18 minutes. With an attack based on complex movement grounded in short passes, City doesn't feature many tall players. They're comfortable with surrendering a few goals every year to such a vulnerability. Their success at the other end more than compensates.
On the other hand, Pep expects them to fend off all advances from the run of play. Stones and Otamendi did not and the Canaries faithful consequently sang in full voice.
Ten minutes after the opener, Norwich sprang a counterattack. At the midfield stripe, Stones stepped up to play Teemu Pukki offside, unaware that Kyle Walker was already in full retreat, vainly attempting to make up ground on Todd Cantwell. Pukki, on five Premier League goals, penetrated the City 18 before unselfishly sliding the ball into Cantwell's path for an easy tap-in.
Sergio Aguero pegged one back for the Sky Blues just before the half but Otamendi betrayed his side five minutes after the restart. Dallying over a Stones pass at the top of the box, Otamendi lost possession to Buendia who set up Pukki's sixth goal of the young campaign.
Aguero headed over for a second time on the evening and Raheem Sterling hit the post, leaving Rodri's debut goal for City insufficient to requirements.
While Liverpool remain perfect through five games, Guardiola's men have dropped five points. Last year, they made up an 11-point deficit after the holidays to win back-to-back titles but do they honestly want to see whether Liverpool will allow that to happen again this term? At the rate they're going, who's to say there won't be a bigger mountain to climb by the time Laporte returns in February or March?
To be fair a second time, City also miss Vincent Kompany. Their former captain is now at Anderlecht but was being phased out for the past two seasons. Guardiola's recruiting team had the money. They had the time. There is no excuse for fielding a squad with just three proper centre-halves [and proper is being kind to Stones and Otamendi].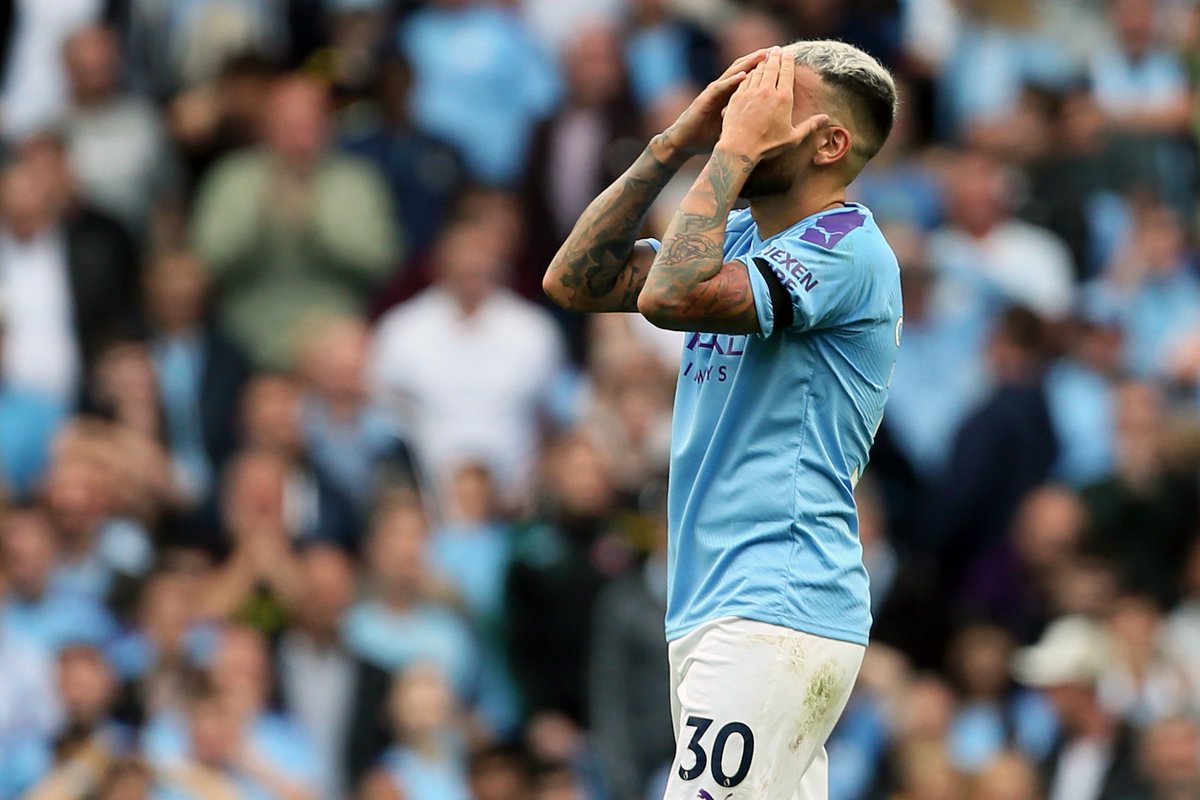 Outfield Manchester City players have made 10 errors leading to goals in the Premier League since Pep Guardiola took charge:
Nicolás Otamendi: 5
John Stones: 3
Everyone else combined: 2
https://t.co/CGqWfYXvBN
Guardiola has options.
He can chalk the defensive debacle up to 1] a lack of preparation with everyone gone for the international break and 2] complacency from a side who had never lost to a promoted team under his leadership and stick with the Englishman and Argentine.
If he doesn't want to tempt fate, he can call on one of two players at other positions in his squad who have experience in central defence. Kyle Walker played centre-back for Gareth Southgate's England at the World Cup. He was part of a three-man setup, though. There's no telling if he can handle the job with a single partner. Fernandinho is the other possibility. The 34-year-old played centre-back for Guardiola in a previous pinch or two. With Rodri fully comfortable in the midfield, dropping back will return the Brazilian to the starting XI.
Pundits and concerned fans alike wonder whether Guardiola can find a patch that will hold until January when the transfer window opens. Certainly, City should be scouting for a top-class defender to add to their ranks at that point as you read this. It should already have been done.
In the meantime, however, there is the possibility another defender or two might pick up a serious knock. The football gods love to kick teams when they're down. In that case, top-class doesn't enter the equation. Anybody will do.
Clubs can sign free agents anytime, night or day, on Christmas, during Passover or Ramadan, whether the transfer window is open or shut. Admittedly, the pickings are slim. Players tend to be without club for a reason. Guardiola will want someone who can defend without leaving his feet, pass with a high degree of competency and not lose his mind in possession. If such a candidate had Premier League experience, all the better.
As it happens, former Arsenal defender Johan Djourou is available. The former Swiss international split last season between Turkish side Antalyaspor and Serie A outfit SPAL. At 32, Djourou's lost a step but is someone with whom Pep could work if the former Barcelona and Bayern boss is truly desperate. And if you watched the Norwich match, you have every reason to think he might be.
Djourou averages an 86.3% pass completion rate over his career and 0.4 successful dribbles per 90. His numbers in limited time with SPAL and Antalyaspor were comparable. They're also comparable to Otamendi, Stones and Laporte. His passing is slightly inferior to the latter two but he's never played in a system that emphasises short passing to the extent Guardiola's does. Meanwhile, his dribbling is as good as any of the three.
Naturally, a club as dominant as Manchester City has standards. They don't just pluck people off the street and plug them into the lineup, Martin Demichelis excepted. But there is no reason not to have an extra body around, training with the squad, on hand in case Saturday's warp core breach can't be contained and the situation degenerates into complete mayhem. After watching the goings-on at Carrow Road, you can't help but think such a state is already too close for comfort.