McTominay, Fred, Andreas: More Ole Redemption Songs
Under Ole Gunnar Solskjaer the forgotten trio's renewed relevancy is remarkable.
Background image: André Zahn, CC BY-SA 2.0
In football, it's not always possible to "emancipate yourself from mental slavery". Often a timely intervention is required. It's understating matters to say Ole Gunnar Solskjaer re-energized Manchester United. He did more. Solskjaer fixed the past, organized the present and prepared for the future.
In less than three months, he rectified the mistakes of three previous managers. Pragmatic but also bold and fearless, he plays the Manchester United way. Trusting players keys his success. With Marcus Rashford, Anthony Martial, Romelu Lukaku, Ander Herrera, Victor Lindelof, Chris Smalling, Luke Shaw and even Nemanja Matic, he revitalised nearly every demoralised United star. Only Alexis Sanchez continues to struggle. It goes deeper, however. He makes the fringe players feel vital to the club's plans. Midfielders Scott McTominay, Fred and Andreas Pereira illustrate.
When Nemanja Matic picked up an injury after the 2-0 win against Chelsea in the FA Cup, Ole gambled by replacing him with McTominay. The Lancastrian-born Scottish international was Jose Mourinho's pet in 2016/17 winning the specially created Manager's Player of the Year award last season. Pets often go abandoned, however. The Portuguese tactician loved the 22-year-old's enthusiasm, discipline and humility. When his inexperienced was finally exposed, though, the end of the bench beckoned. After the Portuguese departed, McTominay learned it was alright to make mistakes under the new boss. You'd always get an opportunity to correct them.
Mourinho forged a steely defensive midfielder but left the edges rough. OGS polished them. United now has a versatile midfielder prepared to contribute with and without the ball at a bargain price. In short, the Red Devils discovered Darren Fletcher 2.0.
Scottish excellence, slick back hair, dripping in sauce. Came from the academy, rated by SAF and Jose Mourinho. The Parc De Princes will be blessed after tonight. France and Europe isn't ready. McTominay SZN.
https://t.co/3HmhzziGLr
Andreas Pereira is another who didn't receive much love from the Special One. Searching for regular minutes, he accepted a loan to Valencia. One goal in 23 appearances under three managers failed to impress. After a promising display in pre-season, the Brazilian again struggled to find game-time. OGS gave him a chance against Burnley. The Clarets suffocated him, pressuring him into an error that cost United two vital points. With Ander Herrera sidelined, the Norwegian had every reason to stick with the youngster.
The 23-year-old grasped his second chance with both hands. He was the best player on the pitch in a 3-2 victory over Southampton, grabbing an assist and scoring a screamer. Put in the No.10 role behind Romelu Lukaku rather than the deep-lying role Mourinho thrust on him, he capitalised. Pereira appears comfortable further up the pitch. His long-range shooting, quick passing and ability to draw defenders make him a candidate for a false-nine if Solskjaer wishes to experiment.
Fred was the big-ticket item with a no-return policy. Under Mourinho, he never justified his £52 million price tag, struggling to find his feet in the Premier League. Poor ball retention and nervous passing compromised his defenders. With an injury crisis to contend with, Solskjaer kept coming back to the former Shakhtar standout. Finally, a brilliant performance against PSG in the middle of the park contributed mightily to United's continued presence in the Champions League. Now brimming with confidence, the 26-year-old's ball recovery sparks the counterattack. Ole loved the performance in Paris
Fred, that was probably his breakthrough for us. You can see why we've signed him.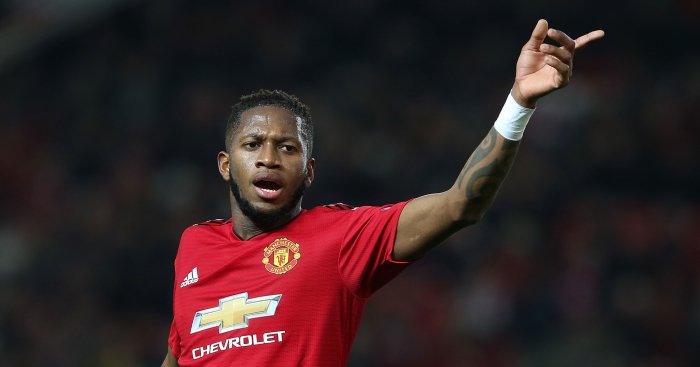 Fred. The unsung hero of Manchester United's heroics against PSG. Big match by him with McTominay in the middle of the pitch. The ability to perform with such technical correctness and 'hustle'. Ran his socks off tonight with 9 big tackle attempts. A true £53M player tonight.
https://t.co/2CtUfk1BN9
All three are far from finished products. They can do more and know they will be given the opportunity. Their time is coming. Matic is 30. The Serb has improved his game but still slows down attacks and isn't ideal for Solskjaer's style. Herrera is 29. His energy can drive the team but, like McTominay, his game needs polish.
When asked about the summer transfer window, the manager suggested four players were needed. Many fans want the club to invest in five or six. The three midfielders must keep proving that is unnecessary. Big challenges against Manchester City and Barcelona loom. Can they raise their games?