Should Dries Mertens be on Juventus' summer shopping list?
Will Mertens switch blue for black and white next season?
Over the years, Juventus have been branded the king of free transfers. Included in certain players they've signed for nothing are Paul Pogba, Andrea Pirlo, Dani Alves, Emre Can and Aaron Ramsey. When looking at such quality, one would presume they'd be sold for millions.
Well, the expert transfer philosophy system set up by Andrea Agnelli remains untouched. With Guiseppe "Beppe" Marotta as the brains of the whole operation, they snapped up world-class talents for no transfer fees. Of course, snarky comments followed on the Bianconeri being money-crunching with their signings. But seven Scudetto's later, they don't care.
On a surprising note, their latest free signings haven't hit proper stride yet. Ramsey's yet to delve into Maurizio Sarri's system fully. Almost a year of non-activity has hindered Adrien Rabiot's performance-levels, too. That being said, their slow starts won't be taken as a warning sign. In fact, the Bianconeri have perhaps already begun swirling around potential free targets.
The most important one is closer to home. Dries Mertens' contract expires with Napoli in the summer. With internal trouble threatening to break apart Gli Azzurri, the Belgian's contemplating a move away. Things haven't been helped by Aurelio De Laurentiis, putting hefty fines on his players for skipping a post-match training session.
Moreover, players themselves aren't feeling safe with hooligans threatening to cause personal harm. Of course, he'd prefer to in Italy. A Bosman transfer sits as a more attractive option thanks to how elusive it is for the player himself.
As there's no transfer fee involved, the joining bonus could be lavish. Ramsey made a fortune doing similar. Of course, Mertens would be nothing more than a short-term solution for Sarri. However, having worked with him at Napoli, they know how to get the best out from each other.
The Belgian started soaring during Sarriball's peak with Gli Azzurri. Juventus lack a consistent goal-scorer. Perhaps Cristiano Ronaldo is to fill that void once he gets his lethal senses back in check. Gonzalo Higuain has been inspired, but scoring in patches. Paulo Dybala is thriving under the many responsibilities set on his shoulders, but even he requires another parrying partner in attack.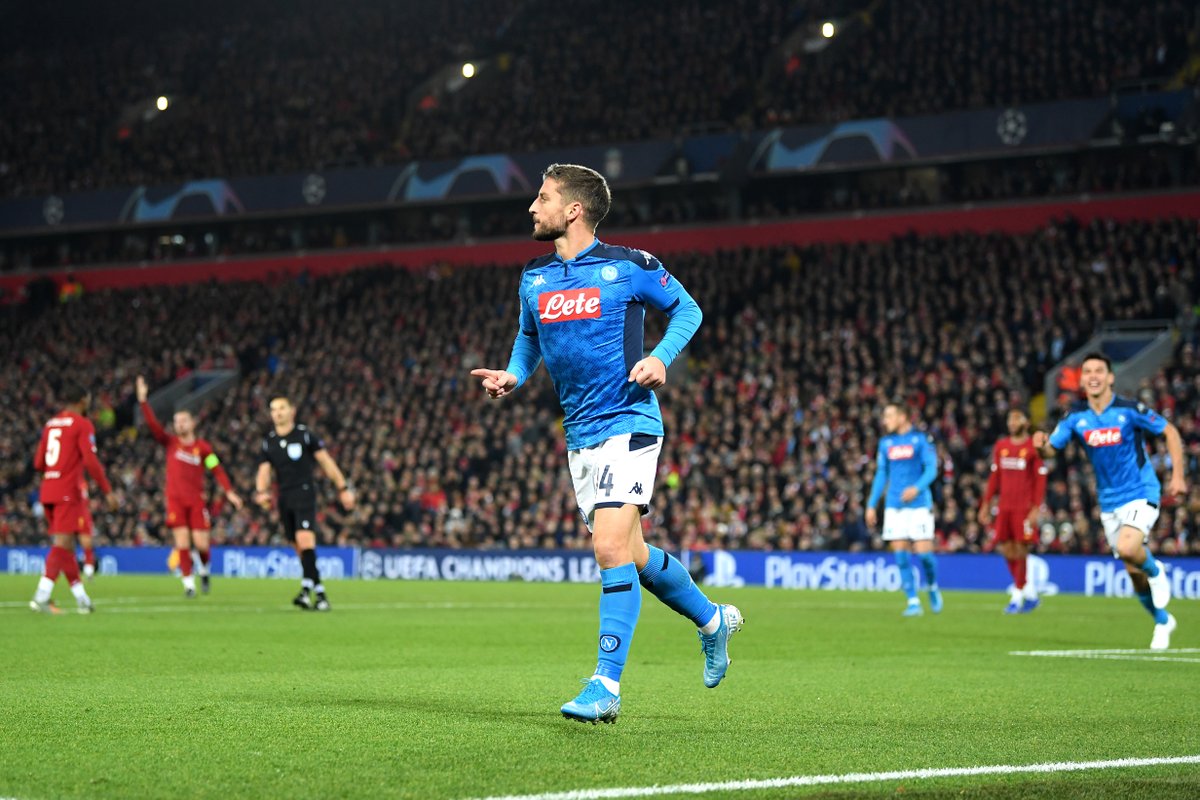 17 - Dries Mertens has been directly involved in 17 goals in his last 18 Champions League starts (13 goals, 4 assists), including five in this campaign alone (4 goals, 1 assist). Firing.
https://t.co/iK6Q3Pni6a
Considering how well accustomed he is to Sarriball, the Napoli all-time top-scorer shouldn't take time to blend in. In all fairness, he's yet to get going this season. Four returns in thirteen league games aren't up to the mark for a striker having netted sixteen last time out.
However, his purple patch has perhaps collided with Napoli's disintegration. Considering he boasts more shots and almost as many key passes (2.9 & 1.9 compared to 2.5 & 2) per 90(WhoScored) than last season, the Belgian's still a menacing figure going forward. Despite running out of fuel, his unique threat can open up the cobwebs in Juventus' occasionally frustrating forward-line.
Having already scored four times in five games in the Champions League, he'll also bring European expertise to help the Bianconeri be more decisive in Europe. In the end, the reason Sarri's been brought is to win the coveted European title. An experienced candidate like him is crucial towards building a flexible forward-line.
Mertens also possesses that X-factor. By drifting into different areas with ease and scoring with finesse, he's almost a fox in the box. In terms of link-up play, his style makes it easier for team-mates to create a strong connection. Considering how much he thrives under Sarriball, the 32-year-old should mix up really well with Juventus' charismatic forward-line.
Alongside stylish players like Dybala, Ronaldo, Miralem Pjanic and even Ramsey, he'd help unleash Sarriball's utmost beauty. For that, the Old Lady must convince the Belgian to come onboard. With the eccentric De Laurentiis at helm, pulling that off will be akin to dipping in cold water. The reward, although, could bear sweet results.