Is Lionel Messi on the precipice?
The Lionel Messi era at Barcelona is fading although both legend and club refuse to see it.
At the climax of the original Die Hard, villain Hans Gruber dangles over the edge of Nakatomi Tower as hero John McClane attempts to pry loose his grip on wife Holly's wrist. Desperately hanging on, Gruber pulls a concealed weapon from his belt with his spare hand but, to his dismay, McLane frees Holly and the master criminal plummets to the ground before he can bring the gun to bear. Happy trails, Hans. In Avengers: Endgame, Black Widow allows herself to slip from Hawkeye's grip and fall to her death, sacrificing herself so that her truest friend can retrieve the Soul Stone and live to see his family again. Somewhere along that spectrum between selfish villainy and selfless heroism lies Lionel Messi's precipice.
It's easy to paint the Argentinian legend as both hero and villain which, perhaps more than anything, proves his humanity. At 33, he still climbed above the 30-goal plateau for Barcelona even though the club fell considerably short of winning either La Liga or the Champions League. His detractors argue he is holding the club hostage, forcing them to commit resources needed elsewhere to satisfy his greed, all the while forgetting he would now be the adult version of an scrawny, sickly, undersized wastrel had the club not shown such faith in his potential that they brought the twelve-year-old and his family across an ocean and paid out of pocket for his hormone therapy. Where is the loyalty, they ask? Legions of adoring acolytes counter that the Blaugrana are running themselves into the ground, that board members are more concerned for their salaries than the needs of the club and Messi is its only lifeline. To a degree, both sides are correct.
This season at the Camp Nou was ravaged by more than one contagious disease. Socios called an election to replace one corrupt, avaricious president with another--and before you sing Joan Laporta's praises, consider that the reinstated executive conscripted Barca into the European Super League insurrection and still considers that failed money-grab the only viable path forward for the club. Regardless, outgoing president Josep Bartomeu had already appointed Johan Cruijff disciple Ronald Koeman to replace the failed Quique Setien as manager in an unsuccessful attempt to appease the torch-carrying mob.
The Dutchman perceived two problems with his new squad: age and entitlement. Addressing both with his first move, he shopped 33-year-old striker Luis Suarez. Despite scoring more goals since his arrival from Liverpool than anyone in the side other than Messi, the Uruguayan's productivity had dipped as he battled injuries during the past two seasons. Even though Juventus were rumoured to be interested, Koeman allowed Suarez to sign for rivals Atletico Madrid. In his considered opinion, Suarez was done. What was the worse that could happen?
If performance had been the only factor in Koeman's decision, the matter would have ended there. Unfortunately, every European football fan knows it wasn't. Suarez wasn't just Messi's most productive partner on the pitch, he was his strongest friend and ally in the clubhouse and media. When his running mate was hung out to dry, the last and greatest one-club man in football put in a transfer request.
Bartomeu continued to walk the tightrope, sanctioning the Suarez transfer and successfully appealing to Messi's last remaining vestiges of loyalty and his professionalism. If it had been left to Hollywood script writers, Messi and Koeman would have found common ground, become friends and rallied Barca to conquer La Liga and the Champions League in style. In reality, they struggled to come together and the side fought most of the season just to secure Champions League qualification. It was the Blaugrana's first trophyless campaign since 2008.
Meanwhile, a reinvigorated Suarez's 21 goals powered Atletico Madrid to La liga glory. As a result, Koeman's job is in peril, Messi remains the most powerful figure at the Camp Nou and new president Joan Laporta must venture out onto the tightrope that Bartomeu failed to cross.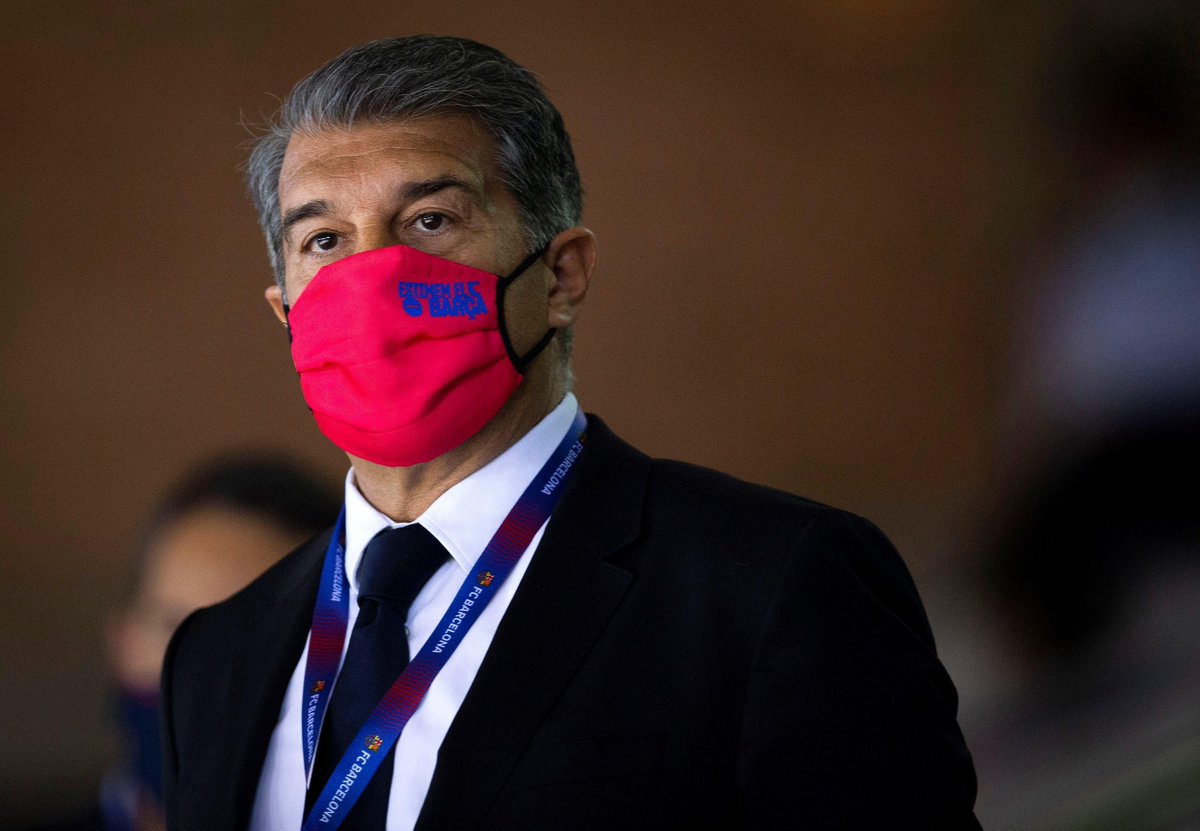 President Laporta is doing some serious business at FC Barcelona
• Sergio Kun Aguero - free
• Eric Garcia - free
• Gini Wijnaldum - free ⏳
• Gigio Donnarumma - free ⏳
• Memphis Depay - free ⏳
• Leo #
Messi
⏳
• Emerson Royal - €9M
Making Barca Great Again. 🔵🔴
https://t.co/7lpJx81e9i
On Monday, the club signed Sergio Aguero, another close friend to Messi, on a free transfer. The Manchester City and [ironically] Atletico Madrid legend gushed to the press about his lifelong ambition to play for the club but added one telling detail.
It was an immense joy when they contacted my agent. I've been interested since I was 14 years old. For me, Barca has always been the best team in the world and Leo is also there.
Other new recruits are promised, most notably Liverpool midfielder Georginio Wijnaldum whose Liverpool contract expires at month's end. The cunning Laporta intends to keep his promise to rebuild the squad largely by applying the Bosman Rule to sign top players and prospects on the free while budgeting the club's limited available funds to re-sign an out-of-contract Messi. It's as though he spent his time away from the presidency in Turin studying the Juventus business model.
In the clubhouse, it remains to be seen how much Aguero's signing undermines Koeman's authority. Admitting he was wrong to exile Suarez may earn the former Everton and Southampton boss some respect but, like as not, the squad will continue looking to Messi for the final word.
And that could be a problem. Whether or not supporters or the man himself accept it, the end is not too far off for the GOAT. The question is whether the final script calls for him to lose his grip and fall or stand on firm ground as he pulls Barca from the precipice.