Can nations win more by not building around a superstar?
Euro 2020 qualifiers began during the current international window. England started well with a 5-0 win over the Czech Republic. Social media flipped out over Paul Pogba's saucy chip over Montenegro's low block to Antoine Griezmann in France's 4-1 victory. It goes without saying that when your country plays you have a vested interest in one side, but neutrals also enjoy international football for the opportunity to see superstars in an alternate environment. France and England rank among the few nations who boast several superstars. Other countries aren't so fortunate. If they have one standout player, a tactical choice must be made. Does the manager set up the squad to maximise his talisman's effectiveness or must the top talent fit in with the team?
Unsurprisingly, Argentina and Portugal carry the flag for the individual. With ten Ballon d'Ors between Lionel Messi and Cristiano Ronaldo, how could they not?
Portugal found success by supporting Ronaldo. Until recently, the Selecao had no stars on the Manchester United/Real Madrid legend's level. There was little choice. In Euro 16, he carried his nation to the final. Injured in the first half, he spent the rest of the match in the technical area encouraging his teammates to raise their games. Amazingly, the did, becoming European champions.
At the World Cup in Russia, CR7 carried his compatriots again but found himself outnumbered by Luis Suarez and Edinson Cavani in the Round of 16. When Ronaldo transferred from Real Madrid to Juventus, Portugal manager Fernando Santos extended leave of absence from international duty so that the megastar could acclimate to his new surroundings. In the process, he discovered that a new generation possessed the talent to play with rather than for the absentee forward. Bernardo and Andre Silva, William Carvalho and precocious teenager Joao Felix appear ready to carry the Selecao forward.
Despite its many failures, Argentina remain unconvinced they should rely on other players beyond their talisman. La Albiceleste haven't won a major trophy during Messi's time in the squad. A lengthy parade of managers tried to persuade a herd of world-class players to subjugate their games to the Maestro. Those who protested or whose talents didn't suit the feed-Messi strategy were left home. At various times, that list included Gonzalo Higuain, Sergio Aguero, Angel di Maria, Paulo Dybala and Mauro Icardi. Messi is closing on 600 goals for his Barcelona career but he remains one man. Higuain [293], Aguero [345], Di Maria [127], Dybala [102] and Icardi [161] claim more than a thousand strikes between them for their sundry clubs. The team of Batistuta and Maradona now crashes out of too many tournaments trying and failing to get the ball to Messi. Maybe it's time to spread the wealth rather than leaving money on the table.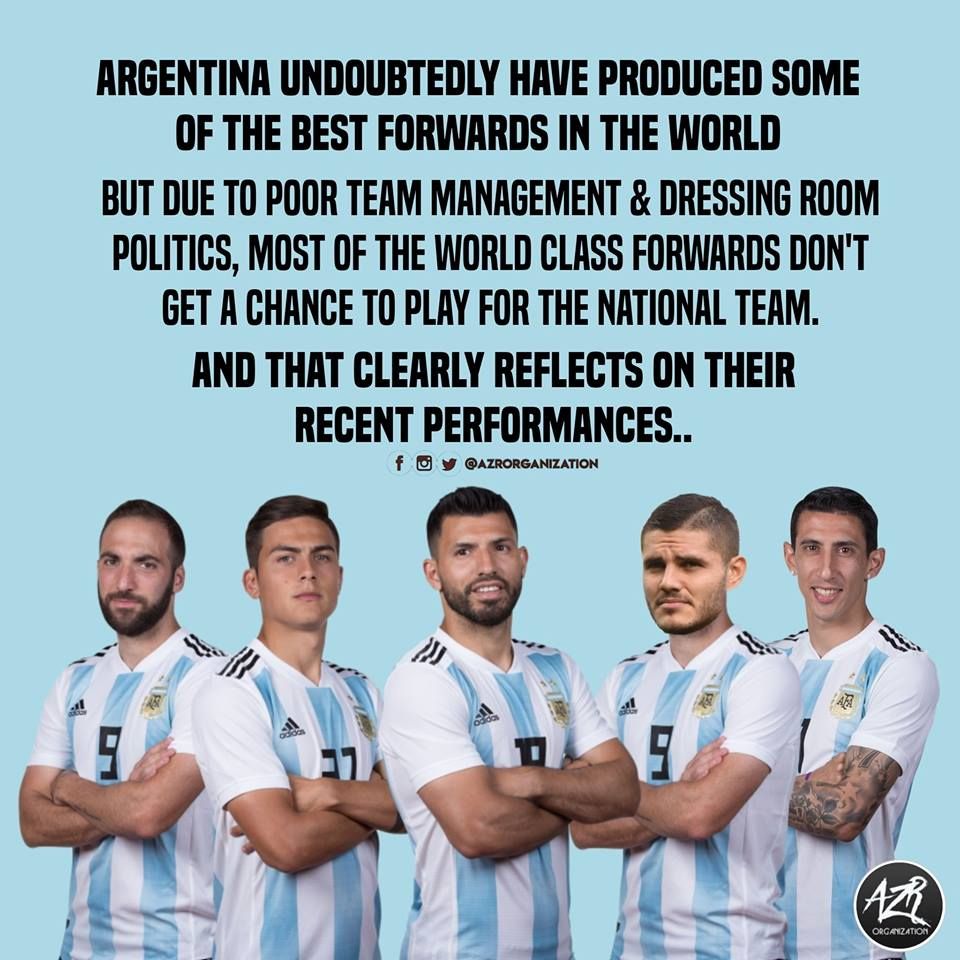 Cohesion can prove difficult to attain when internationals link up for a fortnight four or five times per year. That said, collective effort must come into play more often than individual brilliance. The 2018 World Cup exemplifies the point. Argentina and Portugal dropped out early. So too a Spain side that relied too heavily on Isco and Diego Costa. Belgium, England, Croatia and France all made deep runs. Russia's quarterfinal appearance shocked the world.
Save for the host nation, all these countries fielded star-laden teams. Harry Kane fronted England but Raheem Sterling, Dele Alli, Kieran Trippier, Jesse Lingard, Harry Maguire and Jordan Pickford all made major contributions. Pogba, Griezmann and Kylian Mbappe formed the core for Les Bleus' World Cup run, augmented by stellar performances from Olivier Giroud, N'Golo Kante, Blaise Matuidi and debutante Benjamin Pavard. Belgium's tournament came together when Japan pushed them to the limit. Eden Hazard and Romelu Lukaku provided the marquee names although, when the chips were down, Marouane Fellaini, Thibaut Courtois and Nacer Chadli proved to doubters that Roberto Martinez had forged a team.
Despite falling at the last hurdle, Croatia made the strongest case for a team ethic. If it wasn't a World Cup year, does anyone believe Luka Modric would have swept UEFA and FIFA's top player awards? He rarely scores or even assists on goals. Rather, he is the fulcrum between defence and attack, starting all positive movements for the Checkers, the ultimate team player. Mario Mandzukic and the Ivans, Rakitic and Peresic, are stars in their own right. Nevertheless, the quartet relied heavily upon lesser lights such as Ante Rebic, Domagoj Vida, Danijel Subasic and the self-proclaimed "best defender in the world', Dejan Lovren.
Unlike clubs, who can sign any player, nations remain restricted by geography and genealogy. Top players in many nations move abroad to play for the best clubs and come home to play for their country. That pads air miles for many managers but hampers direct communication. Regardless, national team coaches rely on their domestic leagues to develop strong academies that can produce youth stars for the various age-level tournaments. In this manner, younger players can become accustomed to the national setup and are easier to mentor. Of all the players at the World Cup, Pogba [Manchester United] and Griezmann [Real Sociedad] were among the few who completed their youth careers with a foreign club.
What it comes down to is national teams, just like clubs, needing an identity. When that identity is 'get the ball to Messi/Ronaldo', the possibilities become more limited. When all the players plug into a system that remains in place over generations, the sky is the limit.