Mikel Oyarzabal: A cheaper Sane alternative for Bayern?
Mikel Oyarzabal's association with Bayern Munich is a no brainer
Bayern Munich's chase for Leroy Sane continues in 2020. Rigorous negotiations took place between Manchester City and the Bavarian's last summer, though no deal was reached. City's asking price skyrocketed as they were not willing to sell the German international who had been supremely influential before suffering major injury.
Instead, Bayern moved for Ivan Perisic and Philippe Coutinho in the summer, signing the duo on season-long loan deals. Perisic made 22 appearances, scoring five goals while tacking on eight assists. Coutinho, on the other hand, appeared 29 times, recording seven goals and grabbing eight assists. These are decent numbers, particularly when you factor in the form of boh Kingsley Coman and Serge Gnabry. However, Hansi Flick needs more depth.
Following City's two-year ban from the Champions League, many players are rumoured to leave the club. Sane's future at Etihad remains uncertain. He lost his starting berth to Raheem Sterling and Riyad Mahrez, though the aforementioned ligament injury didn't help out the tricky winger in that regard. The German wants to leave the club but the asking price is too high to Bayern's liking. After being sidelined for six months, Flick is understandably reluctant to meet those demands.
In this environment, there are a lot of youngsters who are in a better place right now, while being readily available at a considerably cheaper price. Calvin Stengs, Rayan Cherki, Mikel Oyarzabal and several others... The latter, however, definitely stands out.
Oyarzabal is enjoying resounding success with Real Sociedad this term. Sociedad is placed fifth in La Liga with 43 points amassed, sitting just one solitary point off fourth-placed Atletico Madrid. Along with Alexander Isak and Martin Odegaard, the budding left-winger is becoming a major contributor at the Anoeta Stadium.
He captains the team, holding true leadership qualities at a tender age of 22. According to WhoScored, he is the league's 17th best player stats-wise. Oyarzabal is deployed over on the left, but he can also play as a second striker with unlimited freedom. The Spaniard doesn't possess explosive pace like Sane, but his unconventional crafty style certainly stands out. He is very similar to Bernardo Silva with the ability to play in the centre and on the wings, often drifting inside, allowing his left-back to offer width and penetration from the flank.
Oyarzabal then picks killer passes and gets the ball moving in tight spaces. His ability to deceive the opponent and create from underwhelming situations is a speciality [1.5 chances created per 90], while his defending work rate is excellent. He leads the press and makes sure Sociedad holds a numerical advantage when they lose possession.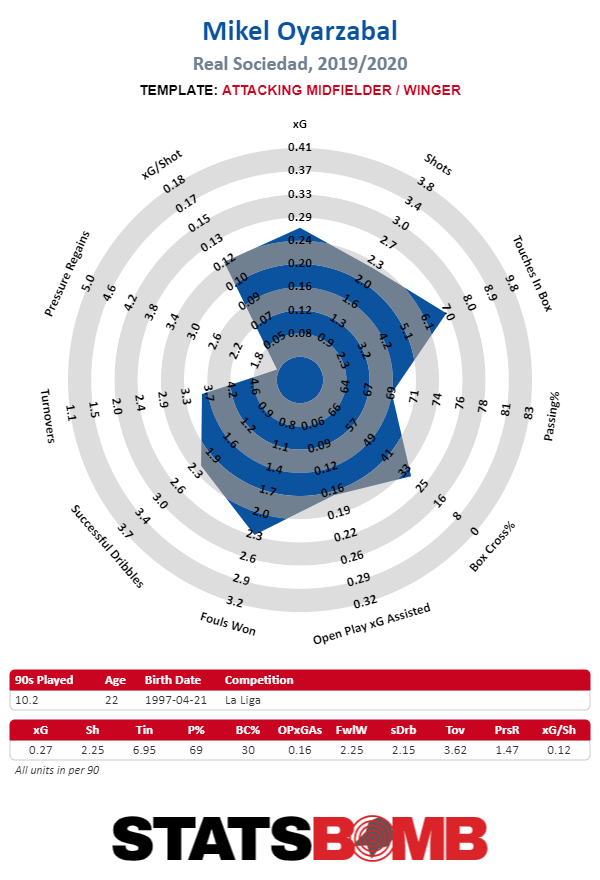 Like everyone, there are weaknesses in his game. A lack of speed often gets compensated, but he cannot be trusted to take the matter in his own hands during counter-attacking situations. With over 40 goals, he is a clinical finisher but his shots taken outside the box [20 this season] are often in vain.
His crossing abilities is a 'trial and error story'. With a poor 20% success rate. Oyarzabal cannot whip crosses from wide areas. Instead, he will try to dribble and play a short pass or do a neat layoff. He loses possession 15 times per 90, which is just too high for any player. This also implies the youngster tries to do too much but at a bigger stage, he won't get too many chances if that continues. At Sociedad, as he's the key player, he is allowed to take that high reward risk. At Bayern, he'd be a cog in the machine rather than the integral part.
There's uncertainty about coach Flick's future in Bavaria, too. His unbeaten run over the past two months has been incredible but still, there's a chance that Bayern may look elsewhere for their permanent solution. Who knows if any potential new manager would be keen on Oyarzabal?
At 22, Oyarzabal is an unfinished product. In 24 games this season, he scored seven goals and grabbed six assists, overperforming his xG and xA. His commanding presence on and off the pitch speaks volumes about his mental strength. His experience of playing senior-team football since 2015 gives him an advantage over most young wingers right now, while every player comes with his share of faults, Oyarzabal's cannot go unnoticed.
Oyarzabal's directness and natural attacking flair will undoubtedly allow Alphonso Davies/David Alaba [whoever is deployed at left-back] to push higher up the field while a partnership with Thomas Muller and Robert Lewandowski would be an absolute nightmare for any defender in world football if they click.
Securing Oyarzabal's services will be hard. After his recent contract renewal at la Real, which ties him to the Spanish club until 2024, Bayern will face a series of tough negotiations. He's definitely worth it, though.