MLS Cup: Why do they play the games?
Sounders majority owner Adrian Hanauer and GM Garth Lagerway aren't the only execs driving MLS sides to greater heights.
All five major team sports in America are governed by some form of wage control. Owners would have fans believe this gives franchises in smaller markets with fewer, less lucrative revenue streams a fair chance to win trophies, that salary caps and luxury taxes level the playing field. In layman's terms, that is bullshit. Wage control's sole purpose is to put a ceiling on the respective game's most onerous business expense, athlete's earnings, so that owners' profits increase. Financial parity doesn't level the playing field; it merely relocates it.
If salary caps and luxury taxes provide parity, why have the New England Patriots been consistent Super Bowl contenders since 1996? They've won the NFL championship six times, the AFC championship 10 times and the AFC East division 17 times in the past 23 seasons, all under far and away the most stringent salary cap in professional sports.
While the New York Yankees and Los Angeles Dodgers, two teams in the United States' biggest markets, regularly appear in the postseason thanks to Major League Baseball's big-market-friendly luxury tax, why are their equally wealthy city rivals, the Mets and Angels, rarely in the playoff mix?
The answer is simple. North American sporting titles are no longer decided by players on a beautifully-mowed pitch or diamond, technologically advanced artificial gridiron surface, painted hardwood court or frozen rink. The battleground isn't a protracted regular season followed by a gruelling playoff that culminates in a riveting final or final series. Titles are now decided before the first ball or puck is struck or thrown in anger. The battle is fought during the closed season, in boardrooms, by executives with a firm grasp of accounting.
Coaches with greater tactical nous and man-management skills admittedly take it from there but Patriots head coach Bill Belichick proves that athletes are of minimal importance by plugging and playing a new, reshuffled deck of 52 players around Tom Brady on an annual basis. Results between the lines are the end product but Belichick's important work is accomplished as the de facto General Manager, while his nose is buried in spreadsheets, sifting through statistical analysis and devising creative bookkeeping to make every signing count. His most imperative talent is to spend the same amount as every other NFL team while assembling a squad of supreme value.
The NBA and NHL's salary caps feature unique attributes that provide their franchises more leeway than NFL teams albeit less than MLB sides. As the runt of the litter with significantly inferior revenues, Major League Soccer pays the main body of its players far less than other competitions but, to promote growth, allows each franchise to sign three Designated Players for a virtually unlimited amount. The only restriction on DP salaries is how much money an owner has or is willing to spend.
In a sense, the gap in quality between DPs and their teammates makes MLS seem like a throwback to leagues of 30-40 years ago when technical ability was far more important than fitness, defenders were largely glorified strip-club doormen and goalkeepers tall or fat blokes who knew how to catch. As the league invests more frequently in young talent rather than celebrity, that schism erodes and the derogatory 'retirement league' tag less applicable. Regardless, the general manager/sporting/technical/director of football remains the most important figure in any team.
"Once in Barcelona I decided to sign him on a paper napkin that a waiter gave me because I couldn't let him get away."
- Charly Rexach, the man who helped Barcelona discover Lionel Messi
https://t.co/e9EbicHbMe
If you wish to challenge that allegation, perhaps by pointing at someone like, say, Lionel Messi, I would ask you, what about Charly Rexach? Barcelona's sporting director in 2000, Rexach made the decision to fund a 13-year-old Messi's hormone treatment and sign him to La Masia. Cristiano Ronaldo might have 10 Ballons d'Or or still play for Manchester United were it not for him [the bastard].
Young Leo arrived in Barcelona for a trial in September 2000. Rexach was at the Olympic Games and did not attend. He signed off on accommodations for the Messi family and an arranged game to be staged two weeks later at which time he could be present. Typically for Rexach, he arrived late but took his decision within two minutes of seeing Messi play.
There are so many what-ifs. What if Rexach was unwilling to risk money for the treatment? He had reasons to decline. It might not take. Or it might but, while the Maestro grew in stature, it wasn't a lock his mental and emotional makeup would develop apace. Even when he filled out successfully, he'd still be on the small side, more susceptible to serious, possibly chronic or career-ending injury. Those were possibilities Rexach had to weigh.
What if circumstances intervened again? Would he have blown off the October game because another, healthier talent came to his attention? What if Rexach had allowed the family to fly back to Rosario in September while he consulted medical professionals, only for Real Madrid to hijack the deal?
Signing a waifish 13-year-old and financing his medical treatment was a massive gamble. Rexach took it and every Barca sporting director since, from Andoni Zubizarretta to Eric Abidal has benefitted. The entire footballing world has.
Well, except for Argentina. Maybe you're wondering how many World Cups La Albiceleste would own if Leo was denied treatment and grew up to be a clerk at the Rosario DMV?
Fortunes turn on a single choice. You could argue that MLS continues to be a minor player in American sport because the league belatedly submitted to FIFA's requirement that the game be played by the same rules everywhere. That doesn't seem like a big deal because basketball and hockey make it work but then, soccer is the only American competition without timeouts. Even if a player goes down, suffering or feigning injury, it is the match official's prerogative whether or not to halt play.
Not only does that go against advertising interests, it messes with the stateside sports fan's mind. "Hold on a sec," and "Time out," are phrases firmly embedded in the American lexicon and Yank way of thinking. Pauses are traditional and necessary. More viewers might watch MLS if they could get up now and then to fetch a beer or, having already done, empty their bladder without missing any action. Instead, the league chose to align with the rest of the world, denying them the option. Socialists.
Similarly, the choices MLS sporting directors take ultimately determine success or failure, whether it's to spend or not spend on Designated Players, to trade a player for allocation money or the rights to a potential DP, which college stars to select in the MLS draft, whose contract to renew, whom to release, etc.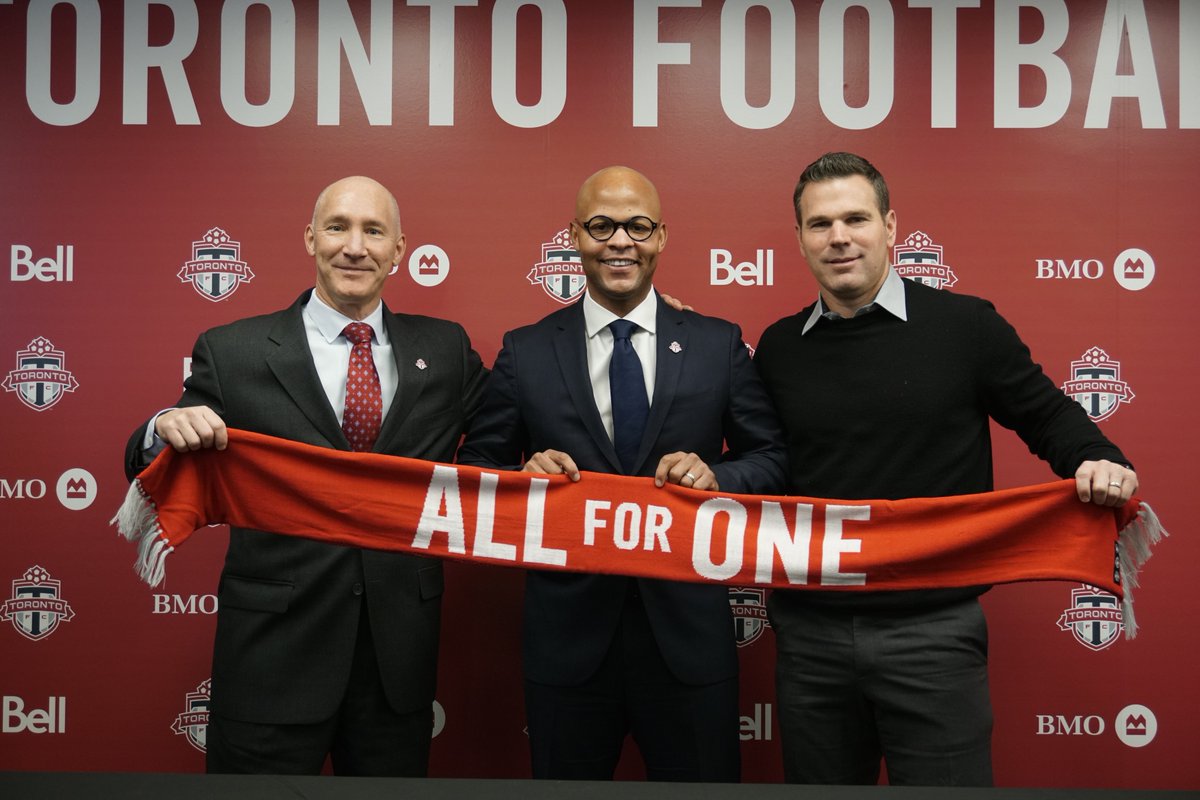 While the salary cap allows new franchises such as Atlanta United and LAFC to compete immediately, it doesn't guarantee they will. Newbies FC Cincinatti were the worst team in MLS this season by 10 points in the table, six goals scored and eight conceded. The only good thing about their campaign was that MLS doesn't have relegation. Perhaps it was a poor decision from someone higher up the chain to hire former PEC Zwolle technical director, Gerard Nijkamp as General Manager. The Dutchman hasn't acclimated to the American sporting scene.
Meanwhile, following a woeful 2018 season preceded by two MLS Cup finals against Seattle Sounders, the first lost, second won, Toronto FC are back in the Eastern Conference Final. General Manager Tim Bezbatchenko left for Columbus Crew after turning the Reds from perennial underachievers into champions, then back again. The Crew regressed under his guidance as well this year.
Ali Curtis replaced Bezbatchenko at BMO Field, correcting Toronto's slide towards mediocrity but leaving consistent contenders, New York Red Bulls, in the lurch. Don't feel too bad for NYRB. Former manager Jesse Marsch is frightening the bejaysus out of the Champions League with RB Salzburg. The Red Bulls will be back.
Toronto face defending league champions Atlanta United, who remain in contention despite playmaker Miguel Almiron and manager Tata Martino taking their leave. Technical Director Carlos Bocanegra gambled that European-based Frank de Boer could work with Martino's South American-flavoured roster. It took time for this Dutchman to gain traction but Julian Gressel has filled Almiron's shoes and the Five Stripes are 90 minutes from a second MLS Cup appearance in their brief three-year history.
Meanwhile, New York City FC are the Big Apple team who fell too far from the Manchester City tree. Despite the resources and connections at their disposal, the Sky Blues haven't figured out how to navigate the playoffs.
In the west, the LA Galaxy returned to prominence after the front office restructured and Guillermo Barros Schelotto was brought in to manage the side. The Galaxy gave it a good run but couldn't get past second-year franchise and Supporters Shield winners, LAFC, to reach the Western Conference final.
LAFC GM John Thorrington rolled the dice on Bob Bradley after the manager's disastrous tenure at Swansea City, trusting him to mould the new squad into immediate contenders. Jackpot.
Meanwhile, Sounders GM Garth Lagerway has Seattle back on top after retooling the roster following Obafemi Martins' departure and Clint Dempsey's retirement. Jordan Morris' return to fitness after a major injury certainly helped but the Emerald City side's consistent presence near the top in the west demonstrates the point. Success starts with a competent executive.
Now go empty that bladder, my son.