MLS Weekend Review: Toronto FC prioritise CONCACAF Champions League
Another full slate of Major League Soccer action took place over the weekend. Seven Saturday matches squeezed between two apiece on Friday and Sunday. Let me catch you up.
Three Stars
3. Bradley Wright-Phillips -- The New York Red Bulls couldn't find a goal against Chivas de Guadalajara in the CONCACAF Champions League semifinal. Wright-Phillips was in alone in the first leg but put the ball into Rodolfo Cota's waiting arms. The second-generation footballer rediscovered his form against Montreal Impact on Saturday.
He scored five minutes into the match when Victor Cabrera inexplicably passed to Florian Valot at midfield. Valot split the defenders with a perfect lead for Wright-Phillips, who took a look, then buried the ball beyond Evan Bush.
Jeisson Vargas struck back for the Impact with a beautiful bender off a set piece. It curled to Luis Robles' left, caroming in off the post before the Red Bulls keeper could arrive.
Just before the hour, BWP was in again but denied by Bush. The Red Bull finisher turned provider, chasing the ball down, turning, then casually setting up Kaku in the box. The 23-year-old Argentine delivered a crushing volley under the bar, restoring the Red Bulls' lead.
Michael Murillo concluded the scoring on 76 minutes, finishing a perfect low cross from Kemar Lawrence.
The Red Bulls remain in sixth place in the East, opening a three-point lead on the Impact.
2. Alvas Powell -- Portland opened the season on the road while renovations to Providence Park were completed. The Timbers couldn't buy a win away for new coach Giovanni Savarese but there's no place like home. Portland came away with a raucous 3-2 victory over Western Conference rivals Minnesota United.
Winger Alvas Powell opened the scoring for the Timbers with a run down the right flank. The 23-year-old had two United defenders turned the wrong way with a delicious step-over, split them to continue his run, then finished to the near post. On 22 minutes, the ball found him along the byline. His cross deflected perfectly for Diego Valeri to nudge past Matt Lampson to put the home side up 2-0.
Darwin Quintero pulled one back for the Loons on 64 minutes. Fanendo Adi had the answer 10 minutes later. Adrian Heath's side kept coming, forcing a Bill Tuiloma own goal with nine minutes remaining, but they couldn't find an equaliser. The Timbers finally put one in the win column.
It was enough to pull them level with San Jose and Houston on five points but keeps them second from bottom in the West on goal difference. Minnesota are one point better in eighth.
1. Joe Bendik -- Talen Energy Stadium is not an easy place to pick up three points. The Philadelphia Union are a solid, organised squad backed by vocal support from the Sons of Ben [as in Franklin]. The Union aren't a flair side but they keep coming and can wear an opponent down. Joe Bendik remained resolute in the Orlando City goal.
The Lions keeper made two big saves and forced CJ Sapong to shoot wide on a partial breakaway before his side finally broke the deadlock. Sacha Kljestan lobbed a ball over the high line. Dom Dwyer beat the offside trap, turned, opened his body, and slotted past Andre Blake. Chris Mueller then ran into a cluster of Union defenders and came out the other side somehow still in possession before burying Orlando's second.
In the second half, Bendik went back to work to protect the lead. He got down to palm away a Fabrice Picault shot labelled for the far corner. David Accam then began a movement across the top of the box from the left flank. The ball was ultimately laid off for US international Alejandroya Bedoya, whose low drive was again parried away by Bendik.
In all, the keeper turned aside five Philadelphia shots in preserving Orlando's three away points and clean sheet. The Lions are now the lowest of three sides on ten points in the East while Philly remains in eighth.
We don't need no stinking coaches
The USSF added the Three Lions to its fixture list for November. The schedule had already included a tilt against the Azzurri. While we'll have to wait for the World Cup to play out to see how excited Americans should be to face England, Italy was already an intriguing matchup after both countries failed to qualify.
To make it more interesting, the US have yet to name a new coach to replace Bruce Arena. Whoever it is will have to hit the ground running with two top opponents on the calendar ahead of preparations for the CONCACAF Gold Cup and, possibly, the Copa America in summer 2019.
It's a tough way to settle into a new gig, but at least the results will tell the new boss exactly how much work lies ahead.
And here the NFL thought LA wasn't a football town
MLS' two Los Angeles franchises rolled to wins on the weekend.
Bob Bradley and LAFC took their frustrations over a referee-assisted whipping from Atlanta United out on Vancouver Whitecaps at BC Place. Carlos Vela opened the scoring on the hour with his second inch-perfect curler to the far upper 90 this season. Stefan Marinovic had no chance. The Wings put the game to bed ten minutes later. Marinovic and his defence fluffed their lines, allowing Diego Rossi to pounce on a loose ball. Vancouver hangs on to third in the West but LAFC are now just a point behind.
In Chicago, Zlatan Ibrahimovic renewed acquaintances with Bastian Schweinsteiger then added to the Fire's early season troubles by splitting two defenders to head home an Ashley Cole cross for the game's only goal. Ibra had two other clear chances but Ricard Sanchez closed him down to make saves in both instances. The Galaxy are now in second, still a distant four points from Sporting Kansas City. Chicago are second-bottom in the East, on four points from five matches.
Yesterday's goal. (The second time Ashley Cole has supplied the header that Zlatan needs to put it away; trust the ex-Chelsea lad!):
https://t.co/TzltjZxWTU
Toronto dropping the ball with CCL juggling act
Toronto FC have made a deep run all the way to the CONCACAF Champions League final. Unlike, UEFA, there is no break between rounds. The semifinals concluded last Tuesday. The final kicks off tomorrow. Meanwhile, the Reds have the MLS regular season on the weekends. The defending MLS Cup winners finally notched their first win of the season last week but manager Greg Vanney wasn't concerned about building on that momentum. Saturday, he rested all his top players, including Sebastian Giovinco, Jozy Altidore, and Alex Bono, paving the way for Colorado Rapids to cruise to a 2-0 victory. Jack Price scored his first MLS goal and Albian midfielder Shkelzen Gashi converted a penalty. The Rapids now hold the sixth and final playoff spot in the Western Conference.
Vanney has his preferred XI rested for the midweek clash with Chivas but has left much work to do in MLS. TFC needn't catch New York City FC, now 14 points ahead. Optimally, second place will earn them a first-round bye in the autumn playoffs. Atlanta United are ten points distant. Sixth place is only a half-dozen points away but Vanney would much prefer home advantage in the first round if he must play it, meaning his side would have to reel in New England, Columbus, and Orlando City, all on ten points at the moment.
It's a lot of work. Of course, it will be much easier if the club have a Champions League title to make it all worthwhile. Then they can party at Mildred's.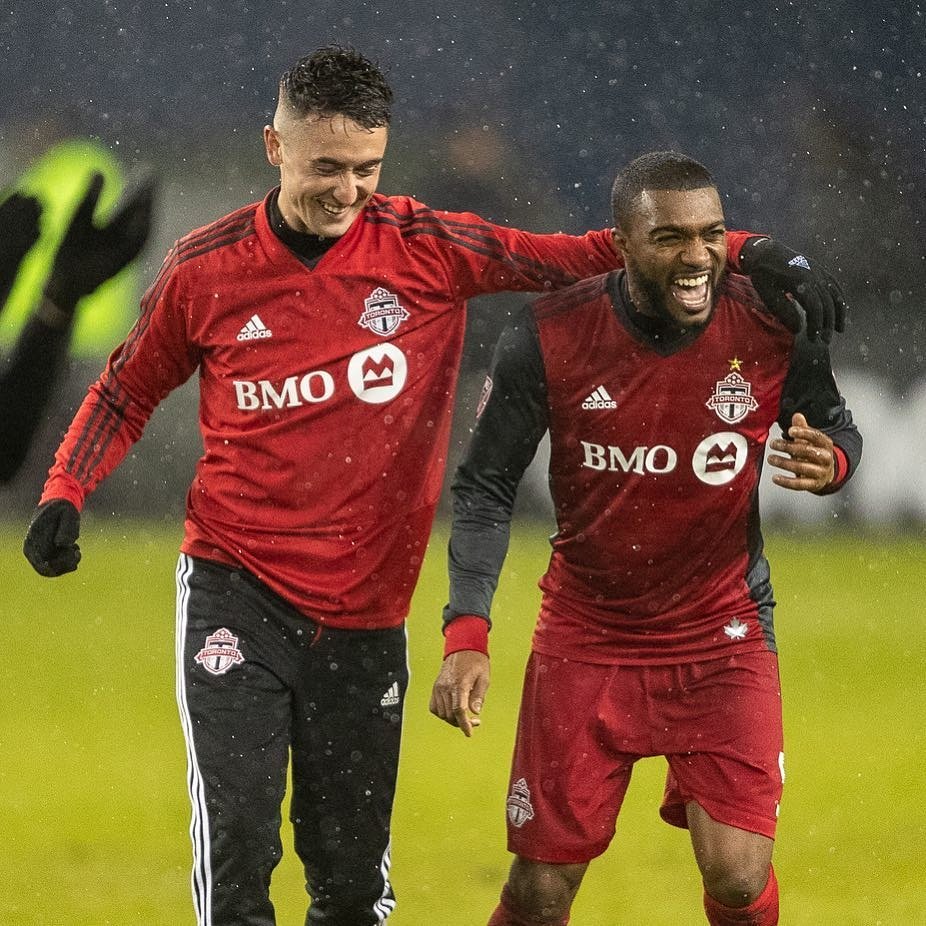 What else could happen?
DC United claimed their first victory, stealing three points from Columbus Crew in Annapolis, Maryland. Ulises Segura scored in the first minute and the Eagles hung on after Paul Arriola was sent off six minutes into the second half.
FC Dallas ruined Brad Friedel's unbeaten run at Gillette Stadium with a 1-0 victory over New England. The Revolution simply didn't take their chances. Jacori Hayes' strike on 76 minutes was enough to keep Oscar Pareja's side unbeaten. With only two wins from five, however, the Toros remain in fifth place.
I told you to sleep on San Jose and Houston. My bad. It was a ragged but exciting affair in Northern California. The Earthquakes and Dynamo went back and forth before settling for a two-goal draw. Apparently, an unwatched pot boils. Not too much, though. The two sides are in a three-way battle to escape second-bottom in the West.
There were also three 2-2 draws on the weekend. Sporting Kansas City and Seattle Sounders turned in the second in a battle of top and bottom sides. SKC took the lead on a first-half penalty converted by Ilie Sanchez. Seattle then roared back, levelling on Will Bruin's first of the season before taking a short-lived lead on 73 minutes from a perfectly struck Cristian Roldan volley. Five minutes later Graham Zusi struck on the counter to split the points. Seattle keeper Stefan Frei was furious with defender Nouhou Tolo for apparently giving up on the play. As a result Seattle are MLS' only winless team and join fellow MLS Cup finalists TFC at the bottom of their respective conferences.
Finally, the league's top two teams threw down in Atlanta. Greg Garza and Chris McCann scored for Atlanta United. David Villa hit a penalty in his return from injury, dictated the tempo throughout, then set up Alex Ring's crushing volley. Should I have put the Spaniard in the Three Stars. Yes, yes, I should have.
On Tap
It's the aforementioned first leg in the CONCACAF Champions League final at BMO Field tomorrow night. MLS champions Toronto FC take on Liga MX giants Chivas de Guadalajara. Kickoff is at 8 pm local, 1 am UK.
MLS action picks up again on Friday when Sporting KC host Vancouver Whitecaps at Children's Mercy Park. See you earlier in the day with the MLS Grab Bag.