Mohamed Salah shows credentials despite slight regression
Mo Salah's form has dipped ever-so-slightly, but his overall influence hasn't wavered one bit...
Background Image Via: Wikimedia Commons/Ruaraidh Gillies. CC BY-SA 2.0.
Liverpool winning their first Premier League trophy is now nothing but a formality. Jurgen Klopp's men have trounced all that stands in their way since kicking things off in August. Simply put, the Red Men weren't going to let last season's heartbreak hold them back.
The headlines have typically been made by their scintillating front three. Mohamed Salah is usually front and centre. This term, it can be argued that the Egyptian talisman has often been outshone by Sadio Mane and Roberto Firmino. A special doff of the cap also has to go to those unbelievable pair of full-backs and Virgil van Dijk.
Alas, Salah will often have the last laugh and still come up trumps when his team need him the most. It was the 27-year-old who'd end Manchester United's faint hopes with a brilliant goal against the Red Devils just a week ago, while his overall record isn't bad by any means. Thirty appearances, fifteen goals and eight assists. Those are numbers at this point in the season that 99% of players would die for, but when you compare the statistics to *that* 2017/18 term, it somewhat pales in comparison.
This isn't a knock on Salah by the way. His overall effectiveness and commitment to the cause has only improved. He still is the star name in that Liverpool team and that will never change - nor should it. In a funny way, his unbelievably hot start to life in a Liverpool shirt will always be the benchmark that only the likes of Lionel Messi and Cristiano Ronaldo can reach. Salah deserves to be mentioned in the same breath because he's been absolutely sublime under the tutelage of Klopp.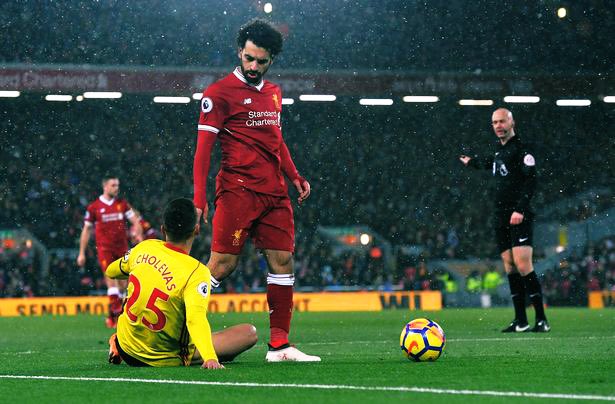 Mo Salah's 17/18 season is so underrated. He was playing at a 'Messi standard' for huge parts of it.
Play style and statistically.
🏟 52
⚽️ 44
🅰️ 16
https://t.co/9oYy4o7lpf
We're talking about the most prominent player in a front three who have scored in every single league goal this season, and he's getting stick for struggling in the odd game or two? Do you know how difficult it is to find the back of the net in 23 straight games in the Premier League? While winning 22 of them!
Salah is as complete as they come. Hard-working on both sides of the ball, physical, quick, an excellent off-the-ball runner and a deadly finisher. He seldom misses games through injury (two in total while at Liverpool) and he's played over fifty games in his two full seasons. As you'd expect, the Egyptian is well on course to hit that number again (30 appearances so far).
Honestly, what's not to like? Liverpool fans adore him for the overall impact while rival supporters are understandably jealous. Maybe that's what it is, because I struggle to find any fault whatsoever with Salah the player. He's someone who'd get into any team in world football while he could well be the eventual heir to the Messi/Ronaldo throne. He's just that good.
I guess what I'm saying is that fans and journalists shouldn't be questioning Salah, they should be lauding him. After all, come this season's end he'll be a Premier League champion; and possibly a whole lot more... I'd even go as far as saying you could potentially be looking at the 2020 Ballon d'Or winner, though Mane may have something to say about that.