Monk and Bielsa face off with eccentricity at stake
Will Smith plays an ageing assassin facing a young clone of himself in Gemini Man. Going up against Garry Monk, Marcelo Bielsa can relate.
To English speakers, Marcelo Bielsa is known alternately as the Mad Scientist or Mad Tinkerer. Spanish speakers are undivided, referring to him as El Loco. This afternoon, the Leeds United boss runs up against a gaffer who could be considered his Anglocentric doppelganger.
Garry Monk can't boast Bielsa's global influence. The Argentine has been employed by clubs in his homeland, Mexico, Spain, France, Italy and now England. He also managed the Argentina and Chile national teams. Monk's managerial CV is limited to English league clubs with spells at Swansea, Leeds, Middlesbrough, Birmingham City and now Sheffield Wednesday.
Although Bielsa is more travelled, the two share common traits. Each exhibits a mercurial nature, volatile temper and shrewd tactical mind. Their presence, just a few feet apart in opposing dugouts at Hillsborough for the match between the third-place Owls and second-place Peacocks seems a bit like leaving an ashtray filled with still-smouldering fag ends next to a stash of old, sweaty dynamite. I feel sorry for the fourth official.
In truth, he'll probably be fine. Each has had his moments but Bielsa and Monk are noted more as quiet lunatics than the raving variety. If they were serial killers, their neighbours would say they were pleasant and polite, the type of soul you wouldn't suspect of hurting a fly.
The thing about both men is they keep their own counsel.
Earlier, I wrote that Bielsa had been "employed" by clubs in six countries. He has but only managed in five. Two days after accepting the Lazio job, he resigned, claiming he didn't believe the Biancocelesti would provide the support he required in the market. Bielsa also walked away from Marseille after suffering defeat in OM's 2015/16 season opener against Caen despite conducting a stellar fourth-place campaign at the Velodrome in 2014/15.
Similarly, Monk resigned as Leeds boss two days after Italian broadcast mogul Andrea Radrizzani assumed control of the Whites and a day before the club intended to activate a one-year extension with the Englishman and begin negotiating a long-term deal.
Most managers walk away after things go bad or, like Jose Mourinho ditching Inter for Real Madrid, when a bigger job is lined up. Neither Monk nor Bielsa had a new gig waiting in the wings.
The pair are tactically flexible but their philosophies are both rooted in the 4-2-3-1 formation.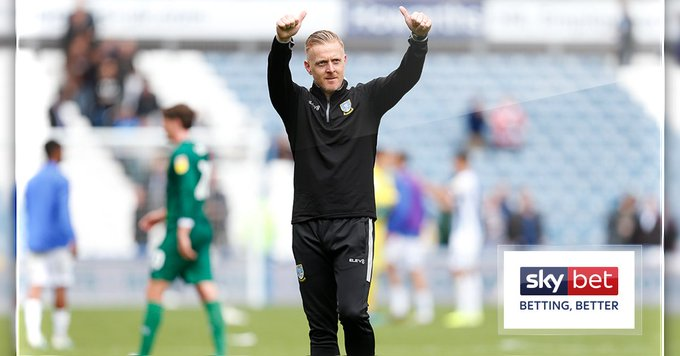 In his time at Birmingham City, Monk switched to a traditional 4-4-2 to accommodate the personnel at his disposal. Upon taking over at Wednesday on Matchday 7, the 40-year-old reverted to the 4-2-3-1 for two games, beating Huddersfield away and drawing with Fulham at Hillsborough. He then tried a 4-4-2 double 6, resulting in two defeats from three before alternating between a 4-1-4-1 and 4-2-3-1. The former produced a pair of 1-0 home wins over Wigan and Stoke while his favourite set-up only managed a draw with Cardiff in Wales.
With Leeds, Bielsa relies predominantly on the 4-2-3-1 although he surprised with a 3-4-3 diamond to snare a 1-0 victory over Birmingham last week. He reverted back to the 4-2-3-1 for the midweek draw with Preston but has also flirted with the 4-1-4-1 on occasion. I'm not going to predict what new wrinkle either might have in store for this encounter.
While both men are known for attacking brands of football, each has emphasised defending in this Championship campaign. Wednesday are joint-eighth in scoring this season, level with Hull on 18 goals. Leeds share the tenth rung with Swansea and Nottingham Forest on 17. On the flip-side, the Whites bring the Championship's stingiest defence [eight goals conceded] to Hillsborough while Wednesday defend it with the second-best [ten].
When great minds think alike, the difference often comes down to discipline and execution. Given the old man knows his squad better than the younger, Monk's home advantage might be nullified. On the other hand, the squads are so tight, a single mistake is likely to decide the outcome.
At stake is keeping pace with table-toppers West Brom but also personal pride. When these two shake hands before the match will they see one another as they could be or once were? I can imagine Monk saying, 'It's my time', to which Bielsa will reply, 'Not yet, hijo.'