Schneiderlin no longer in Toffees' plans
Goodison Park
Morgan Schneiderlin's been in this position before. In fact, he came to Goodison Park to escape it. At Manchester United, the slightly younger 29-year-old was part of Louis van Gaal's rotation but failed to impress the Dutchman's successor, Jose Mourinho. Seeking a place in Didier Deschamps Euro16 squad, he requested a transfer. With other options at his disposal, the Portuguese obliged.
Fast forward to this season and Schneiderlin was omitted from Marco Silva's matchday squad in Everton's 1-1 draw with Newcastle United on December 5. Again. The 29-year-old claims just two minutes of Premier League football since mid-September. He hasn't made Silva's squad for more than two months.
A regular in the heart of midfield last season, Schneiderlin finds himself well down the pecking order in 2018/19. The French international must consider his future at Goodison Park if he remains on the periphery, especially with his age beginning to work against him.
No longer indispensable
When Schneiderlin made the switch to Everton from United in January 2017, he was immediately thrust into the side by Ronald Koeman. The midfielder made 14 Premier League appearances in his debut campaign at Goodison and continued to be a regular in his second season with 30 league appearances under Sam Allardyce.
Schneiderlin played in four of Everton's first five league games of this season before his situation spiralled. When Everton went 2-0 down against West Ham on September 16, the former Southampton man was hooked by Silva before half-time. He hasn't started a league game since. At the time, Everton had a single win in their first five outings. Change was needed.
The Daily Mail reported Schneiderlin was mourning his father when he played against West Ham but it's unknown if that's the reason for his extended absence.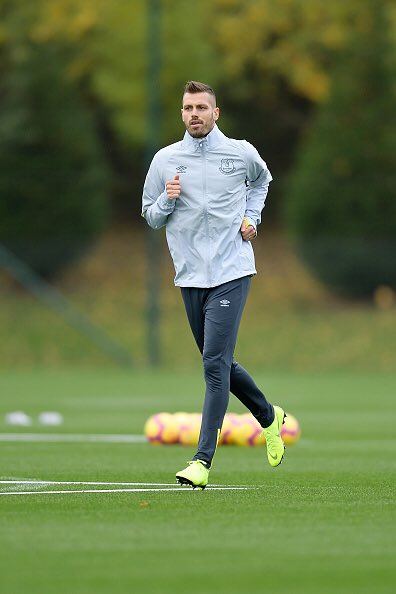 New world order
After Silva dropped Schneiderlin in September, Tom Davies was drafted in to replace him. The youngster started alongside Idrissa Gueye. Davies kept Schneiderlin on the bench against Arsenal, Fulham and Leicester City as late September became early October. Then Andre Gomes made his long-awaited return from injury and dethroned the England U21.
Gomes cemented his spot alongside Gueye, racking up 622 from a possible 630 Premier League minutes following his return. He is now the side's heartbeat. Silva kept Davies in the squad, though, bombing out Schneiderlin in the process. Nor is he likely to bring the Frenchman in from the cold while Everton's impressive form continues.
The January transfer window is his best avenue to more playing time.
January decision
Should game time continue to elude Schneiderlin, he can seek a temporary move away from Everton when the winter transfer window opens. He shouldn't expect the Toffees to entertain a permanent sale mid-season. It would leave them short on depth in case of injury. A short-term loan move with a recall option benefits both parties.
The 29-year-old accumulated 62 appearances in all competitions upon his move to Everton but two minutes of top-flight football since mid-September highlights his recent demise. Silva prefers Gueye, Gomes and Davies in his midfield. He has no place for Schneiderlin. The Everton boss told the Liverpool Echo he retains plans for the Frenchman. That isn't evident in his team selections.