Mourinho's scouting mission could turn out to be a masterstroke
After a season that promised so much but ultimately ended in disappointment, many Manchester United fans expected the club make a statement in the transfer window. Nothing less than signing an elite, truly world-class superstar was on their minds. However, Jose Mourinho is not the type to take his little tots shopping so they can wheedle, whine, and beg for every sweet treat and shiny plastic toy.
Instead, the Portuguese tactician was spotted in Innsbruck taking in Austria's 1-0 victory over Russia in a World Cup tune-up for the visitors. The rumour mill spun out of control with speculation the Portuguese was scouting West Ham's Marko Arnautovic.
The 29-year-old is no stranger to the United manager. Their paths crossed for a short time at Inter. Supporters derided the news on social media, loudly shouting for a Gareth Bale or better. Cooler heads on Twitter speculated he was looking at left-back David Alaba.
Although the boss claimed he was on holiday, because accountants are known to tour calculator factories on their vacations, and the player claimed no contact had been made, there is some sense to the notion Mourinho was interested in the West Ham forward. He can replace Anthony Martial as an effective substitute from the bench or even from the opening kickoff, to add more direct play to an attack that was often bereft of ideas, last term.
Arnautovic is not a player who inspires unwavering confidence. His work rate isn't going to sweep Jose off his feet. But his versatility could be crucial for the Red Devils. He did fairly well at Stoke before falling out spectacularly with his manager and teammates. He endured a slow start following his switch to the Hammers. Then 11 goals in 2018 propelled the Londoners to Premier League survival. Personally, I buy the idea that Mourinho is preparing to let Martial leave and seeks value in a covering option.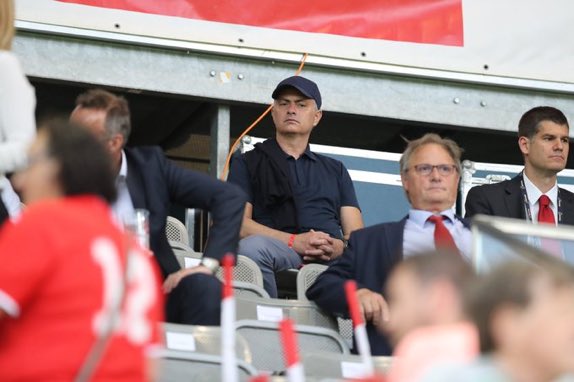 José Mourinho watched Marko Arnautović play yesterday as Austria faced Russia in a friendly match. (Source: Various)
https://t.co/sSFKFVygaY
That said, there isn't any reason he wouldn't also be kicking the tires on Bayern's Austrian defender. Louis van Gaal pursued him during his time at Old Trafford. It didn't happen three years ago, but now the player is reportedly willing to test himself abroad after winning everything possible in German football. United's search for a world-class left-back is well-documented. Alaba ticks all the right boxes.
Up there with the best
Still young
Experienced at the highest level
Seeking a new challenge
Evidently, he has his USES, so why wouldn't Mourinho scout two footballers with one ticket? He may have even taken notes on Russian playmaker Aleksandr Golovin. United need more players to close the gap on Manchester City. Mourinho's priority is allegedly to rejig the rearguard. Despite boasting one of the best defensive records in the league the past two seasons, questions are being asked across the line, with the left-back situation drawing the most angst. Luke Shaw has struggled with injury and confidence ever since his move to Manchester in 2014. Ashley Young, the club's first choice in 2017/18, will be 34 and less than fully rested after his World Cup call-up.

The club is crying out for players who will strike fear into the hearts of opposition players. Arnautovic tends to make them laugh, but with Alaba at left-back, United would be a different proposition going forward.