Mourinho v Martial? Peace in our time?
Is the nuclear war between Jose Mourinho and Anthony martial melting?
Logic and emotion work on the same principle. Whether rational or not, one reacts to the facts at hand. When those facts change, so does one's reaction.
Football fans tend to take the emotional route. They latch onto the facts which best fit their perspective then run with them. When I say run, think headless chickens.
In part, the problem is the available facts are almost never hard data. More often, they're soft opinions advanced by someone with an agenda, be it an agent seeking more money, a manager manipulating the press or media hoping to bump circulation.
Fans obsess over every tidbit, attempting to fit it into their view like a tiny piece in a huge jigsaw puzzle. Once they have all the pieces, however, the picture's invariably different than imagined.
They take it well. Life's much easier when you think everyone else is crazy. Besides, the logical approach is to wait and see. Where's the fun in that?
No one, myself included, chose to wait and see when it came to the feud between Jose Mourinho, Manchester United manager, and Anthony Martial, his inherited player. United's fan base split into two factions. With emotions at such a high pitch, opposing forces had names before anyone realised they now belonged to either Mourinho or Martial FC.
Mourinho FC couldn't believe the player was so lazy, so unemotional.
The Portuguese manager believes his attackers should also defend. To a point, the idea makes sense. There are 22 players on the pitch, one ball. All things being equal, each player possesses the ball for four minutes and change in a 90-minute game. Mourinho reasonably expects his players to contribute for the other 85+.
The question is how? Do the forwards harry opponents all the way back to their own end line or do they retreat just enough to make themselves available when a defender needs an out-ball? If you answer yes to the former, you belong to Mourinho FC. Affirming the latter places you in Martial's camp. It's a tactical choice reflected in United's poor scoring numbers under Jose.
I can't argue for the unemotional charge. I understand fans love players who wear hearts on sleeves. On the other hand, when Mourinho FC went tête-à-tête with AS Pogba last season, the adventurous midfielder's passion counted against him. Given United's legends include Roy Keane and Eric Cantona, perhaps Mourinho FC defines passion as murderous intent. To my mind, David Beckham and Pogba are equally important pieces in United's historic puzzle. Champions do not last when they're one-dimensional. If a cold fish bites hardest, let him swim.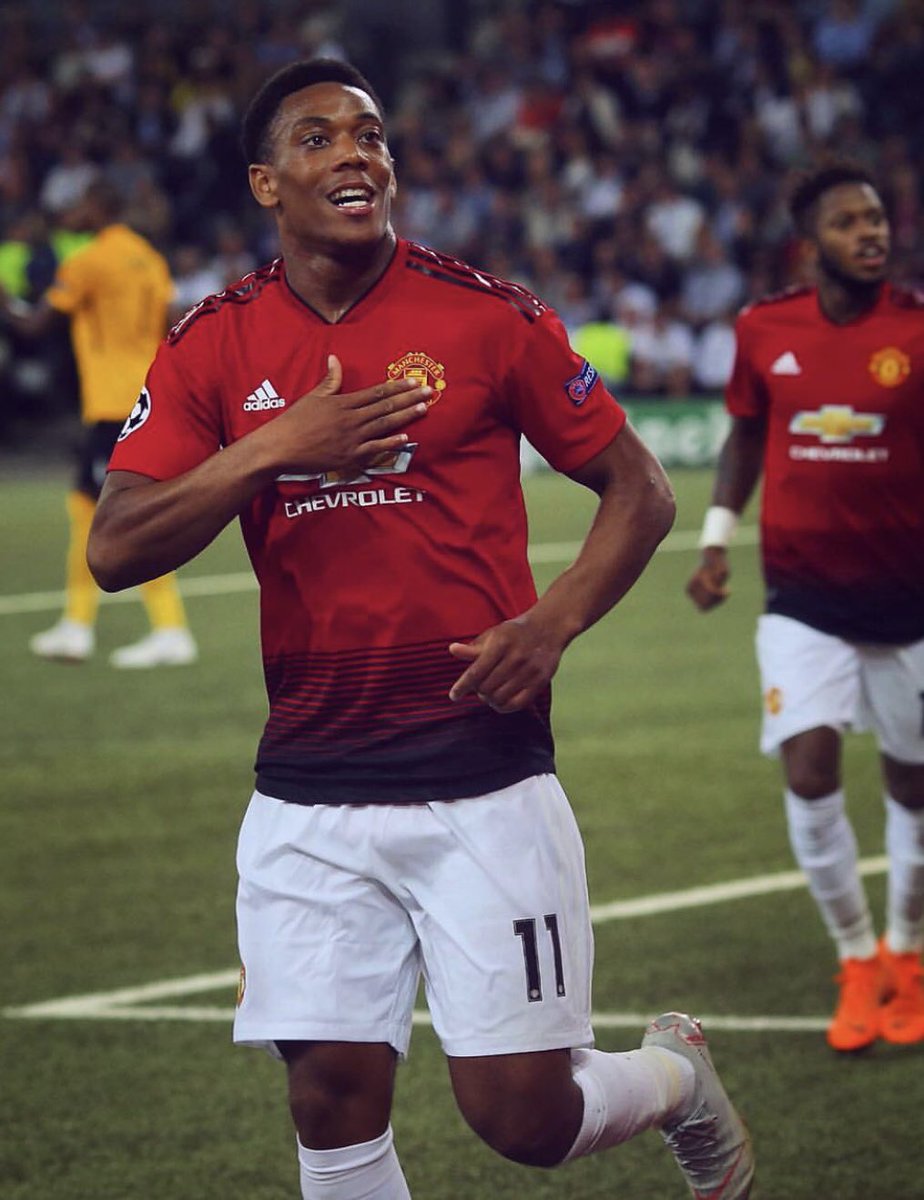 Martial FC is rankled by Mourinho's decision to let Alexis Sanchez into the Old Trafford pond just when their man became the biggest fish. The manager previously stated he chose his team based on form. Martial scored three goals and an assist in the three matches before Mourinho reeled him in. No one likes being force-fed lies.
To which Mourinho FC responds there's more to football than scoring. There is, albeit nothing more important. You cannot claim three points without scoring. When Alexis struggled and United's scoring dipped, Mourinho FC lauded his relentless chasing, claiming the Chilean needed time to acclimate. Selecting in-form players no longer applied.
When Martial tarried in Paris after his son's birth, Mourinho FC went on the offensive, questioning his commitment. The boss led the charge.
He has the baby and after the baby is born, beautiful baby, full of health, thank God, he should be here and he is not here.
Somewhere along the way, Martial allegedly asked for a transfer which never materialised. Mourinho FC expressed disdain for anyone who didn't want to be in the club. 'Look at Luke Shaw,' they said. 'He took all manner of abuse but responded to Jose's tough love.'
Yes, he did. Footballers are individuals, however. Managers must recognise them as such while melding their collection into a unified squad. Shaw's English. Desire to fight for his place in the country's biggest club is understandable. Martial's French. he doesn't revere United with a Brit's passion. Bayern, Juventus, Real Madrid and Paris Saint-Germain are as prestigious to foreign players. If United faithful expect undying loyalty from every player, their talent pool will dry up and they'll be cast onto history's scrap heap. The club must offer the player more than money. Respect and support go a long way.
Just when all those pieces seemed to dovetail into Mourinho and Martial FC's respective puzzles, the 66th minute arrived in United's Champions League opener against Swiss champions Young Boys, changing the image.
Martial started while Sanchez watched from the bench. The Frenchman was full of energy which the manager duly or grudgingly applauded, depending on one's allegiance.
His rust showed.
More than one Martial pass on a counterattack went behind the intended target. When he got it right, Romelu Lukaku elected to forego the perfectly weighted ball bisecting Young Boys' centre-halves.
The quiet winger's shots were also either errant or directed at Young Boys' wonderfully named keeper, David von Ballmoos. It didn't appear to be the United man's day, although Martin Keown's constant remarks on BT that he was "unlucky" were too kind. His effort was laudable; his technique poor.
Mourinho justifiably sent Alexis to warm up. The Chilean stood in the technical area ready to come on when Martial's "luck" changed. Pogba fed him on a perfect counterattack. Martial bore down on Ballmoos. When he released his shot, Mohamed Aly Camara put a desperate foot to it. The ball deflected with Ballmoos already leaning in the opposite direction.
And this is the piece that doesn't fit. Martial played badly. His goal was fortunate. A manager with no use for such a player goes through with his substitution. Instead, Mourinho rushed to the fourth official to change his move. Marcus Rashford exited as part of a double change with Fred. Marouane Fellaini and Juan Mata joined the fray. Sanchez sat down.
On a day when Memphis Depay waxed philosophical about a potential Old Trafford return, Mourinho eschewed the chance to bury Martial and promote his own man again. Instead, he extended an olive branch; asked to see more.
Is the feud between the two over? Will there be peace in our time? What will we do now?