Mousa Dembele: The perfect modern-day midfielder
'Ohhh Mousa Dembele' the travelling Tottenham Hotspur fans sung in Turin, as their midfield maestro put in another world-class performance when the pressure was on.
Mauricio Pochettino's men found themselves 2-0 down with just nine minutes on the clock against Juventus. However, the players didn't panic, instead, they stuck to their natural game, eventually roaring back and making it 2-2. The key to the match? Winning the midfield battle, with Dembele bossing it; almost single-handedly at times.
The 30-year-old had been out injured to start the 2017/18 season, and although it took the veteran some time to get back up to speed, Tottenham is reaping the rewards with some simply stunning displays from the former Fulham man.
What makes him so good, you ask? His ability to do everything well. Dembele can pass from either foot, he's strong enough to win the physical battle, he can be dominant in the air, while also creating chances for his teammates. He's complete in every sense, and he has an excellent footballing-brain to boot; making the right decision more often than not.
I look at Dembele's last four games. He's taken on Manchester United, Arsenal, Liverpool and Juventus. He was probably Man of the Match in all of them. The Belgium international is a big-game player who'll always stand up and be counted when it matters most and that's an immensely important attribute if you want to succeed at the highest level.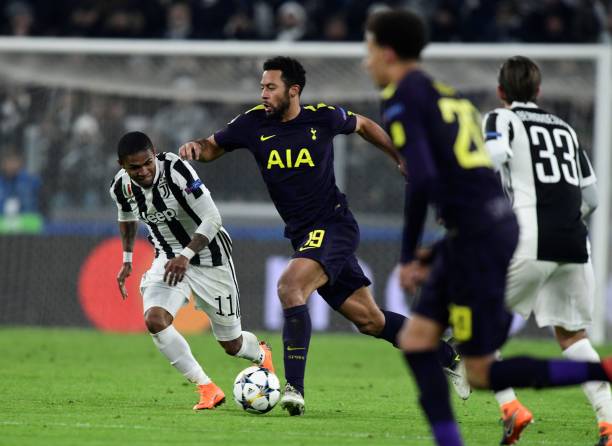 Moussa Dembele's game by numbers vs. Juventus:
116 touches
94 (95%) passes completed
6 (86%) take-ons completed
4 (100%) tackles won
2 chances created
1 interception
Absolutely bossing the midfield.
https://t.co/xk6P5T3hd8
Sure, Dembele isn't the creative genius that Christian Eriksen is, hence why he often isn't given the credit he deserves. He does a stunning job as a box-to-box midfielder though, winning possession back for his team, before getting Spurs back on the attack with either a powerful run with the ball or an inch-perfect pass.
I lost track of how many times he'd use his physical presence to get himself out of trouble when it looked like the Juve players were closing in on him, although it takes huge guts, Dembele knew exactly what he was doing. The midfielder's decision-making is excellent and that's something that cannot be taught.
Spurs' underrated hero has a rare skillset. Often, it's brain or brawn, Dembele has both, that cannot be coached.
This is a footballer who I feel could play for any side in the world, that's just how good he is. Unfortunately, his six-year spell at White Hart Lane has been plagued by injuries, who knows how good he could have been if Dembele had managed to stay off the treatment table for any prolonged period?
What matters in this moment is that he's doing it in the here and now. Dembele is pivotal to an excellent Tottenham Hotspur side who are certainly on the up. They've played Real Madrid, Borussia Dortmund and Juventus away from home in the Champions League this term. Spurs came away from those games unbeaten.
It'd take a brave man to bet against them making it into the latter stages of Europe's premier competition, with Dembele at the heart of an excellent midfield.