Moyes odd man out among 2019/20 Premier League rescue workers
Four of the Premier League's biggest clubs changed managers mid-season. Only David Moyes fails to make a positive impact. Why?
Name a league in which the table isn't all muddled in the early doors. It's the same everywhere, every season. Maybe it's because the teams with greater quality need more fine-tuning than average and poor sides. Regardless, every campaign starts with one or two big clubs struggling and a few minnows checking the shaving mirror to see if they grew shark's teeth over the summer.
Usually, it's all sorted before Christmas. Everyone finds their place in the queue, the best sides near the top, the pretenders just below, then the established mid-table sides and finally the stragglers set to battle relegation all season. This Premier League campaign was a little different, however.
Top-six sides Arsenal and Tottenham found themselves in the table's bottom half with the holidays just around the corner. Two longstanding Premier League clubs, Everton and West Ham tarried too close to the drop zone. The Toffees fought their way clear but the Hammers were sucked in.
All four sides share something in common. They changed managers mid-term. Three brought in experienced gaffers, one a coach who'd never been in charge. If you didn't already know better, you might guess the inexperienced coach was the one fighting for survival.
No, Mikel Arteta learned well at Pep Guardiola's side. It took a few games to sort out the defence but the Gunners are unbeaten in the New Year under their former midfielder. Instead, it's David Moyes floundering in the deep end despite a 4-0 victory in his debut. Did his new charges think it would be that easy the rest of the way? What does he lack that Jose Mourinho and Carlo Ancelotti bring to the table for Spurs and Everton?
The simple answers are pedigree and attitude.
Before he returned to Portugal to pay his dues with Benfica and Uniao de Leiria and burst onto the scene with an unexpected Champions League triumph in 2004, Jose Mourinho studied alongside Ronald Koeman and Pep Guardiola at Barcelona, first under Sir Bobby Robson then Louis van Gaal. Ancelotti played under Arrigo Sacchi and Fabio Capello at Milan. His time at Roma included two seasons playing for former England boss Sven-Goran Eriksson. Arteta began his education with Arsene Wenger at Arsenal before going onto graduate studies with Guardiola. Moyes lacks that elite education. We're talking about the difference between architects and building contractors. One creates the blueprint; the other merely reads it.
The Scot's playing career quickly took him off the King's highway onto football's back roads. After accruing only 24 appearances in three seasons at Celtic, he kitted up for Cambridge United, Bristol City, Shrewsbury Town, Dunfermline Athletic and Hamilton Academical before transitioning from player to manager with Preston North End. He'd learned his trade. Eleven years making ends meet at Everton followed. When his work earned him the Manchester United job, the Scot arrived full circle at the point where he'd left Celtic. He was in over his head.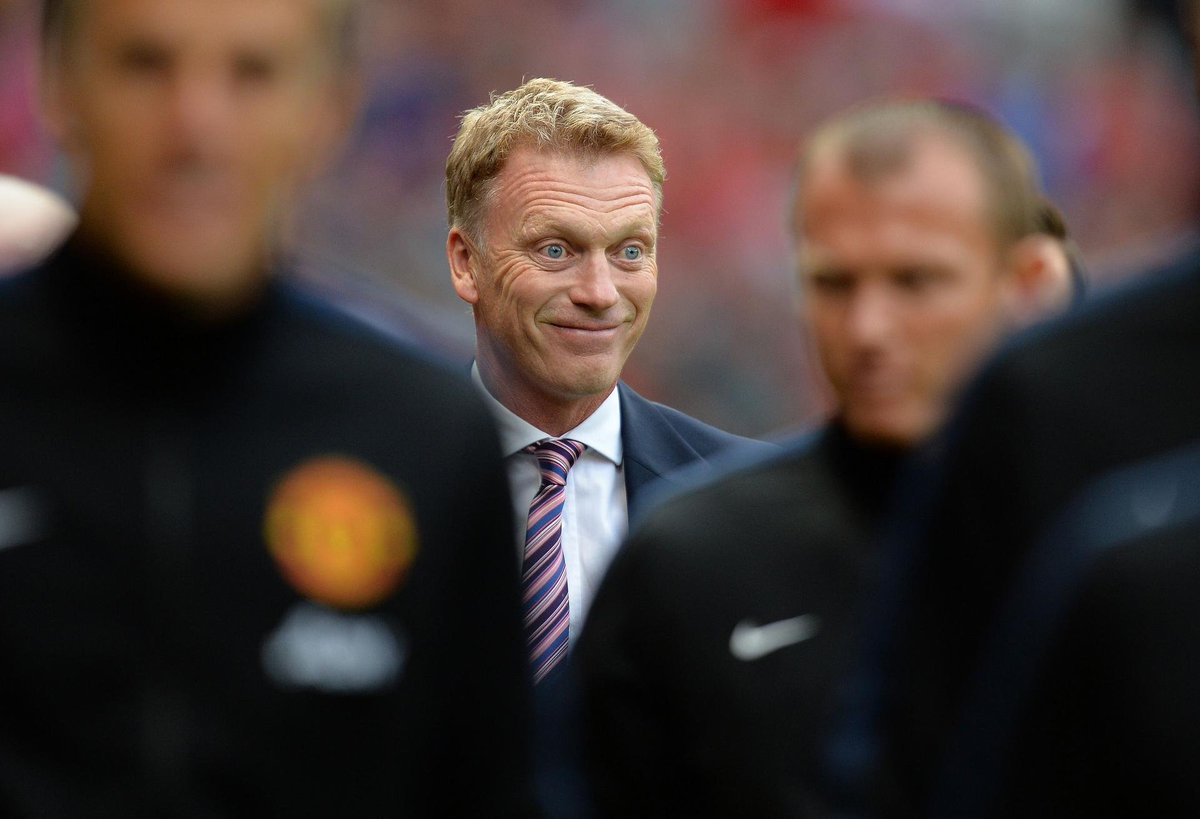 "Winning is what I do"
David Moyes hasn't won a game of football since his first game back in charge
https://t.co/aqHxc1uRGn
Even though Arteta, Mourinho and Ancelotti stand out as Europeans, Moyes nationality had nothing to do with his failure. Scotland boasts some of the game's greatest managers, including Sir Alex Ferguson and Jock Stein. Brendan Rodgers demonstrates that modern British managers can hold their own as well. So does Gareth Southgate who rose from the same midtable obscurity that Moyes cannot seem to escape.
Confidence wasn't the problem, not from a coach who tells reporters, "Winning is what I do." Upon accepting the challenge United offered, you can only conclude he was ambitious as well. At Goodison Park, the Moyes glare was known as a thing to be avoided. He could be ruthless but a cultural block existed, the subtle but distinct difference between demanding your players compete at lesser clubs rather than win at the elite level. He lacks ambition and ruthlessness in the almost unhealthy amount that transcends the job. While managers like Fergie and Mourinho told you no one is bigger than the club, in truth they thought of themselves as the club. Moyes doesn't.
The jury remains out on Arteta in that regard but few managers can match Mourinho and Ancelotti's accomplishments. When either walks into a clubhouse, they bring multiple Champions League trophies, Ancelotti three, Mourinho two and a pair of Europa League/UEFA Cup titles to boot. The squad isn't playing for the badge anymore. They literally play for the manager. The duo's attention to detail is renowned and they accept nothing less than players willing to meet their exhaustive standards.
Perhaps that is why neither lasts too long at a club. Mourinho is notorious for never completing more than three seasons at a club. His confrontational approach wears down players, some sooner, others later, inevitably leading to revolt. Ancelotti spent eight seasons at Milan in the noughties but never more than two at any other destination. The Italian doesn't air his dirty laundry but definitely lost the clubhouse at Bayern.
At both Preston and Everton, Moyes learned to compromise, especially when it came to the quality of players his chairmen could afford. He was a loyal servant. When taking charge at a big club, there can be no compromise. The manager must be the driving force. He cannot follow the club to success. He must lead. That is why Real Madrid wandered in the Champions League wilderness for more than a decade until Ancelotti and then Zinedine Zidane arrived.
While their message still reaches eager listeners, Mourinho and Ancelotti propel Spurs and Everton up the table. Lacking that level of gravitas, Moyes struggles to pull West Ham out of the mire.