Should Manchester United try to beat Mourinho to Bruno Fernandes?
Should Solskjaer make his first foreign signing in January?
As a US resident, it is my civic duty to consume mass amounts of turkey today. If you are not a US resident and are therefore missing out, that just means more for me. Another thing for which to be grateful. Happy Thanksgiving.
Before the tryptophan kicks in, however, I want to discuss two rumours making the Premier League rounds and how they may come to be connected.
Gary Neville reportedly advised Ole Gunnar Solskjaer to spend heavily in the January window to preserve his job.
Newly installed as Tottenham manager, Jose Mourinho reportedly wishes to sign Sporting CP playmaker Bruno Fernandes.
Neville believes United need two or three veterans to teach Ole's young squad to play away. Unfortunately, inserting three older players into his starting XI directly contradicts Solskjaer's goal to imprint the Manchester United ethos on young players less affected by external influences. In keeping with the holiday, Ole rightfully told GNev, whose laugh sounds a bit like a gobbling turkey, to get stuffed. He would make all decisions based on what is best for Manchester United rather than for job security.
On the other hand, Neville's recommendation makes sense if the opportunity exists to fill a need the academy or another English club can't. Along with a second number nine to back up Anthony Martial and defensive midfield and right-wing depth, an accomplished attacking mid is such a need.
James Maddison was in United's sights for a time but, despite selling Harry Maguire, Leicester City nestle comfortably in the Champions League places. The Red Devils can't drop a bucketful of money down the King Power well a second time. Brendan Rodgers' Foxes are no longer a selling club.
Aston Villa's Jack Grealish shows more creative qualities than Maddison. His five assists in 2019/20 are three more than the Leicester star. Villa boss Dean Smith runs a similar program to Solskjaer albeit with less emphasis on the academy. Grealish lies at that program's heart. A Birmingham native, he already captains Smith's side. His deal runs through 2023. Unless Villa are relegated, prying the 24-year-old loose from Villa Park appears nigh impossible.
That leaves a foreign option. When Mourinho still managed United, he reportedly coveted Fernandes. The 25-year-old Portuguese might be among the "one or two" transfer targets Ed Woodward recently admitted he declined to pursue for Mourinho on the advice of recruitment consultants. Most reports focus on Jose's desire to acquire a centre-half. His wish list included Toby Alderweireld, Diego Godin and Jerome Boateng, all in their 30s, while eventual signing Harry Maguire is just 26. But Woodward might have had other reservations beyond the age of his erstwhile manager's targets.
Gary Neville believes Ole Gunnar Solskjaer needs to be 'selfish' in the transfer window, to bolster the current squad with experienced players and help young players reach their potential. 😤
https://t.co/O5FSeiph6x
The Special One's not so special Old Trafford recruiting record springs to mind. In fairness, injuries to Zlatan Ibrahimovic and Eric Bailly betrayed him. Still, he failed to do anything with Alexis Sanchez, Henrikh Mkhitaryan and Fred while benching his most productive signing, Paul Pogba. When a manager keeps wasting money, any board will be reluctant to fund him further.
Conversely, Solskjaer's three completed transfers, Maguire, Aaron Wan-Bissaka and Daniel James, all bear fruit. If the Norwegian believes United would be wise to get their hands on Fernandes before their former boss, Ed is more likely to give the green light.
Remember too that keeping Fred and Alexis from Manchester City gaffer Pep Guardiola's grubby paws was a critical motive behind Mourinho recruiting the two South Americans. Is turnabout not fair play?
Three factors may affect any deal for Fernandes.
Sporting reportedly bumped the player's release clause from £65-85 million amid interest from Tottenham, United and Real Madrid.
The January window is only open for 30 days, half the time to negotiate in comparison to the summer.
Both Tottenham and Manchester United prefer to take their time rather than rush into deals.
If you wanted to be anyone in this situation, it would be Sporting. With three massively wealthy clubs all interested in your player, you can draw negotiations out to the last moment in order to reap the highest possible fee. Nor do you need to make a deal in the winter window. If no one meets your valuation before January's end, you at least have a higher starting point when negotiations resume in June.
Perhaps the best thing United can do is try to turn the tables on the Lisbon club, to gain some control over the situation. If Ed's consultants agree that Fernandes suits the Red Devils' need, why not make an outlandish offer right from the off but place a time limit on its acceptance? There are times to be frugal and others to go for the jugular.
If United up the ante to the £100+ million range, giving Sporting 48-72 hours to accept, the North Londoners almost certainly bow out. Who can imagine Daniel Levy making a nine-figure investment on the spur of the moment?
That leaves Real Madrid as the lone competitor who might make an immediate counteroffer. Having already laid out £277 million in the summer, United can always hope Florentino Perez developed carpal tunnel syndrome in the wrist he uses to sign cheques or, more realistically, that the symptoms are psychosomatic and, with a stadium renovation to finance, the Merengues president is reluctant to spend further.
Two questions, then.
Is Fernandez worth £100 million or more?
What can he do for Manchester United?
Thus far in 2019/20, the Portuguese midfielder sets a torrid pace. In 1,484 minutes over 17 appearances, Fernandes claims nine goals and six assists for a direct scoring involvement every 99 minutes.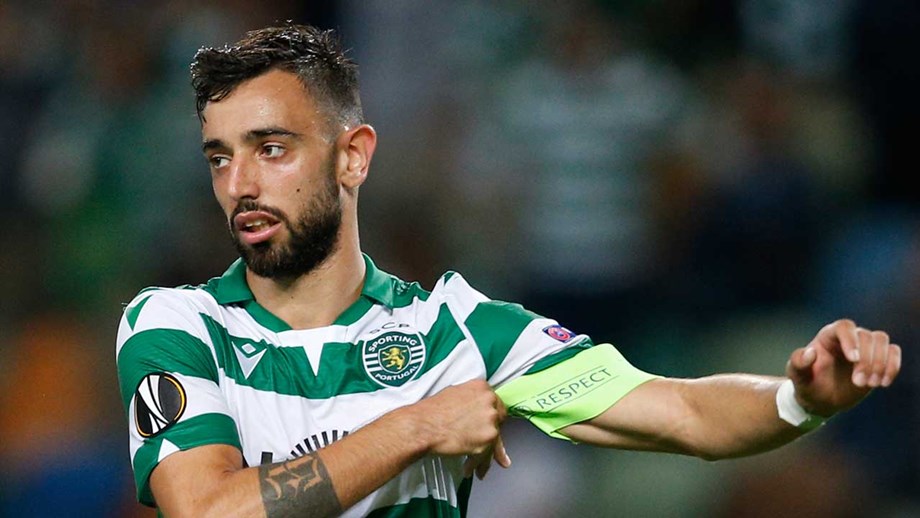 🇵🇹| Bruno Fernandes has signed a new contract with Sporting Lisbon.
The contract includes a £85m release clause.
https://t.co/PhhaHnMfyy
Admittedly, Liga NOS and Europa League opposition don't compare favourably to Champions League competition. Additionally, Fernandes' productivity in Serie A, one goal or assist every 241 minutes, was less than half his current rate in Portugal where he makes a tangible contribution every 103. United can't expect him to maintain his Sporting pace if and when he arrives at Old Trafford.
That isn't to say he would be a bust. To be fair, Fernandes didn't enjoy the best support in his four seasons at Udinese and Sampdoria, facing the likes of Juventus and Napoli with less than adequate tools for the job. With Paul Pogba behind him, James, Anthony Martial and Marcus Rashford in front, the older, more experienced playmaker should make an impact.
Will that impact be sufficient to warrant an astronomical fee? If Mourinho and Real Madrid are impressed, the odds tilt towards yes.
Further, such an aggressive transfer raises United's profile. Other top players will take a longer look at Solskjaer's project even if Champions League football isn't likely to be on the table next season. The move may also quiet the Love United Hate Glazers crowd who insist the board isn't committed to winning. You don't set record transfers in January if the on-pitch product isn't a priority.
If Fernandes arrives and hits the ground running, making up nine points on Chelsea to reach the Champions League is a tall albeit not unachievable task for the Red Devils. Moreover, it will be made easier by throwing a wrench in their former manager's plans.
Solskjaer is right to ignore Gary Neville's advice if it doesn't benefit Manchester United this season and for campaigns to come. If it does, however, he should follow his former teammate's counsel to the fullest. Playmakers like the Portuguese don't grow on trees. With Maddison and Grealish seemingly beyond reach, there are no viable alternatives. Bruno Fernandes is Solskjaer's one chance to make a meaningful blockbuster signing before Mauricio Pochettino or Massimiliano Allegri steal his job.