National League North Play-offs
Non-league football has almost finished now for the summer. All the regular season action is done and dusted, but the most important games still have to be played. It's play-off season, here is my look at the mouthwatering National North showdowns...
Following the change in format for play-offs in the top two tiers of non-league football, six teams will now fight for promotion glory. The teams that finished second and third respectively, Chorley and Brackley Town, automatically go through to the semi-finals where they will have home ties. For the teams finishing fourth-seventh they meet in one leg ties on Wednesday night for their place in the semi-finals. Throughout the play-offs, all ties are one leg, with the team who finished higher in the league playing the game at home.
Chorley(2) v winner of Altrincham(5) v Blyth Spartans (6)
Brackley(3) v winner of Spennymoor(4) v Bradford Park Avenue(7)
Wednesday's ties
Spennymoor(4) v Bradford Park Avenue (7)
The first tie in the play-offs takes place in the North East between two teams in contrasting form. Spennymoor had a wobble in March that derailed their title hopes. However, they have ended strongly with recent victories over Brackley and Chorley meaning the Brewers will fear no one in the play-offs. They boast the leagues' top scorer Glen Taylor, who has continued to find the net with unbelievable consistency throughout the campaign. In Matthew Gould they have also found a goalkeeper who has a fantastic record at saving penalties; not a bad thing to have at this stage in the season...
Bradford is the only team in the play-offs who come into them in horrendous form. They were fortunate to finish in the top seven, only doing so by one goal difference. If Telford had got anything from their game at York on Saturday, Bradford would have missed out. They have lost their last three and their only win in eight games was a 1-0 success against bottom of the table Nuneaton. For the first half of the season, they were in title contention, but their form since the turn of the year has been nowhere near good enough.
For me, I can only see one winner. Form is so crucial in play-offs, Spennymoor has it, Bradford doesn't...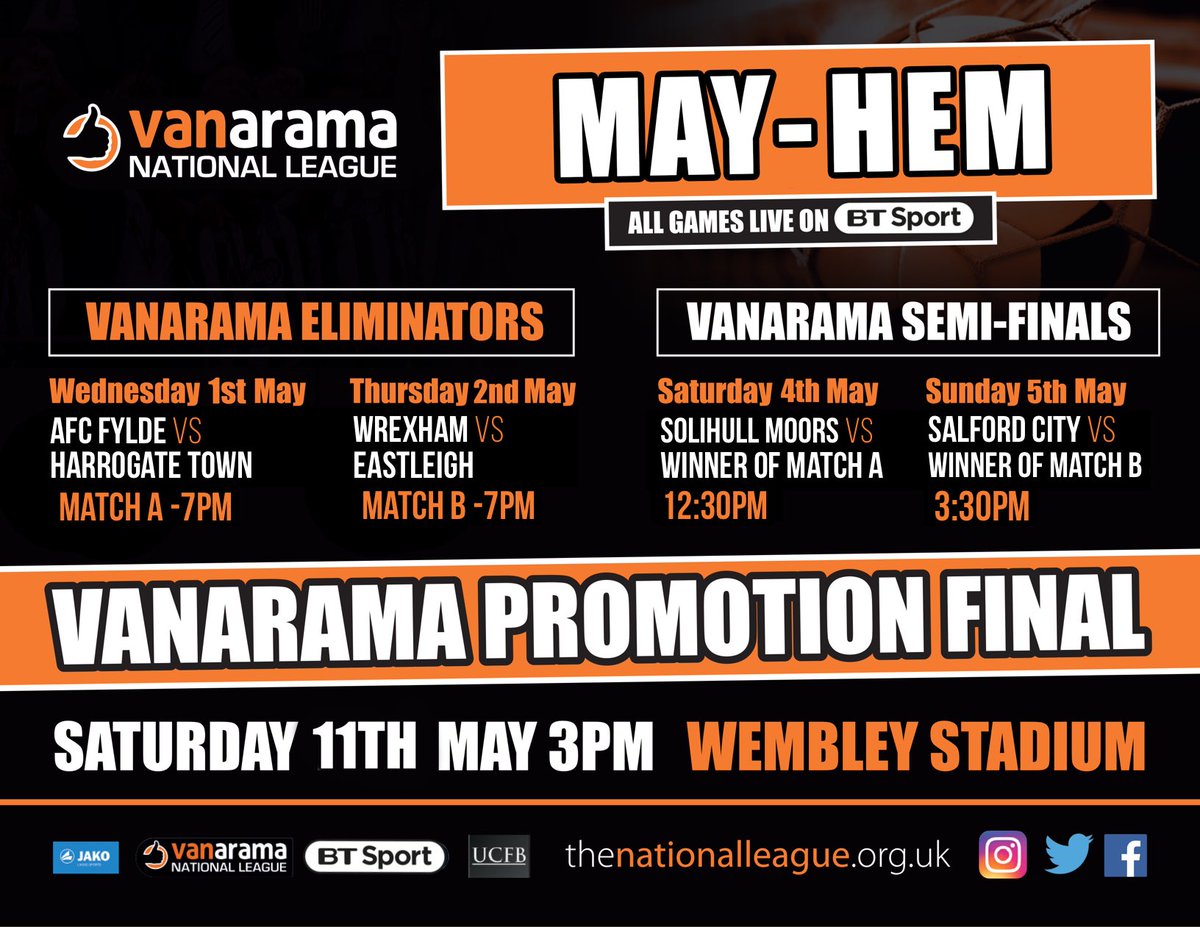 ⚽️ Fourteen matches
🏆 Three trophies
🆙 One target
The confirmed National League Play Offs schedule in full👇
#TheVanaDRAMA
https://t.co/UCdQVKst9K
Altrincham(5) v Blyth(6)
On paper, this is a much more even affair than the above game. Both teams have been surprise packages this season, having won promotion together last year from the Evo-Stik Premier. Altrincham has been consistent throughout and from the early months have been in and around the playoffs.
In Josh Hancock and Jordan Hulme they have constant threats which has led to Altrincham being the top scorers in the league.
Blyth started the season awfully and only two wins from their first ten matches left them in the bottom three. However, they have been on a magnificent run since. They had slipped in the first two months of 2019, but have regained their form at the right time winning their last eight games including impressively at champions Stockport.
It is set to be an evenly matched game between two sides that have goals galore in them. However, Blyth are on a run better than any of the other five sides in the play-offs and once sides get on a role they are hard to stop. I think it will be a North East double win on Wednesday.
Chorley
Second-placed Chorley will host the winner of Altrincham and Blyth on Sunday, having to put the disappointment of not winning the title behind them. Despite swapping places with Stockport on many occasions during the run-in, they have spent large portions of the campaign top of the pile so to not win it is a huge blow. It is always hard to come back after being so close to automatic promotion, but they are only two home wins away from it and will have home advantage in the semi and final if they reach it. The format of the play-offs certainly favours the team who finishes second at this level more than at any other. One legged ties and guaranteed home advantage for both potential games.
Brackley Town
Brackley are my pick for the play-offs, they come into them in decent form and not having had the agony that Chorley have had in recent weeks. They have won eleven of their last 15 league games with the only two defeats in that spell against Chorley and Spennymoor. After Stockport, they also have the best defensive record in their division.
If they do face Spennymoor in the semi-final they will be concerned about the recent 2-1 defeat at the Brewery Field. Yet despite the loss, it was a game that they created plenty of chances in and the result could easily have gone the other way. Up front, they have Lee Nlovu who has reached double figures again this season and will prove a handful for whoever they face.
Predictions
The play-offs are hard to predict, but I think Chorley's heartache after being top for so long will see them miss out. Their form in the final months hasn't actually been that great and they have certainly stumbled towards the line. The North East duo of Spennymoor and Blyth are both looking good currently. However, I'm going for Brackley. They have been consistent throughout the season come into the playoffs in very impressive form.