Who is in the National North playoff race?
Many divisions in English Football are all but settled. Not the National North. Everything remains up for grabs with just over a month to go. Three sides: Salford City, Harrogate and Brackley Towns remain in the hunt for the league title. There is also a scramble for the remaining playoff places.
Last summer the National League and its three divisions, the Premier, North, and South changed their playoff formats to include six teams rather than four. The format is used in other sports but rarely in English football. Sometimes billed as a wild-card, sometimes as a play-in, the second and third-placed sides in the respective divisions all earn byes while fourth through seventh are seeded and paired off for one-off matches. The winners move on to face the waiting sides in two-legged ties.
Third-place Brackley are nine points beyond the chasing pack. The top three are set. The question is who will take the last four spots?
York City
York are fourth but vulnerable. On 53 points the Minstermen have played two more games than Kidderminster and Blyth but are only a point to the good. Assuming all the games in hand reap maximum points Martin Gray's side could drop all the way to seventh.
Gray arrived from Darlington mid-season. Before the season began, it would have been unthinkable for York to not finish in the top seven. Results have been inconsistent even with the change. Worse, a slew of tough games remain, including Harrowgate and a trip to Brackley on the final day. Still, it would take a complete disaster for five teams to catch them up.
Kidderminster Harriers
After a poor start Kidderminster went on a long unbeaten run. They are back in the playoff picture after finishing second last year. Another lull brought three losses in a row. A crucial win against York last week put them back on track.
On their day they play a fantastic passing game. John Eustace's group have it in them to win promotion if they do finish in the playoff spots. That said, they may have a tougher run-in than the Minstermen considering Salford, Brackley, Blyth, Stockport, and Spennymoor comprise half their remaining fixtures.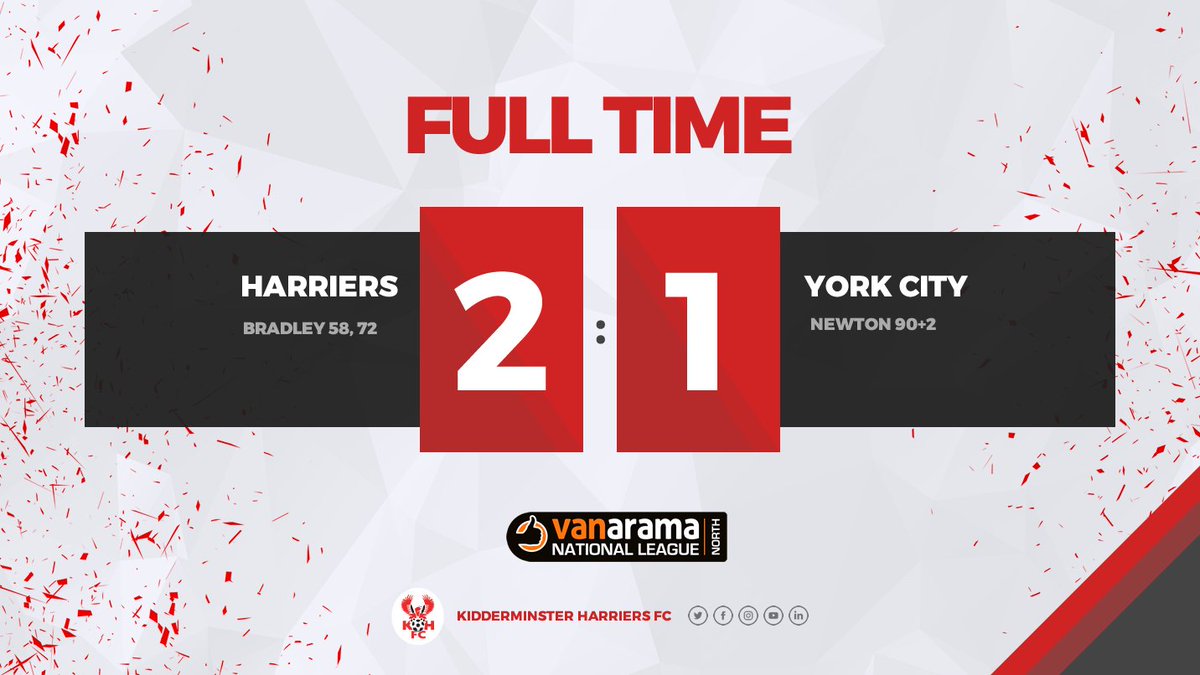 That's it, we're done here at Aggborough as the reds get back to winning ways with a really good win against York City
https://t.co/sqaDHs271w
Blyth Spartans
Spartans have been around the top seven for the whole campaign. They have corrected their January blip with three recent wins on the spin. Sitting level on points with Kidderminster with the same amount of games played they should finish in the top seven.
Like Spennymoor this is their first year back in the division. They have exceeded all expectations. Alun Armstrong's Green and White Army face a number of sides in the playoff mix too. As with Kidderminster, the bright side is their fate is very much in their own hands. Mixed in with the tougher games are three of the bottom four. If Blyth take nothing for granted they could be vying for a second successive promotion.
Spennymoor Town
The Brewers dipped out and then back into the playoff mix this week. They are bargaining from strength in this negotiation however. While only two points better than Stockport, they have three games in hand. Their Thursday win over Leamington puts their five-game unbeaten run in better standing with a second win during the stretch. The one disadvantage for Jason Ainsley's crew will be fatigue. They are playing two or three games a week for the rest of the season. If they can continue to grind out results the only question will be how much they have left in the tank for the playoffs?
Stockport County
County's best hope is to ignore Spennymoor and focus on catching Blyth or Kidderminster. Both are three points beyond them in the table. Each holds just a game in hand on the Hatters. They play both away in April.
With their history and fanbase expectations are high despite being stuck at this level for several years. Their run-in is optimistic. In the next four games they face three teams at the other end of the table and a Bradford PA side who are falling further down every week. Stockport have been inconsistent all season, but have given themselves at least a slim chance.
The rest
There are five other sides within seven points of the playoffs, all hoping for results to go their way. Chorley are the most likely, level on points with Spennymoor, but more realistic for them would be to catch York, Kidderminster, or Blyth should any wobble.
Southport, Darlington and Nuneaton have all had quite remarkable turnarounds. Each has been in the bottom three in 2018 but shot up the table. Despite their momentum they desperately need help, as in a total collapse from one or two clubs above them.
Bradford PA, are ahead of Nuneaton but haven't won in six league games.
York, Kidderminster, Blyth Spartans and Spennymoor look poised to take the playoff spots based on their current positions and games remaining. The Northern League is about as predictable as Donald Trump's next tweet however. Sides move up and down the table all the time. It will be an interesting finish.