New Year Resolutions for Real Madrid
Real Madrid must rebuild the squad as well as the stadium to challenge for trophies.
Winning the Champions League three years in a row is no mean feat even for the competition's most successful club. Zinedine Zidane stunned the football world by totally dominating Europe's elite competition but the Frenchman knew his Real Madrid honeymoon wouldn't last forever. He did what every great entertainer should; Zizou left Madridistas wanting more.
That said, his departure isn't the one that put Los Blancos on the back foot. That was Cristiano Ronaldo.
Everything revolved around the Portuguese at the club. His scoring exploits bailed the team out of difficult situations regularly. After nine successful years at the club, he may have realised Zidane represented the pinnacle and sought a new mountain to conquer.
Rightly and wrongly, the club made no attempt to bring in a replacement to fill the vacuum. Rightly because, although he was the best player in the team, he wasn't the only world-class star at the Santiago Bernabeu. Wrongly because the squad was built to feed a player like him. Without a replacement, they faced a long, painful process to remake themselves.
Sergio Ramos, Luka Modric, Toni Kroos, Marcelo and Gareth Bale are all top players who would start for any club in the world. All made FIFA's Best XI. Luka Modric swept the best player awards season, calendar year and World Cup, including the Ballon d'Or. The club hierarchy believed they could carry the club forward post-CR7.
What's that saying about the best-laid plans? Julen Lopetegui took over for Zidane. He paid the price for the team's poor performance with a sack. Santiago Solari stepped up and steadied the ship a bit. All signs still indicate the club requires an overhaul and it must begin from the dugout.
With the New Year underway, here are four resolutions the club should make to restore their elite status.
New manager
This is the most pressing need. Former youth teams coach Solari was drafted as an emergency replacement for Lopetegui on a caretaker basis. After a few good games, he was given full charge in November. La Liga rules do not allow a caretaker manager to hold the post for more than two weeks.
Unsurprisingly, the team has delivered mixed performances since. Failure to beat struggling Villarreal on Thursday night highlighted the need for a change. A new top-class manager will organise a new team to return the club back to dominance.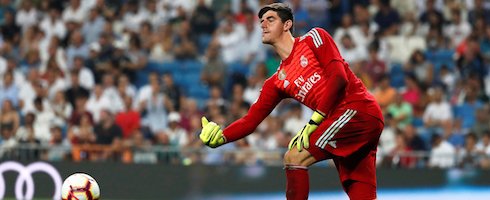 Clear the clutter
A new manager's first task will be removing the squad's dead weight. Players like Kareem Benzema and Gareth Bale still have value but it is decreasing with each passing matchday. Now is the time to move them while a decent return can be made.
The Frenchman is a shadow of his former self, struggling to find the back of the net despite when that responsibility is now primarily his. The Welshman is like a PC. He can't go more than a few matches without needing an update. For all the talent and ability he possesses, he spends more time nursing injuries than playing football.
Others are even less worthy than these two. Lucas Vasquez, Nacho, Mariano, etc. Youngsters deserve a look but none look like they'll be ready anytime soon. Vinicius Jr and Dani Ceballos should be sent out on loan.
Sign a striker
It beats the imagination to understand why Florentino Perez thought Real Madrid could cope without a replacement for Ronaldo. For a club that has built a reputation for making Galactico signings when necessary, a Mauro Icardi or Harry Kane should be leading the line by now. Forwards like Eden Hazard, Mbappe and Neymar should be manning the wings. The Chelsea man has done everything but say he wants a move to Madrid.
Back to basics
It always begins from hunger to achieve success and readiness to work hard for it. Too much success can be a bad thing. It saps a team's motivation and drive. Their absence in the Merengue side is the most compelling reason to hire a name manager who wants to make his own history and is prepared to make ruthless changes.
Real Madrid winning just nine league games in 17 is unusual. Having fallen seven points behind leaders Barcelona in the title race with fewer goals scored than either Levante or Celta Vigo, the side is not where it should be. Yes, they have a game in hand after postponing a match for the Club World Cup but read the first sentence in this paragraph. You can't guarantee Madrid will take the three points from their extra game. The odds are barely 50-50.
Los Blancos need help fast. For them, the title race is almost over.