Are Neymar, Gareth Bale, aces up Ed Woodward's #GlazersOut sleeve?
Typically during his time in charge at Manchester United, Ed Woodward responds to desperate times with desperate measures.
The #GlazersOut movement continues to rage on social media. Its main points are that the American owners take too much money out of the club and put nothing back. Millions are spent on servicing debt and remunerating a board whose group picture can be found in the Oxford English Dictionary under nepotism.
Yet, contrary to the movement's rhetoric, more than £1.5 billion has been doled out for transfer fees since the Glazer takeover was completed in 2005, £895 million since Sir Alex Ferguson retired.
When the fans become too noisy, as they are now, Ed Woodward's knee-jerk reaction has always been to splash cash on some big names.
David Moyes nearly drowned under the pressure of managing United, so Ed hired Louis van Gaal.
The Dutchman's unpopularity only increased with each passing matchday, so Jose Mourinho was brought in and given a war chest to sign Paul Pogba, Henrikh Mkhitaryan and Eric Bailly. Super agent Mino Raiola who counted them all as clients threw in Zlatan Ibrahimovic on a free.
When that wasn't enough, Mkhitaryan was swapped for Alexis Sanchez who was given a weekly wage rumoured to approach a half million quid.
Fans tired of Mourinho's constant feuding with various squad members [including his own hand-picked recruits] and the fact all the money wasn't producing results. This time, a big signing wouldn't be appropriate. Besides, the best managers, Mauricio Pochettino and Zinedine Zidane, were either a] unavailable or b] uninterested. So Woodward changed tactics. He went old school, hiring club legend Ole Gunnar Solskjaer as caretaker boss.
The Norwegian's astounding start to life in the Old Trafford hot seat inspired overwhelming pressure to appoint him permanently. A consummate marketer, Ed gave the customers what they wanted. Solskjaer announced his plan to sign young, homegrown talent as his mentor, Sir Alex had done. The United corner of the Twitterverse basked in positivity.
Before Ole could begin, however, the honeymoon ended. Injuries mounted and the fixture list went from patsies to pile drivers. As they always do, United fans came down with buyer's remorse quicker than you can fall asleep at an Ed Sheeran concert. The slow business of an unproven manager recruiting unproven talent led to panic. The #GlazersOut movement gathered furious momentum. "Since you keep giving us what we want', they shouted, 'We want you to leave!'
As little sense as supporters make, their anger affects the bottom line. Ed and his employers are frantically searching for a way to stem the onrushing tide of public opinion. It might be time again for a big signing or two.
Happily, two world-class players have been linked to United. Both Neymar Jr and Gareth Bale are on the outs at their current clubs.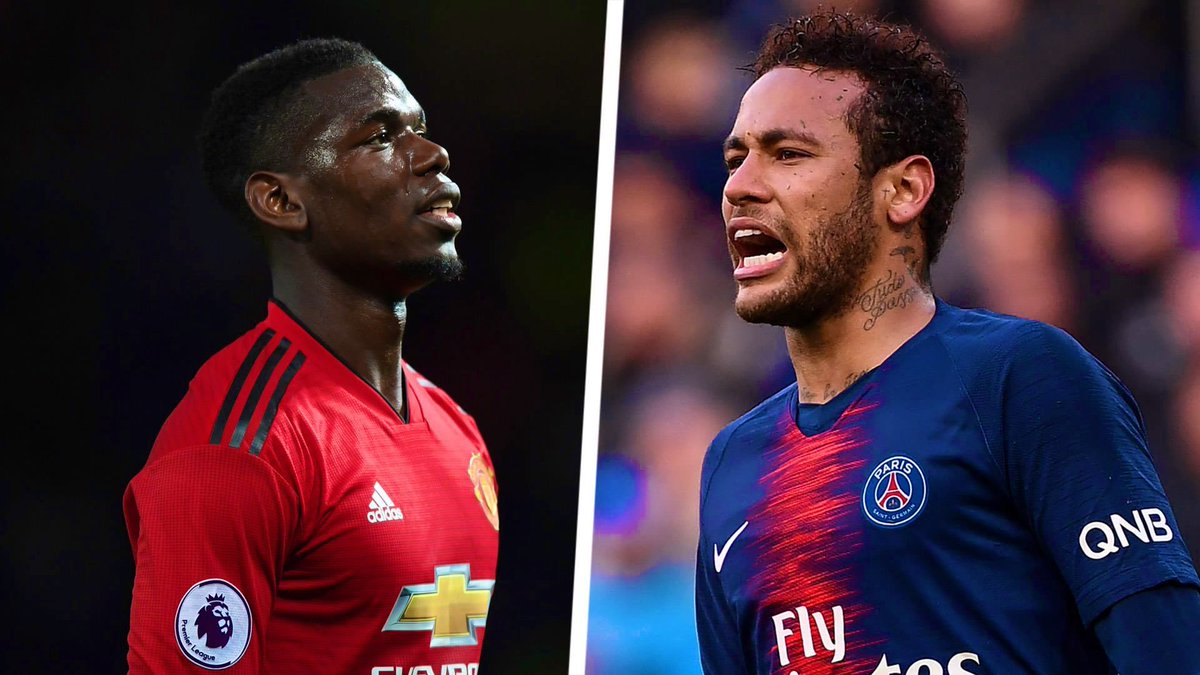 PSG have offered Manchester United the possibility of swapping Paul Pogba for Neymar. (The Independent)
https://t.co/AsKIN84LdM
Neymar
The Brazilian is tired of not winning the Champions League at Paris Saint-Germain and that Parisians love native son Kylian Mbappe more than him, not necessarily in that order.
Neither complaint can be resolved by a move to Manchester United. The Red Devils won't be in the Champions League in 2019/20 and supporters are likely to react to the 27-year-old's playboy antics with the same level of enthusiasm they have for Paul Pogba's playfulness, which is to say zero.
That said, a weekly wage that surpasses the half-million mark might elicit interest from the gifted winger. He'll have the same opportunity to lift a club to UEFA's summit as he had when he left Barcelona and thereby make a case to supplant Lionel Messi as the greatest of all time. This time, however, the challenge will come with a team that has been to Shangri-La previously and plays against domestic competition that can push them to the giddiest heights. In addition, the lack of Champions League football might be a positive after Neymar suffered a PR double whammy when his tussle with fans at the Coupe de France was followed by rape allegations. Laying low for a year might be the best thing.
In dealing with Barcelona, who can't seem to decide whether or not to welcome back a prodigal son, PSG have slashed their asking price for the tarnished star. If they were of a mind, United could have paid the original £200 million without blinking. They would be foolish not to consider such a talented star at a discount.
Bale
The Welshman is ridiculously underappreciated at the Santiago Bernabeu. In his time there, he has matched the records of former galacticos such as the Brazilian Ronaldo and Luis Figo. He has more Champions League trophies than any of them, more goals in finals too.
Zinedine Zidane doesn't care. The Frenchman decided Bale has the wrong attitude and wants him gone. The player's injury history and price tag make him difficult to move [without an ambulance] but if Los Blancos are willing to accept a lower bid with performance-based add-ons, a deal might be in the offing. The Welshman appeals to United's homegrown ethos, is more affordable than the other elite winger on the market, Antoine Griezmann and, despite Zizou's opinion, is much less of a pain in the arse off the pitch.
Do they fit into Solskjaer's squad?
Surprisingly, the short answer is yes even though both are known as left-wingers and United has more of those hanging around than the Louvre has priceless oil paintings.
Bale is effective on either flank and would fill Solskjaer's need for a right-winger. As the best left-winger in the world, Neymar is better than anyone United has on the books.
Both purchases could be subsidised by selling Anthony Martial and Alexis Sanchez. The Chilean's outstanding work at the ongoing Copa America will revive interest in his services after a woeful spell in Manchester.
Injuries
Each player keeps his team physio on speed dial. In the past two years, Neymar has twice broken his foot and missed the Copa America with an ankle injury. There isn't enough space here to list Bale's litany of knocks, ligament and muscle strains. Both are finely-tuned thoroughbreds, however, and this is the risk you must accept with such.
Even after offloading Sanchez, Martial and probably Romelu Lukaku in the bargain, United would still have Jesse Lingard, Daniel James, Juan Mata, Diogo Dalot and academy products Mason Greenwood and Tahith Chong to call upon for cover. Marcus Rashford can also play out wide despite assuming the number nine role for Solskjaer. Depth isn't an issue for the manager.
In fact, Solskjaer proved he likes a heavy rotation upon taking the reins from Mourinho and did so even after a rash of injuries forced him to call up players from the U23s. He may decide to use Bale off the bench as an impact sub for Daniel James. Santiago Solari did that in his time at the Bernabeu, with the veteran coming on effectively when summoned for youngster Vinicius Jr.
If Bale and Neymar are rotated sufficiently, they may not spend so much time on the treatment table, the Brazilian especially. His lost time always seems to come late in the campaign.
Pogba
Although many fans believe the Frenchman doesn't play for the badge, another school of thought posits that he simply needs better players around him. His 2018/19 campaign wasn't just a personal best with double digits in goals and assists. It was also the best overall performance by any midfielder in UEFA's top leagues. Critics deride the fact half his goals came from the spot. Regardless, with Bale and Neymar on the other end of passes, one can only anticipate an increase in his 11 assists.
Although United have other problems, an attacking quartet that includes Pogba, Neymar, Bale and Rashford put the Red Devils back in the discussion for both the Champions League places and the Premier League title.
Man United have set Pogba price tag at a whopping £150m after reported interest from Real Madrid and Juventus could lure the him away from Old Trafford. Real have enquired after Pogba, but United have set this steep value for the unsettled him in order to get their money's worth
https://t.co/LoqIo106v0
Of course, if Monsieur Labile isn't enticed to stay on at Old Trafford by Neymar and Bale's arrival, his sale to Real Madrid or Juventus makes the duo all the more affordable.
What about the defence?
Fans who demand that Pogba and the Glazers leave also desperately want the club to sign one or two proven central defenders. Having already invested £65 million in Daniel James and Aaron-Wan Bissaka, three major purchases added on may draw United perilously close to Financial Fair Play violations, especially if Pogba remains with the club.
Ed Woodward may need some creative inspiration to make this all work. Or he may not. As already noted, PSG are willing to take a loss on Neymar and Bale's injury history leaves Real Madrid bargaining from a position of weakness.
Beyond that, there is at least one top defender available at a more than reasonable price. Toby Alderweireld's £25 million release clause is highway robbery in today's market. With Chris Smalling and Phil Jones already extended and available as backups, Solskjaer could partner the Belgian with the rapidly maturing Victor Lindelof.
Crazy enough to work?
Never say never.
Even if the moves are made simply to neutralise the #GlazersOut movement, acquiring Neymar and Gareth Bale does more than dispel the notion the Americans aren't committed to spending or winning. They magically transform Manchester United into dark horse contenders for the 2019/20 Premier League title.
Like any desperate move, there are risks, including injury and the money required to convince both players to sacrifice a season of Champions League football. If the signings don't pan out, you can bet #GlazersOut will return with even more ferocity.
If it does work, United supporters will face a real challenge in finding something to bitch about although there's no reason for concern on that front either. They've responded like champions every time the gauntlet's been thrown down in the past.