Can Di Maria replace Neymar at PSG?
The world rose to its feet when Paris Saint Germain made Neymar the most expensive footballer in 2017. Paying €222 million for his signature more than doubled the previous world-record transfer.
The Parisians had high hopes for their Brazilian star. They believed he would kickstart a new era at the Parc des Princes, ultimately helping them win the Champions League. with two tumultuous years in the books, that dream is yet to be achieved. Nor does it look like happening at all.
Neymar's PSG career didn't begin with a disaster. Alongside Edinson Cavani and Kylian Mbappe in the attack, the Brazilian enjoyed a promising start. He scored consistently for the club in his first few games and was backed by many to achieve great things.
A broken foot suffered in La Classique against Olympique Marseille doused the fire, however. It occurred between the first and second legs of PSG's Round of 16 clash with Champions League holders Real Madrid. Already down after the first away leg, Les Rouge-et-bleu crashed out of the tournament without their talisman. The Selecao remained lost to them for the campaign's remainder.
In 2018/19, it happened again. A torrid start was snuffed out by another broken foot, this time just prior to PSG's Round of 16 meeting with Manchester United. He could only watch from the stands as PSG suffered another Champions League humiliation, this time, at the hands of Manchester United. The Brazilian didn't take it well.
He returned before the season ended, only to be in the lineup when Stade Rennais upset his team in the Coupe de France final. A tussle with fans afterwards revealed his disappointment. Then an ankle injury ruled him out of the Copa America for Brazil. Tite's squad went on to win without him and the star returned late from the tournament to join PSG in pre-season.
In addition, Kylian Mbappe has usurped him as the team's top star. With the young Frenchman's rise and Brazil's success, the club may have realised it can do no worse without Neymar. Whether or not that is the case, the player himself decided for the second time in his young career that he can do better without them.
The Brazilian is desperate to quit the French capital and kickstart his career elsewhere. He made this known to the club, as confirmed by PSG sporting director Leonardo. According to reports, negotiations are underway to offload Neymar before the transfer window closes on 2 September.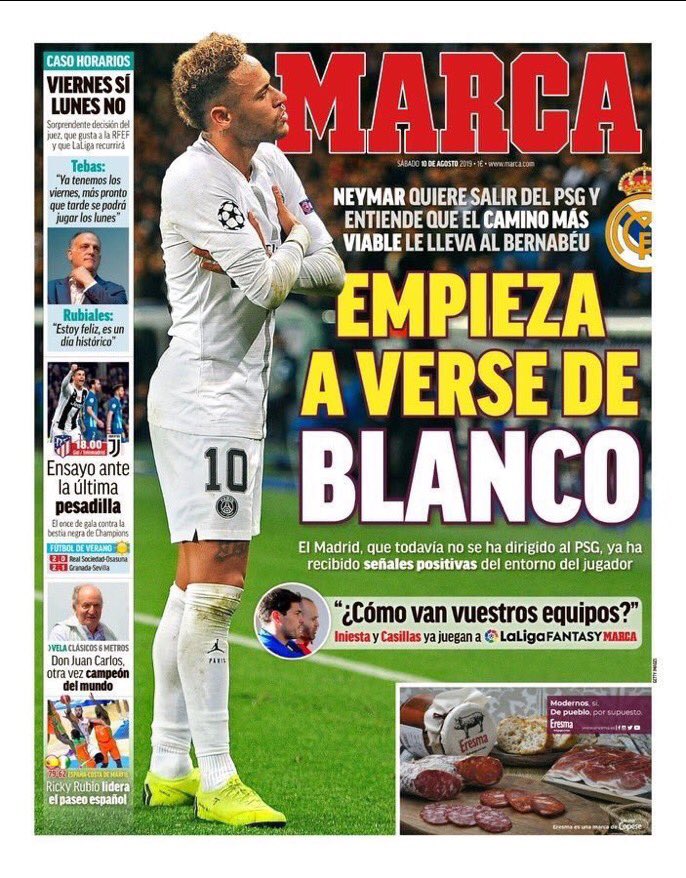 Neymar wants to leave PSG this summer and knows his only viable option is Real Madrid. [MARCA]
https://t.co/80qs7o20uI
Most fans and pundits believe that leaves the Parisians with a massive hole to fill. The default reaction is that Leonardo should be active in the market, hunting for a replacement. Names like Paulo Dybala, Philippe Coutinho and Gareth Bale have all been put forth.
However, the solution may lie in-house. In a club laden with world-class talent, is there really a need to outsource the problem? Angel Di Maria has been a vital figure for PSG since he left Manchester United for the Parc des Princes in 2015. He has impressed whenever given the opportunity. Seventy-one goals and 69 assists for the club in 182 appearances across all competitions speaks volumes to his influence. It doesn't match Neymar's 51 and 29 in 58 games. Nevertheless, there isn't another Neymar out there. Anyone who comes into the squad will be challenged to match the Argentine's output.
When Neymar was injured last season, Di Maria proved his worth. He stepped in, producing fantastic performances that helped the club defend their Ligue 1 title. He finished the campaign with 19 goals and 17 assists from 45 appearances.
He's already made a statement this season. He scored once as PSG beat Nimes 3-0 to open their Ligue 1 campaign on a brilliant note. With the Argentine firing on all cylinders, there's every indication he is ready to play a more pivotal role at the Parc des Princes. He only needs the chance.