Solskjaer proves Lukaku and Rashford can play together
In his initial days as Manchester United manager, Ole Gunnar Solskjaer preferred a front three of Jesse Lingard, Anthony Martial and Marcus Rashford. They were mobile, direct and free-flowing. Alexis Sanchez and Romelu Lukaku could only wait for opportunities. The money spent on Lukaku appeared to be wasted.
Following injuries to Lingard and Martial, Solskjaer needed to forge a new partnership. The Norwegian went with Sanchez, keeping the big Belgian in his surprisingly effective role as an impact sub. The Chilean made little impact despite starting then was injured himself. At last, Ole Gunnar started Rashford and Lukaku together.
When the pair teamed up together for the first time against Burnley, it was not so rosy. They struggled to combine. Lukaku didn't get any help from Rashford while the English international was unable to create from the left wing.
Now, the duo is in scintillating form after developing an understanding through necessary persistence. The fantastic comeback against Paris Saint-Germain in the Parc des Princes proves the system works well. Lukaku especially made the most of the evening, arriving in timely fashion to capitalise on two PSG errors. Before he took the penalty that won the tie, Rashford was a thorn in the Parisians' side all evening.
Lukaku admits it took a while for him to understand what Solskjaer required from him. Now that he does, the results press his case to start regularly. He leads United with 12 Premier League goals. A hard worker, his physical strength, pace and dribbling allow him to bully defenders singlehandedly. He knows how to find space to shoot in the box as the brace against Southampton illustrated. The 25-year-old lacks control on the ball and his first touch is heavier than Akebono at an all-you-can-eat buffet but his eye for finding the back of the net with neat precision squares it up.
He can also supply balls from the wide spaces, something which United otherwise lacks at the moment. His performance in a goalless draw against Liverpool and the FA Cup 3-1 win versus Arsenal demonstrated. His layoffs, willingness to drop back when not in possession and his set-piece threat often go overlooked.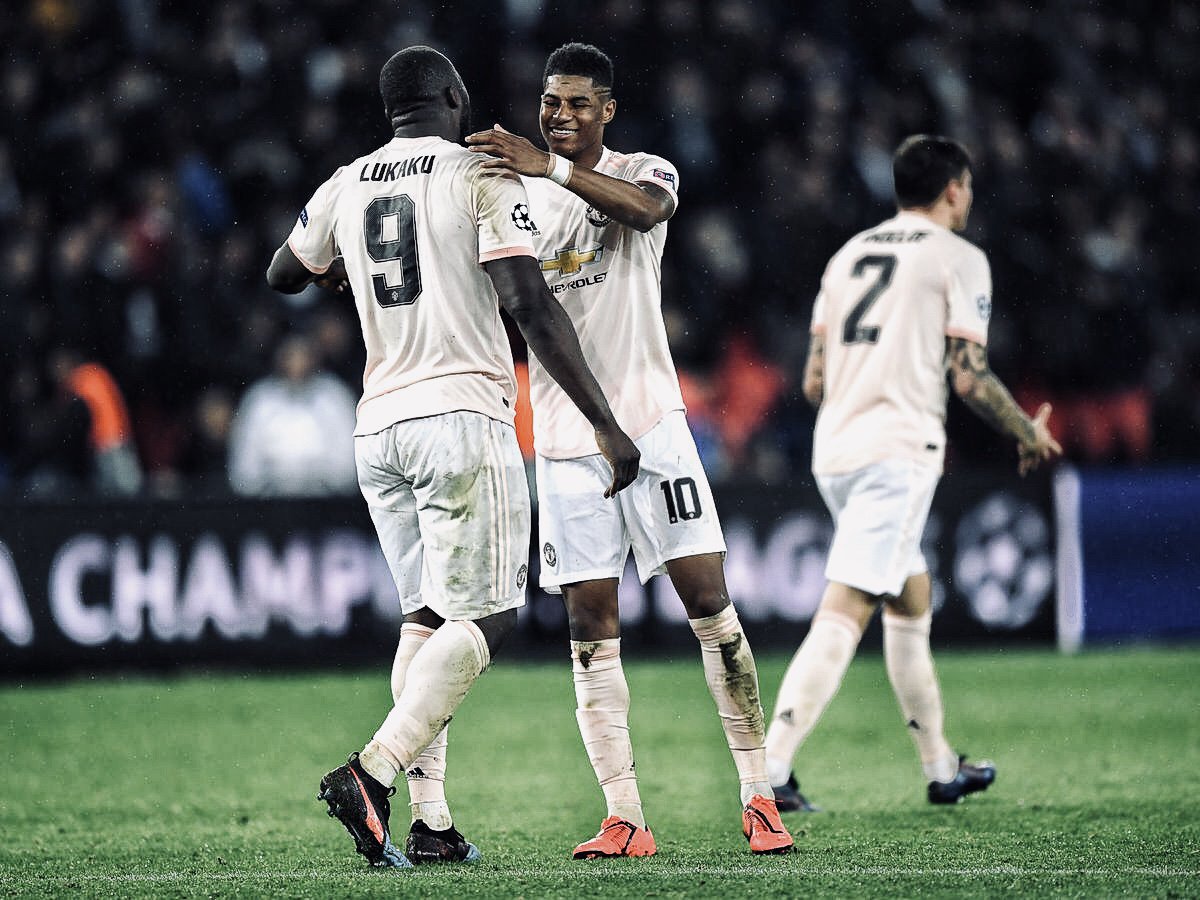 Lukaku on Rashford's penalty vs PSG: "I was happy that he scored. He came to me and wanted to shoot. I said 'man, this is your time. Do it for yourself and us' and he did it." #
MUFC
https://t.co/mOrGHDrn1i
Rashford already looks to be in his prime. Ole often draws comparisons between Cristiano Ronaldo and Rashford. In his pre-match press conference ahead of the Arsenal game, Solskjaer urged the 21-year-old to find more time inside the box and improve his off-the-ball movement. The youngster responded.
Both players tend to drift wide when opposition fullbacks move higher up the pitch, demanding centre-backs cover more space than they are able.
Rashford lures defenders to free space which can be attacked by Lukaku or Pogba or so that he can dribble and take a shot himself. Lukaku muscles defenders to make simple passes or, when wide, manoeuvres to get the ball on his left foot for a pinpoint cross. When his first touch doesn't let him down, he effectively shields the ball for the midfielders and Luke Shaw to join the attack.
In the process, he's collected three braces in as many games. Lukaku still seeks his first United hat-trick but it's amusing to see the former Everton man produce such numbers. Just a fortnight ago, he was a liability according to many. Ole has made the £75 million investment look worthwhile. He now considers Lukaku and Rashford a "very nice partnership."
At some point, Martial, Sanchez and Lingard will be match fit again. Rotations must be worked out. Nonetheless, the manager now has options.
The squad can shift from 4-4-2 to 4-2-3-1. They can play a 3-4-3 or 3-5-2. Such tactical flexibility allows Solskjaer to turn the tables in difficult circumstances and be more unpredictable against sides that like to sit back, soaking up pressure.
With such incredible depth in the front line, United are just short of a prolific right winger to challenge for league and cup competitions. Perhaps Lukaku can be the solution to that problem as well. Ole might have just saved United a hundred million or so.