Olivier Giroud gives perfect answer to critics
Maurizio Sarri must trust Olivier Giroud for his own future at Chelsea as well as the Frenchman's.
Lack of goals threatened Maurizio Sarri's future in the Chelsea dugout early into his reign. The Italian manager resorted to desperate measures to solve the problem. First choice striker Alvaro Morata had to go, even if it was just on loan. Gonzalo Higuain arrived from AC Milan with the same codicil. Olivier Giroud watched as the drama unfolded, empathising with all the baggage in the lost luggage warehouse at Heathrow.
The former Napoli gaffer had his reasons. When the Frenchman led the line, he held up play well, developing an understanding with Eden Hazard, Willian and Pedro, but he could not score. Giroud owns a solitary Premier League goal in 20 appearances. He started just six games, Regardless, his tally belongs closer to double digits.
Charged with returning the Blues to the Champions League following Antonio Conte's meltdown, the former investment banker made a business decision. First, he banked on Hazard's ability to play as a false nine then waited on the transfer window to acquire the Argentine who scored 36 goals for him at Napoli. Initially, it worked. The Belgian enjoyed a rich vein of form in front of goal. Then the goals dried up and the team suffered.
Notoriously, Roman Abramovich doesn't tolerate repeated failure. Speculation mounted concerning Sarri's future as the Blues slid down the table. Fortunately, a second avenue remained open for Sarri to impress his impatient employer. He found success in the Europa League with unexpected help from his unclaimed baggage.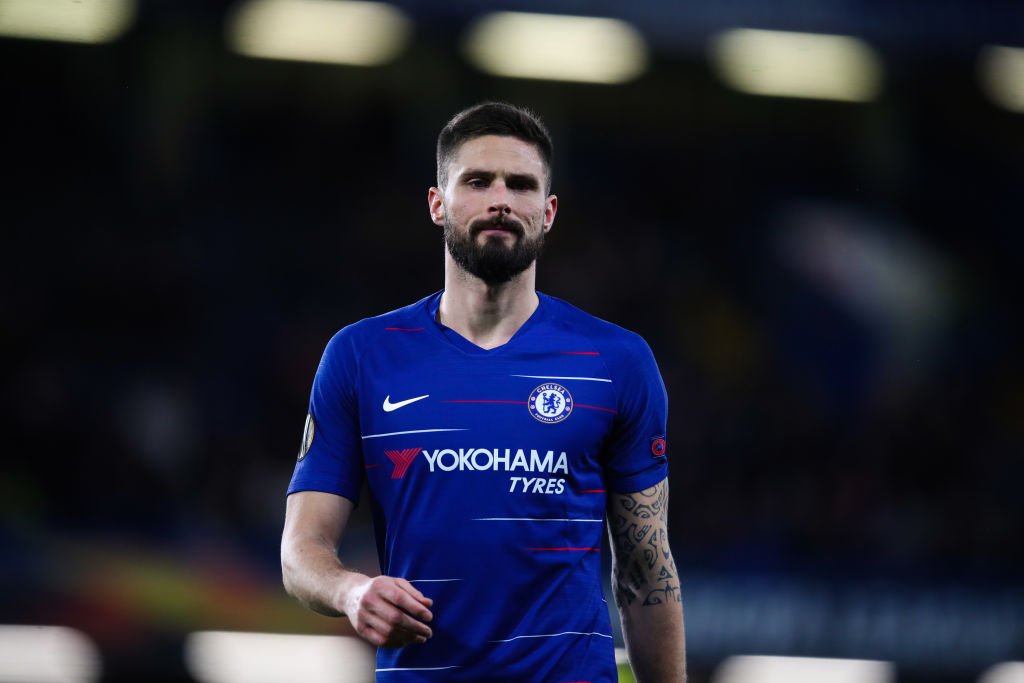 Given the Europa League's status as the continental competition fans tend not to keep their eye on, Giroud made it an appropriate platform from which to announce his continued worth. Firing on all cylinders in the group stage, a hat-trick away at Dynamo Kiev in the Round of 16 lifted him atop the tournament's scoring chart with nine goals in as many appearances. Drawn to face Slava Praha in the quarterfinal, it remains to be seen whether he can provide more goals to deliver Chelsea a third European crown in seven years.
Few teams remaining in the Europa League boast Chelsea's quality. Arsenal and Napoli are the chief rivals and one will be eliminated after they face off in the final eight. Standing a level or two above their opponents, it's no shock Chelsea reached this stage so easily. That said, Giroud's contribution cannot be overlooked.
The Premier League also parades some relatively weak teams. Even so, scoring hasn't highlighted Chelsea's season. If anything, it's concessions at the other end that stand out. Ten goals shipped against Bournemouth and Manchester City last month didn't ring alarm bells. They cranked up air raid sirens.
Higuain isn't proving to be the answer. Maybe he needs time to settle. Maybe the Premier League is too quick for his 31-year-old legs. Either way, Sarri may need to reconsider his stance on Giroud. Even though the Frenchman is a year older than the Argentine, he looks much more the spring chicken.
Rather than choosing between the two, Sarri can play both strikers in a manner similar to Didier Deschamps' strike partnership that won the World Cup for France. Giroud worked seamlessly with Antoine Griezmann to earn a World Cup winner's medal. Doubling the firepower upfront might be the difference maker for the Stamford Bridge outfit, especially in critical matches where winning is required by any means necessary.