One reason to take Cristiano Ronaldo transfer rumours seriously
I didn't think Cristiano Ronaldo will leave Real Madrid until he can no longer perform at a world-class level and must find a less competitive division to further his obsession with the game. Given his dedication to both fitness and skill, as well as his performance for club and country in 2018, I suspected we were at least two seasons removed from that transition. But there were two other points to acknowledge.
First, I also thought that Britons would vote Remain, Americans would never elect Donald Trump, Hollywood wouldn't have the balls to let Thanos win the Infinity War and that Lionel Messi would finally step up and win the World Cup. So, not the best track record.
Second, Ronaldo has been ahead of the curve his entire career. He has done more than expected and exactly as he pleased. Sir Alex Ferguson wanted him to stay at Manchester United. Despite the immense respect and gratitude he has since displayed for the Scot, the Portuguese took his own counsel. Who is to say he won't do so again?
Yes, we have seen this dance between the player and Real Madrid in the past. It's beginning to seem an annual summer rite of passage. Ronaldo or his people make an ambiguous remark. Media obligingly interprets it as the player wanting a move. RM president Florentino Perez emails the club accountants. Money is found. Statues are built. Ronaldo votes Remain.
It is what we expect. More importantly, it's what we understand. Most of us play a holding action later in life. We desperately cling to what we have. We die slow, comfortable deaths. Ronaldo is one of the few who doesn't surrender. He wants more. He wants to keep living.
The question is whether, this time, he told the press "it has been great being at Real Madrid" because he is angling for more cash or because he feels the Santiago Bernabeu has become a slow, comfortable death?
If it's the latter, there are few places he can go. First and foremost Perez and Real Madrid are going to exact a price from any interested club. Second, Ronaldo may be seeking a growth opportunity even though he's 33, but he isn't going to join another outfit on spec. He will get paid. Third, he is 33. Time is of the essence.
Even though the rumours now centre entirely on Juventus, economics limit Ronaldo's options to six clubs, including Barcelona.
The Blaugrana can immediately be stricken from the list, though. The Barca brand of football doesn't suit his talents and he is looking to expand his football and marketing horizons, not cut his fanbase in half. A reverse Figo is out of the question.
Manchester City isn't a match. Pep Guardiola has adapted to a more direct style in England, one Ronaldo could play. But why would he move to England to be just another piece in the puzzle? He could fade into the background at Real Madrid without having to go to a salon to maintain his tan.
Weather counts against Manchester United, too. Old Trafford is also a case of been there, done that, both with club and manager. Ronaldo won the Champions League and his first Ballon d'Or in Greater Mancunia. He is looking for a new challenge, remember.
Paris Saint-Germain is a new[ish] challenge. Like Real Madrid, he would be joining a star-studded cast that can't get over the hump in the Champions League. The city's fashion industry should also appeal, given his non-football ventures.
The problem is that PSG is up against it with regard to Financial Fair Play. They're already under review for their buy-now-pay-later arrangement with Monaco to sign Kylian Mbappe.
It could work if Neymar was heading in the opposite direction. Real Madrid are rumoured to still want the former Barcelona star. His arrival would ensure a demigod remains in-house at the high temple of European football.
A straight swap seems unlikely, though. A hefty cash payment would have to accompany Ronaldo to France. He would be the Samuel Eto'o in this deal while Neymar would be its Zlatan Ibrahimovic. Would CR7's prodigious ego stand for the insult?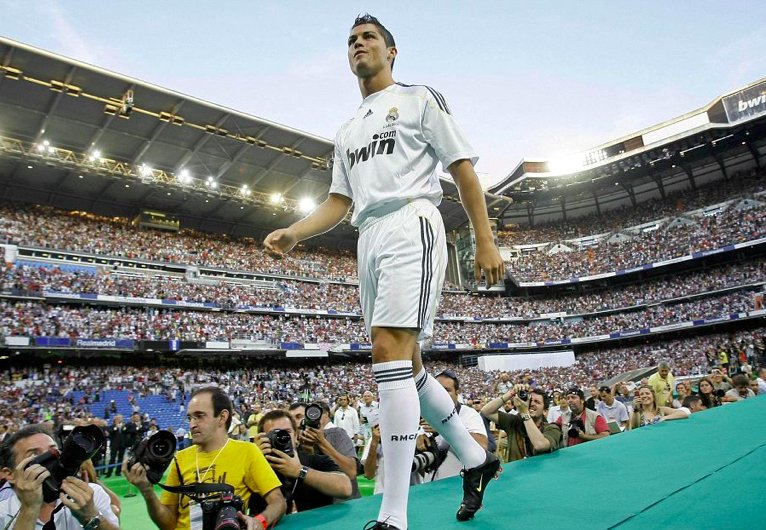 Real Madrid believe that there are a few to none player(s) who can improve on Cristiano and they can't afford to let him leave. They made it clear that they value him and there is no alternative for him in the market, including Neymar, who's difficult to get. [marca]
https://t.co/0pKtr36Hc8
Odds are greater he would enjoy the thought of replacing two world-class players. Franck Ribery and Arjen Robben are coming to, some would argue have passed the end of their time at Bayern Munich. Thomas Muller's star is fading, as well. Cristiano Ronaldo would put die Roten right in the middle of the Champions League conversation. Again, weather and a sizable culture clash are detriments to the possibility. Pep Guardiola spent six months of his year-long hiatus from management learning German and the Catalan tactician is, while still image-conscious, far less so than the Portuguese goal machine.
I would have added AC Milan had the Ronaldo-to-Juventus rumours cropped up a week earlier. The Rossoneri's new Chinese owners were eager to invest. Several pieces, including a strong centre-half, Leonardo Bonucci, and passionate manager, Gennaro Gattuso, were in place but the Champions League remained in the distance. Unfortunately, one or two years without European nights due to Milan's FFP ban is out of the question, leaving Juve as the lone Serie A option.
Again, Cris would be joining a club that already bosses its domestic league but is seeking to break through the Champions League wall. In Turin, however, there will also be an individual challenge. Italian football, while less strenuous, is like the English game. Few players manage 20 goals per season. Rarely does one reach 30. Ronaldo would be 34 when his first season ended and he is accustomed to outscoring his age, typically just as winter is turning to spring.
Juventus are well known for buying on the cheap, often exploiting the Bosman rule to avoid paying entirely. They've done it for years. On the other hand, they've also failed to win the Champions League for years. Now and then, drastic measures are required.
Further, rather than being faced with a culture change in Bavaria, Ronaldo would be the culture change in Piedmont.
Again, when you or I hear Cristiano Ronaldo transfer rumours, our gut instinct is to consider what we'd do in his place. Invariably, we think he has a good thing going at Real Madrid; why upset the apple cart? As noted, the problem with that line of thinking is we are not Cristiano Ronaldo.
Cristiano heads to holiday with his future at the club unresolved. It's been more than a month since he insinuated he will leave Real Madrid (June 26). He considers his annual salary (21€M) is poor compared to Neymar (37M) and Messi (50M).
[AS]
https://t.co/T89EeAsara