Who is Borussia Dortmund's new man, Andriy Yarmolenko?
On the same day that Ousmane Dembele was unveiled at Barcelona, Borussia Dortmund announced his potential replacement - Andriy Yarmolenko. Not the glamour signing many BVB fans may have hoped for, however, Yarmolenko may just slot seamlessly into the club's scheme.

Dortmund has overseen a massive of influx of wingers over the last couple of years. Marco Reus, Andre Schurrle, Dembele, Christian Pulisic, Emre Mor to mention but a few. Andriy Yarmolenko becomes the latest addition to that elite club. Signed from Dynamo Kiev for €25 million, the 27-year-old has been on Dortmund's wish-list for some time now. And thankfully, they got their man at the third time of asking.

For Yarmolenko, the move is a massive step up, having been tucked away, wandering aimlessly in eastern Europe. He joined the 15-time Ukrainian champions aged 13 and progressed superbly through the ranks without much hype. He became a fan favourite following a string of impressive displays for the team. Such that he earned the nickname "new Sheva," owing to his comparable playing style with Ukrainian legend, Andriy Shevchenko.
Though Andriy Yarmolenko was yet to reach the heights of the legendary "Sheva," he brought Dynamo Kyiv back into the European picture. Thanks to his 14 goals and 14 assists, Kyiv unseated five-time reigning champions Shakhtar Donetsk in 2015. He was also influential as they reached the quarter-finals of the Europa League.

The following season, Yarmolenko continued his remarkable exploits. He helped Kyiv qualify for the knockout stage of the Champions League for the first time in 17 years ago. Overall, the 27-year-old notched 137 strikes in 339 games for Kyiv. Impressive as his goalscoring may seem, Yarmolenko wasn't the most disciplined player around. He has amassed a staggering 56 yellow cards and five red cards in those games, quite a high total for a forward.


So what does Andriy Yarmolenko have to offer?


Predominantly a right-winger, Yarmolenko has often been compared with Bayern Munich's Arjen Robben and it's clear to see just why. His ability to cut inside onto his favoured left foot almost effortlessly is a joy to watch, while his finishing abilities is simply phenomenal.

The Ukrainian is a perfect fit for Peter Bosz' 4-3-3 system that saw him guide Ajax Amsterdam all the way to the Europa League final, where they were ultimately defeated by Manchester United. In the first two Bundesliga games he has overseen, Dortmund has amassed six points and scored five goals without reply.


Dembele's replacement?


Borussia Dortmund was not going to find a like-for-like substitute for Dembele three days before the transfer deadline. However, having lost their promising starlet, they did want an experienced player, according to reports and in Yarmolenko they've gotten one.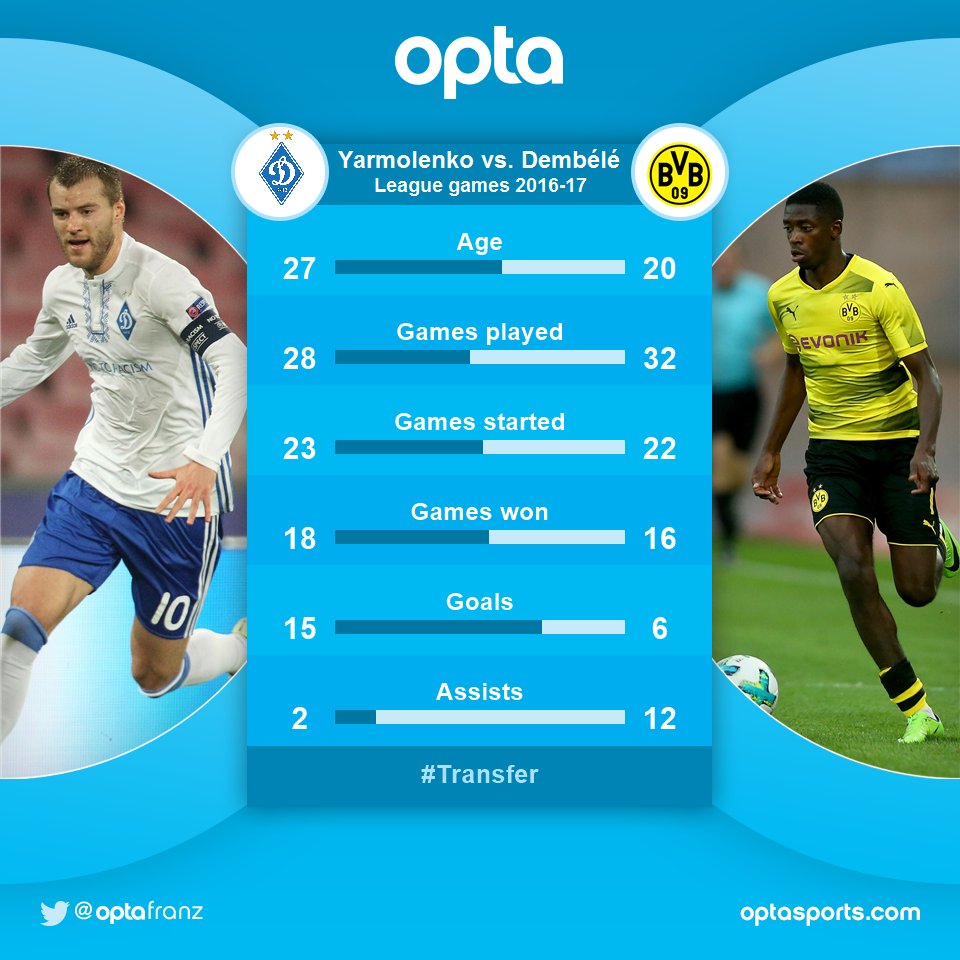 While he might not be as quick and flashy as Dembele, Yarmolenko is smart and aggressive with great football awareness. His lofty presence on the ball is similar to his soon-to-be counterpart Marco Reus.
Like Dembele, Yarmolenko possesses a strong dribbling ability and a keen sense of distribution. Again, not as flashy, though just as accurate. He can find seams in the defence just like Dembele. But better than the young French protege, Yarmolenko is rarely dispossessed.
Dembele's quality may be missed, but for a Dortmund team playing in three competitions, the signing of Andriy Yarmolenko will help the club cover their bases.