Paul Pogba: Another End in Sight at Old Trafford
He left for free in 2012. Manchester United had to part with £89 million, then a world record fee, to bring him back in 2016. Now, it's beginning to look like a vicious cycle. With a breakdown between player and manager reported, rumours are Paul Pogba may leave Old Trafford again this summer.
Pogba returned to Old Trafford after four successful seasons with Juventus. He was the crowning jewel in Jose Mourinho's first summer window with Manchester United, joining Henrikh Mkhitaryan, Zlatan Ibrahimovic, and Eric Bailly. Mkhi and Zlatan are gone. Only Bailly remains in the boss' good books, but injury has seriously limited his playing time this season.
Pogba endured injury, then a suspension, but his continued absence in the new year has been down to the manager's choice. Opinion is divided regarding the 25-year-old's performance. Is his play commensurate with his ridiculous fee? Is the manager to blame for playing him out of position?

Pogba excels as a talented central midfielder. Attacking from the left side exploits his talents most effectively. He has the tools: speed, finesse, dribbling, creativity, vision, but his form is far below expectations.

Last season, Mourinho was ever ready to defend Pogba against critics who compared his output to his price tag. This campaign, a blistering start that brought three goals, nine assists, and favourable comparisons to Keven de Bruyne from admittedly biased sources, has apparently raised the manager's expectations. Apparently, Mourinho believed his new toy could play any game, any style, he mandated, rather than just the role in which he had thrived with Juventus. A leopard isn't a lion, however.

In Turin, Pogba played an advanced role while Andrea Pirlo hung back. The combination kept opponents off balance. Mourinho paid through the nose for the talent on show, then demanded something else.
Pogba must develop the weaker aspects of his game, it's true. Tottenham exposed his defensive frailties, leading Mourinho to haul him off with 30 minutes remaining. Again, however, it's unrealistic to expect a Ferrari to become an SUV overnight.
The battle of wills over Pogba's role continues. He has been dropped from a number of games, including the 2-1 win over Liverpool. His last Premier League goal was against Newcastle in November. Until he played so brilliantly for France during the international break, the boss had preferred young Scott McTominay.
Before his goal and assist for Les Bleus, manager Didier Deschamps claimed Pogba "cannot be happy" at Old Trafford. Afterwards, critics began to wonder whether the player was, in fact, the problem.

Pogba denies there is an issue with Mourinho. His manager, Mino Raiola, has said he will not leave Manchester again "without a Premier League title."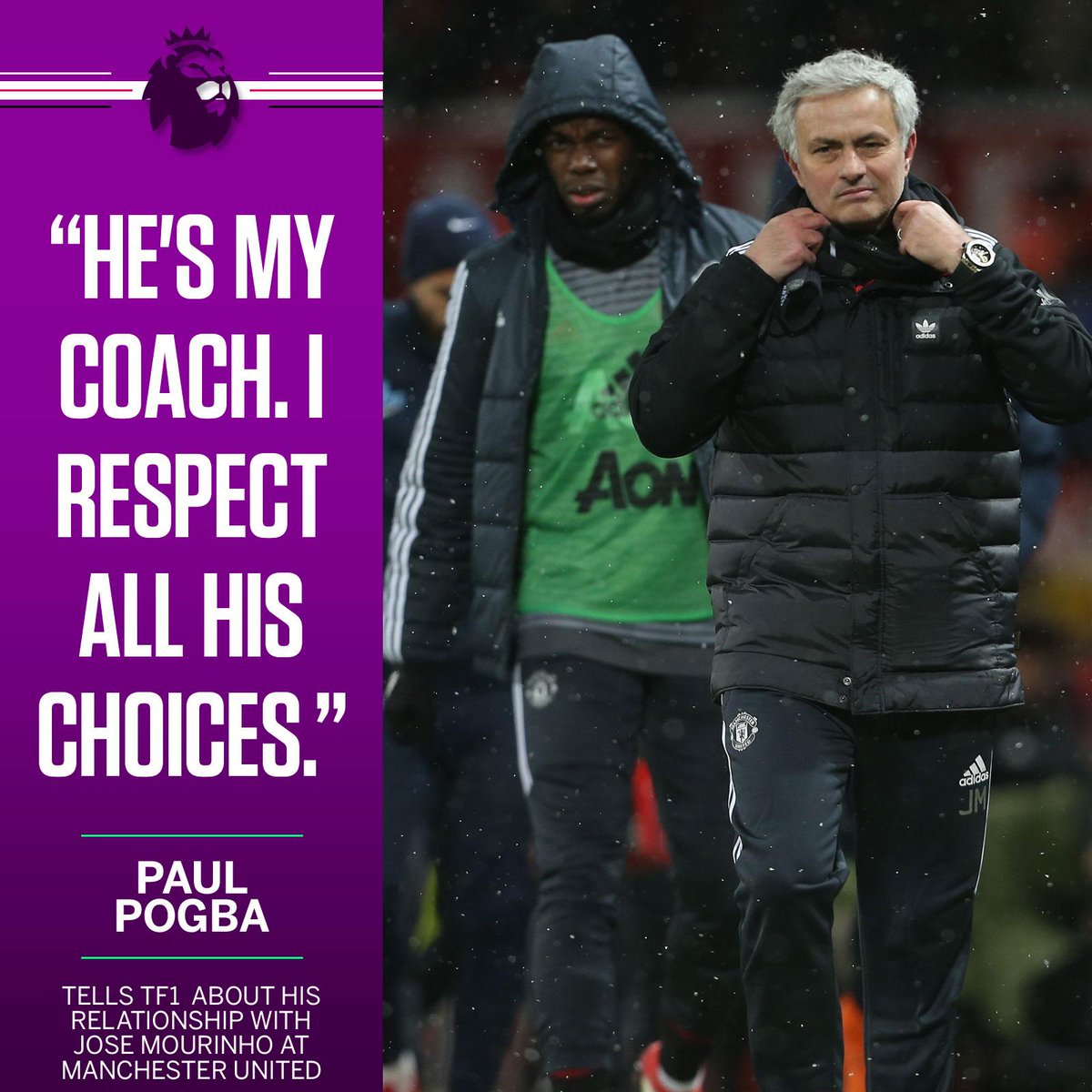 It's difficult to believe Pogba would be content to watch his teammates deliver him a title. He expects to play. Whether the manager uses or sits him in the season's crucial match, the weekend's Manchester Derby, in which United seek to deny City the Premier League title for at least one week, could be a telltale sign.
Following Liverpool's dominant 3-0 Champions League win over the Sky Blues, City's Achilles heel is obviously a strong pressing side. That is seldom Mourinho's approach in such games. Will he show faith in his marquee player by turning him loose? Or will they say their goodbyes in the player's box?