Is Posh's MET the best attacking trio flying under the radar?
Marcus Maddison, Mo Eisa and Ivan Toney are lighting it up in League One.
Background image: Richard Humphreys, CC by 2.0
Peterborough United always entertain. Barry Fry still pulls the strings behind the scenes. Fan favourite Darren Ferguson remains at the helm. The pair provided fans with many memorable moments in the last season and a half. Top scorers in English professional football, at the moment, Posh claim 39 goals in 17 League One matches. Much of their success is thanks to Mohamed Eisa, Ivan Toney and Marcus Maddison's efforts. The attacking trio are responsible for 87% of Peterborough's haul.
From a neutral perspective, Eisa, Toney and Maddison possess everything necessary to dominate League One. A powerful athlete, Eisa burns defenders with his pace. The skilful Maddison displays an eye for the spectacular. Toney's your classic fox in the box; one chance is all he needs to turn a game on its head. Long-range screamers, scrappy tap-ins, deft volleys, clinical finishes and acrobatic efforts, MET deliver it all. All three enjoyed purple patches during their careers. Together, they form a formidable front three who strike fear into every defence in League One, and, if we're being honest, those in the Championship anticipating their arrival.
Both Eisa and Toney struggled to make an impact at higher levels. Newcastle unloaded Toney following three years of unsuccessful loan deals. Eisa disappointed at Bristol City last season. To be fair to the players, Toney only received two chances to shine in Newcastle's first team, Eisa only five for Bristol, all coming off the bench.
Bristol City is a graveyard for prolific League One strikers. The latest casualty, Matty Taylor commuted from Bristol Rovers in 2017 but failed to maintain the consistency that put him on the scoresheet every other game while at Memorial Stadium.
Maddison still waits for a crack at the Championship or Premier League. Frequently linked with moves to higher echelon clubs, a spanner always seems to be thrown into the works, be it injuries, loss of form or Peterborough's unreasonable valuation of the player.
With the campaign's halfway marker still some distance away, all three forwards boast double figures in goals. Eisa and Toney are slightly ahead of Maddison's ten with a dozen apiece. On the other hand, the 26-year-old chips in with six assists, equalling the other two combined.
Peterborough throws caution to the wind when stepping between the white lines. They've shipped 23 goals so far. Rochdale stand as the lone side outside the bottom seven to exceed that amount. Nevertheless, Posh seem a shoo-in for the play-offs if not automatic promotion as long as their wily No.10 continues threading passes into his sharpshooters and finding the target nearly as frequently himself.
Of course, this all relies on Peterborough keeping Eisa, Tony and Maddison in the January transfer window. Peterborough United are not a minnow in League One and Barry Fry will demand a king's ransom for any of his crown jewels but Maddison's contract is running down. Clubs further up the pyramid circle like vultures.
Consistency has always been the Durham lad's problem but other than a poor penalty against Shrewsbury, there can be no complaints. Playmakers are highly prized in the English game. Maddison is just now entering his peak years. If one of the three were pried loose from London Road, you'd think it would be him. That said, January is a notoriously difficult time to sign players. Even if Maddison doesn't agree to a new contract, Peterborough would be challenging common sense to sanction his sale mid-season.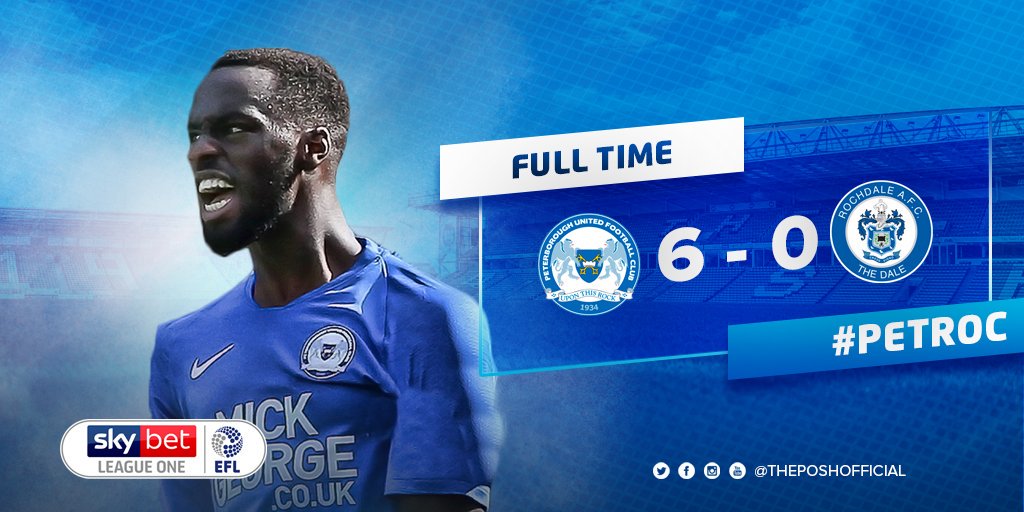 What a performance!
A clinical display as The Posh run out 6-0 winners this afternoon vs. Rochdale.
Ivan Toney with a hat-trick, Marcus Maddison with a brace and Mo Eisa with the other.
#PETROC #
PUFC
https://t.co/qJ5ovdouZQ
Optimism is rife in Cambridgeshire. Will Posh at last awake from their slumber and ascend back to the Championship? Promotion promises new opportunities for Mo Eisa and Ivan Toney to prove previous clubs wrong and for Maddison to make others rue their hesitancy. Any of the three could transform into the next Jamie Vardy, whose career blossomed late at Leicester City after languishing at Fleetwood Town.
Ferguson's attack force is critical to the promotion push and, if successful, Championship survival. Yet, considering clubs with deeper pockets are ready to swoop for any and all three, failure is not an option.