Peterborough United League One play-off final starting line-up: Where are they now?
Peterborough United have been a team of ups and down historically. They've enjoyed promotion success from League One twice in the past decade, followed by two relegations, back to the league. Posh defeated Huddersfield Town, now a team competing in the top flight, 3-0 in a play-off final played at Old Trafford back in 2011. I take a look at the Cambridgeshire side's starting line-up, and where they are today.
Goalkeeper: Paul Jones
Paul Jones played most games for Posh in the 2010-2011 season during a period where the manager, Darren Ferguson, wasn't too sure on his number one. His accurate goal kicks and shot-stopping were two attributes that the 'keeper possessed. Jones has gone on to make quite a successful career following his 36 appearances for the club. The goalkeeper made almost 100 appearances for Crawley Town, which led to a move to Portsmouth. He now finds himself at Norwich City, yet to make an appearance.
Right-back: Mark Little
The pacey full-back was always full of energy along the sidelines, proving to be devastating in the final third too. Little moved to Posh from Wolverhampton Wanderers and filled a vacant right-sided defending spot. He soon became a fan favourite having spent four seasons at the club, making over 150 appearances for the London Road side. Little enjoyed playing in a very attacking team which saw him playing just as much in the final third as in his own half. He had been a regular for Bristol City last season before his contract expired, he remains in the Championship with Bolton Wanderers.
Centre-back: Gabriel Zakuani
A name that every Peterborough United fan should remember is Gabriel Zakuani. The 6ft 1" defender was a master in the air, bullying forwards with energy to defend. What he lacked in calmness on the ball, Zakuani made up in leadership and commitment qualities. Having also made over 150 appearances for the club, Zakuani tried his trade in Greece, for Kalloni, a side in the Greek top flight. After another brief spell at The Posh, the Congo defender now plays for Gillingham.
Centre-back: Ryan Bennett
Bennett was one of the stars in the play-off final. All season, game after game, Bennett had put in impressive appearances having formed an inseparable partnership with Zakuani. Fans always knew that he had talent, which was also seen by many scouts during the 2010-2011 season, leading up to the play-off final. Bennett helped Zakuani to a clean sheet during the final, against high-scoring Huddersfield Town. The defender moved on to Norwich City, where he was a Premier League regular for the Canaries for a while. He has now moved on to Wolverhampton Wanderers.
Left-back: Grant Basey
The name Grant Basey will only ring bells for the 'die-hard' Posh fans. His short-lived career at London Road wasn't too impressive, nevertheless, he found himself starting in front of a 45,000 strong crowd at Old Trafford for Peterborough United. Basey moved onto Wycombe Wanderers after his Posh career. The now 28-year-old is in his third season with Cray Wanderers, a semi-professional side playing in the Isthmian League South Division.
Centre-midfield: James Wesolowski
Wesolowski is also a distant name for all Posh fans. The nimble midfielder didn't have too much of an impact at London Road but did do the simple things well. While he was no Andres Iniesta, the Australian was able to push the team towards playoff success, keeping the midfield ticking towards a 3-0 win. The 5ft 7" midfielder went moved on in a move to Oldham Athletic which saw him play nearly 100 times for the Latics.
Centre-midfield: Grant McCann
McCann spent five seasons playing at Peterborough United. Arguably one of their best signings in the past decade, he was just what Peterborough needed. He was able to have so much time on the ball, whipping it left and right, creating a spark for the team to score so many goals. He captained the side at Old Trafford in the final, and even chipped in with a goal and an assist from his two free kicks, late on in the game. He is now on the sidelines, as manager, under the chairman, Darragh MacAnthony which saw him earn 'manager of the month', last month.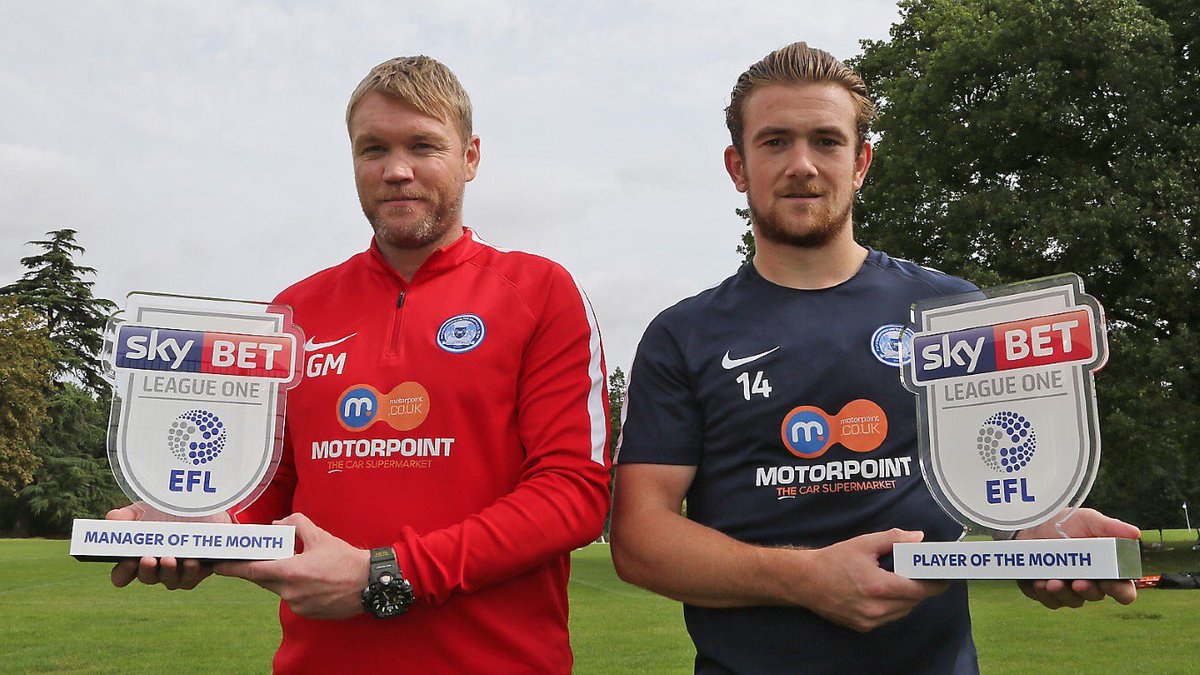 Left-midfield: Tommy Rowe
Predominantly a left-back, Rowe is also a Posh legend. His ability was clear to see with his professionalism on the ball and a hunger to win. Playing in midfield against Huddersfield really helped to solidify the midfield, an area that Huddersfield was hoping to dominate. Rowe soon moved on to bigger and better things in the shape of Wolverhampton Wanderers, which didn't work out as well as he hoped. Today the talented left-footed player plays under Darren Ferguson once again, this time at Doncaster Rovers.
Right-midfield: George Boyd
Arguably, the name that all Posh fans will remember. Boyd became so popular with the club that the fans had their own song for the magician. The right-sided and left-sided winger was able to trick defenders inside and out before either scoring screamers or putting the ball on a plate for strikers. A footballers dream to play with, Boyd eventually moved onto Hull City after an unsuccessful loan spell at Nottingham Forest. The former Peterborough man played over 100 times for Burnley, with most of his appearances coming in the Barclays Premier League. Today Boyd plays his trade for top Championship side, Sheffield Wednesday.
Striker: Lee Tomlin
Another familiar name, Tomlin's ability was incredible. With the ball at his feet, it was as if he was able to do anything, despite this, Posh fans will remember that his attitude did hinder his overall game. Nevertheless, Tomlin was massively influential to Posh's promotion campaign, being a part of a devastating attack. Tomlin also moved on to bigger things, playing for Bournemouth in the Premier League at one stage. Today Tomlin is part of the high-flying Cardiff City.
Striker: Craig Mackail-Smith
To top the list is Craig Mackail-Smith. Mackail-Smith was named League One's top goalscorer, Player of the Season as well as featuring in the League One 'Team of the Season' for the 2010-2011 season. He topped off his impressive career and season in the play-off final, chipping in with the second goal. Frustratingly Mackail-Smith finished on 99 goals for Peterborough United, which he later came back on loan to try and amend, to no avail. The frontman moved to Brighton in a big-money deal, where injury stopped him from reaching his potential. Mackail-Smith now leads the line for Wycombe Wanderers, aged 33.