Players or Joachim Low: Who is at fault for Germany's problems?
Low is under immense pressure with Die Mannschaft
This photograph was taken by Steindy and released with the permission to copy, distribute and modify this document under the terms of the GNU Free Documentation License Version 1.2
Things have gone backwards for the German national team. It hasn't been this bad since 1985. That was the last time Die Mannschaft went three competitive games without winning. They've now lost six of previous 11 matches. In their UEFA Nations League group, Joachim Low's men look very much the whipping boys.
The signs were ominous at the World Cup. After suffering defeat to Mexico, Germany's worst nightmare became reality. They were dumped from a group containing Sweden and South Korea. It was a classic shock. Perhaps the Champions' curse? France (2002) and Italy (2010) both experienced a similar fate.
Just prior to Russia 2018, the cracks were clearly visible in Die Mannschaft. Consecutive defeats to Brazil and Austria followed an unconvincing 2-1 win over Saudi Arabia. It's been downhill ever since. The Nations League provided the Germans with an opportunity to quickly re-stake their claim as world beaters. Instead, they've been left sore and bloodied. After three games played, Low's side prop up Group A1 with a solitary point. Two recent losses to the Netherlands and France signal a crisis.
The pressing question is, what's happening to Germany? The team's World Cup-winning core from four years ago remains intact, bar Mesut Ozil and a few other retirees. There hasn't been a managerial change either. Have the Germans been found out?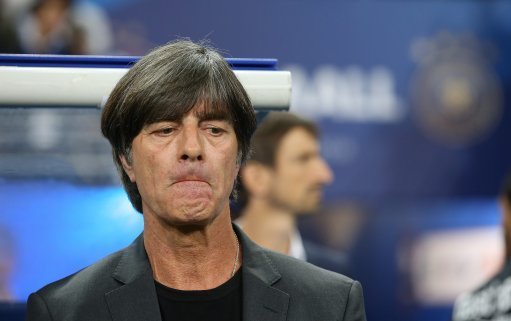 6⃣
Germany have lost 6 games in a calendar year for the first time ever.
Is this the end of the Joachim Low era?
https://t.co/Ee5JZGLlI1
In cases like this, no one takes more stick than the manager. Joachim Low has received plenty. Before now, though, the former World Coach of the Year was deemed a tactical genius who could do no wrong. His performance solicited offers in club football. That forced the DFB to move quickly, offering him a four-year contract extension in March. Low is now Europe's longest-serving national team gaffer, with 12 years under his belt. During that time, he's led Germany to gold in two major tournaments.
The Germans are renowned for superb teamwork and ability to overwhelm opponents with tactical nous. Low's reign has chiselled those qualities. The next challenge presents his biggest to date. Taking a proactive step, he's tried alternating between varying formations and players. The 58-year-old has deployed an attacking 4-3-3 system, as well as experimented with 4-1-4-1. More recently against France, he tinkered with a 3-4-3, which favours wing play and offence. But problems still linger.
With little respite, Low has poured his soul into resuscitating Die Mannschaft. Isn't it time some other culprit is investigated? How effective have the German players been since winning the Confederations Cup 15 months ago? They've lost their sting, obviously.
With Manuel Neuer leading from the rearguard, Germany was heralded as having a watertight defence. Scratch that in 2018. September's 0-0 draw against France is the only clean sheet they have recorded this year.
Formerly free-scoring, the Germans haven't netted more than twice in any game in 2018. They've registered only once in three Nations League contests. No longer able to rely on Miroslav Klose, Timo Werner's profligacy is a worry. The Leipzig striker has just one goal in his last 11 international appearances. Die Mannschaft's deficiency falls on the attackers.
Somewhat unusually, Germany's players are evidently low on confidence. It's time they pick themselves up. Low is doing everything possible to get things working again, but it will all prove futile if his present crop doesn't put immense talent to use.