Sacking Pochettino only makes things worse for Tottenham
Mauricio Pochettino deserves a chance to turn things around.
Canadian rockers The Tragically Hip recorded a song called Boots and Hearts, noting that the two items had something in common.
When it starts to fall apart,
Man, it really falls apart.
Mauricio Pochettino should have the tune on his playlist. Things are really falling apart in North London. Coming off a Champions League final in June, no one anticipated this level of dysfunctionality. Who could?
The Lilywhite faithful had every right to look towards the new season with optimism after last season's unexpected success and some equally unexpected signings in the summer transfer window. There are no more debates about half-empty or half-full two months into the new campaign, however. Spurs glass is completely empty.
It's really tough to point to where it all started. Some might argue that not signing an established right-back after Kieran Trippier's departure to Atletico Madrid unsettled the side defensively. Mauricio Pochettino hasn't found an able candidate for the role after trying four players. But can you say that one absentee affects the whole squad when Trippier was often labelled the weakest link in Tottenham's lineup in 2018/19?
The Argentine can and has been criticised for playing a weak side against Colchester United in the EFL Cup. In August, he said his goal was to win any one of the trophies on offer this term. At the first opportunity, he went back on his word.
Consequently, the #PochOut movement gathers pace with each passing game. An insipid loss to Brighton followed the 7-2 home drubbing from Bayern Munich. More fuel for the fire.
Blaming Pochettino for Spurs' current struggles is fair from a tactical perspective. Choosing a 4-4-2 diamond surprised many. So has his recent substitution pattern. Managers can experience dips in form too and must fight through them.
No trophies in 5 years, Vertonghen, Alderweireld and Eriksen not signing new contracts. Relegation form. Losses to Colchester, Newcastle, Leicester, 3-0 to Brighton and 7-2 to Bayern.

The players clearly just aren't playing for him anymore.

Get well soon, Hugo.

#PochOut
But the issues in North London are far bigger than Pochettino's flawed tactics. You can't overlook the individual performance of several players throughout the lineup.
Hugo Lloris' blunders against Southampton and Brighton shocked but his confidence might be jarred by the sudden ineptitude of the defensive partnership meant to shield him. Of late, you wouldn't think Toby Alderweireld and Jan Vertonghen are from the same planet, much less the same country. Serge Aurier's rashness conveys that he cannot be trusted at right-back even though he's the only established option. Christian Eriksen's consistency is melting away like a Mars bar under a blow torch.
It shouldn't be forgotten that most of these players have commitment issues with the club. Club chairman Daniel Levy's hardline fiscal management is coming back to bite him. Anonymous sources echo the same sentiment from several player camps. They're done being underpaid after faithfully giving their all for years. Apparently, they all envy Trippier.
Given the list of dissidents includes Alderweireld, Vertonghen, Eriksen and Danny Rose, all squad leaders, it shouldn't be surprising that their apathy has infected the rest of the squad.
Then there is the issue of integrating new signings. Three of the four new players were added to the roster while teenaged left-wing Jack Clarke was loaned back to Leeds United for another year's seasoning. Ryan Sessegnon and Giovani Lo Celso have been hampered by injuries. Only Tanguy Ndombele has consistently featured. As he did last season, Pochettino operates with a largely unchanged squad despite the off-season investment.
Sir Alex Ferguson used to speak about freshening up a squad every three or four years to avoid stagnation. Spurs haven't done that. Pochettino is in his sixth year with Tottenham and the majority of his squad have been with him since the first or second season.
It's evident that the roster needs turning over. Nor is it a matter of one transfer window. But before that, the current crop of players must put aside their differences with the board and play for the manager. Most owe their careers to him.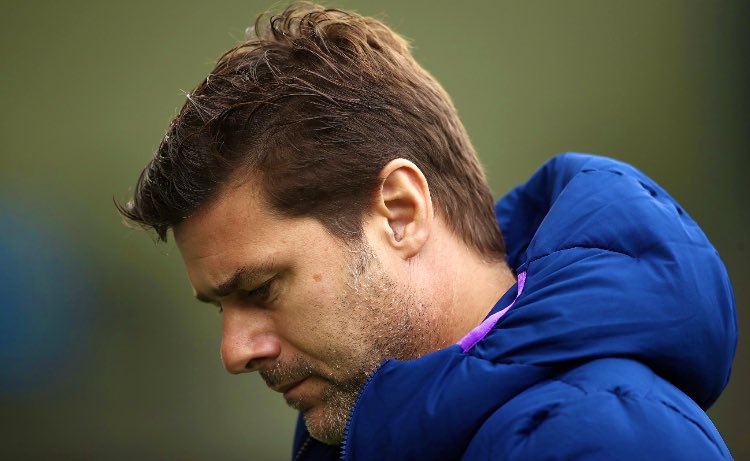 Tottenham Hotspur boss Mauricio Pochettino:
"I hope that all the pressure is coming to me, and let the players be free to recover".
Despite the fact of the players not even fighting for him, he still protects them.
Some of them do not deserve him as their manager.
#THFC #
COYS
https://t.co/P1A8n14xZv
The #PochOut crowd owe him as well. They should remember Tottenham's state before his arrival and how he changed the landscape. When he arrived at the White Hart Lane in 2014, finishing in the top four was a major achievement. Five seasons later it's the minimum acceptable. While their ingratitude is classless, their anger is a byproduct of Pochettino's achievements. Even without a major trophy, the last few years have been remarkable.
Sacking Pochettino for the problems that lie beyond his scope is foolish. The consequences will be dire as well. This group of fans want to blow up the Taj Mahal over a few cracked windows.
Pochettino always had the utmost commitment from his players. They played with vigour and desire, outclassing weaker opposition, outworking stronger. It's not the same anymore but that is down to those above the manager's paygrade.
Having already complained about his squad's individual agendas, he's demanding a response. If Pochettino is to be remembered for one thing during his time with Spurs, it should be for coaxing the best out of his players. He needs time, either to reach them again or replace them with new faces eager to improve. Unless a new manager gives Spurs stars pay raises out of his own pocket, he isn't going to earn the Argentine's level of respect or loyalty.