Is Solskjaer trying to be Sir Alex to Pogba's Ronaldo?
If you asked Dame Shirley Bassey about Paul Pogba's allegedly desired move to Real Madrid, the legendary diva might say it was a "bit of history repeating".
At first, you might think that's because the French midfielder forced his way out of Old Trafford once before, effecting a move to Juventus in the summer of 2012 when Sir Alex Ferguson refused to give him playing time in the senior squad. That's hitting the wrong note, however.
You must go further back. Pogba's current efforts and those of Cristiano Ronaldo which culminated in the Portuguese's record sale to Los Blancos in 2009 strike you in their similarity although the two players arrived at the same crossroads from different directions.
As Gandalf told Saruman in The Two Towers, "the guest who escapes by the roof will think twice before he comes back in by the door." Monsieur Labile apparently isn't a Tolkien fan, however. He returned to Old Trafford only to find everything and nothing had changed.
Whereas fans grew to love Ronaldo, their suspicions regarding Pogba only deepened. The #GlazersOut crowd treat him like he married into the United ownership's family [don't bother googling it; he didn't]. It is worth remembering, though, that Ronaldo's first three seasons as a Red Devil were equally agonising and far less productive.
Pogba's detractors will argue Ronaldo was far younger and therefore less mature. Fair point but Pogba deserves credit for returning to England in an attempt to settle unfinished business. The opportunity existed to go to Spain in 2016 but Pogba evidently felt he had a point to prove to Sir Alex Ferguson, even in retirement.
Again, the naysayers will rant on about his inconsistency and disappearing act in big matches but he was directly involved in more goals during the 2018/19 campaign than any midfielder in Europe's elite divisions, let alone the Premier League. They don't want to hear he was named to the PFA Team of the Year either.
Now, the narrative is that he no longer wants to hear them.
Despite all the turning a deaf ear going around, one thing everyone thinks they heard was Pogba's agent, Mino Raiola confirming over the weekend that the key people in the United hierarchy were informed his client wishes to leave the club this summer.
Regardless, Ole Gunnar Solskjaer booked his no.6 on the team's pre-season tour of Australia, China and Singapore [the tour wraps up in Wales but that's a bit like stopping off at McDonald's on the way home from the airport].
Meanwhile, on the home front, the club issued a statement claiming no offers were as yet received for the 'want-away' star. Pogba is under contract through 2021. The club has an option to extend him another year. Rumours allege United will accept no less than £150 million for their primary playmaker. That represents a 50% profit on the fee paid to Juventus in 2016 after protracted negotiations. United are bargaining from strength, a position rarely associated with chief executive Ed Woodward but one he apparently learned well from the Bianconeri.
A marketing genius with dubious talents on the football side, Ed might have listened to Sir Alex Ferguson again with regards to Pogba. It's already taken as gospel that the legendary boss had a hand in selecting Solskjaer as Jose Mourinho's successor in December.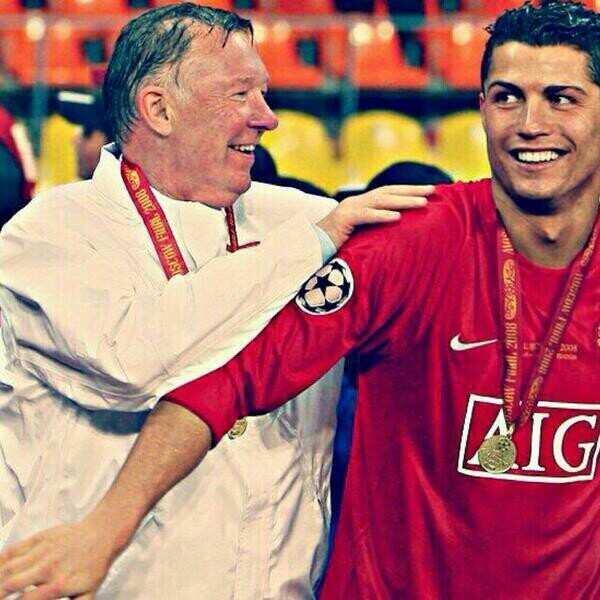 "I'd rather shoot you than sell you to Real Madrid right now."- Sir Alex Ferguson to Cristiano Ronaldo in 2008. #
MUFC
http://t.co/w2CvBr3haj
Fergie had extensive experience in dealing from a position of strength and used it to keep Ronaldo at the club for two years longer than anyone anticipated. The Merengues brought all their influence to bear in a relentless attempt to pry the five-time Ballon d'Or winner away from the Red Devils.
They offered money. They used their connections in the Spanish media. Club president Florentino Perez tapped him up in the press. La Marca may have written more words in those 24 months on how the flashy winger's arrival was imminent, that he desperately wanted to make the switch, that the club and manager couldn't prevent it.
Yet, somehow Fergie convinced him to stay another year and then another with the promise he could leave at the end of the 2008/09 campaign with no ill feelings if he just gave it all he had for one more season. When he finally left, United collected £84.6 million from the Castilians for his signature.
The same scenario might be unfolding now.
It sounded an awful lot like Pogba's agent, Mino Raiola stated his client wishes to leave.
Everyone within the club from the manager to the owner knows Paul's wishes. Everyone knows the willingness of Paul to move on. We are in the process of that. Everyone knows what the feelings of Paul are.
Zinedine Zidane professes his admiration for the player whenever asked. La Marca and most of the British media discuss the fee that will be paid.
For United's Norwegian manager, it all goes in one ear and out the other. Before he had even an inkling he'd soon become United's caretaker boss, OGS told reporters he wouldn't sell the star despite Mourinho's antipathy toward him. Rather, he'd build a squad around the World Cup hero. It appears his intent hasn't wavered.
At his press conference in Australia, Solskjaer vigourously defended Pogba, calling him a "top lad" and a "professional". He also suggested the media's "agenda" involved stoking the fire for a transfer and that Manchester United "doesn't need to sell anyone". The Twitterverse is tripping over itself to take that last remark out of context in every possible way.
For his part, the player was fully immersed in the training session.
ESPN FC's Gab Marcotti weighed in with the opinion that Pogba wasn't lobbying for a sale but desired clarity on his relationship with the club.
Marcotti: "What I've been told, is that Pogba is not desperately itching for a move. He wants a resolution, a way forward. Either a new contract and commitment from the club about the squad, or if there is an offer out there and it works, moving elsewhere." #
mufc
[ESPN]
Marcotti's interpretation puts Raiola's words in a different context. His entire statement suddenly hangs on the word "willingness". Did he say Pogba desires a transfer or is open to one if he and the club can't come to terms?
The well-travelled Italian journo followed up with the point that an agent doesn't only get paid when he secures a transfer for his client. He's also remunerated if an extension is arranged.
With those facts in mind, Solskjaer has reason to believe he can still rely on Pogba if he handles him correctly.
Gabriele Marcotti: "People think that agents only get paid when they move players. No, they also get paid when players extend their contracts and Paul Pogba is at that time where he needs to extend his contract, and #
mufc
will probably want to extend his contract." #
mulive
[espn]
That said, you can be sure Real Madrid will continue to seek out the soft spots in United's relationship with their superstar in order to get their contractual hooks in him. They'll persist even if a deal doesn't materialise this summer.
If Pogba remains at Old Trafford for the 2019/20 campaign but doesn't sign an extension, you can bet pounds to pastries we'll be revisiting this issue in 12 months time.