Why does the Premier League top-four battle feel like a relegation scrap?
With three games to go, a dozen Premier League clubs remain involved in four tight races, each offering different prizes for the winners.
Liverpool and Manchester City play the longest rally in tennis, exchanging the league lead with the latter attempting to hold serve until there are no games left to play.
Cardiff desperately swing at points hanging from the relegation piñata, hoping a hit or two will allow them to overtake blindfolded Brighton and maintain their top-flight status.
Wolves, Watford, Everton and Leicester cram into a claustrophobic three-point closet, all hoping to finish seventh, not to earn the backhanded title of 'best of the rest' which doesn't even deserve to be capitalised, but to enter 2019/20 Europa League qualifying assuming Javi Gracia's Hornets don't upset Pep Guardiola's City in the FA Cup final.
Finally, Tottenham, Arsenal, Chelsea and Manchester United all chase the two Champions League places City and Liverpool let fall to the floor as top-six scraps.
In a relegation battle like the Bluebirds and Seagulls wage, one result is often enough to make the difference. Chris Hughton's South Coast squad came into the weekend with a three-point advantage, meaning Neil Warnock's Welsh outfit need at least a win and a draw to stay up. At Craven Cottage, however, Ryan Babel struck for the home side. Already relegated, Fulham adopted the attitude that if they were going down, they were taking someone with them. Cardiff now need results in both remaining games against Crystal Palace and United. More improbable escapes have happened but don't hold your breath even though Brighton spurned the chance to put the matter to bed when they barely rescued a draw with Newcastle through Pascal Gross at the AmEx.
At the opposite end of the spectrum, the winner is often the one who earns points rather than dropping them. The tension between Liverpool and City is so thick because both remain perfect over an extended stretch. Neither is willing to be the first to slip.
City have won their last 11 in the league coming into the weekend. Liverpool notched their seventh on the trot, posting five unanswered goals against Huddersfield at Anfield on Friday evening. The Sky Blues can deliver a baseline volley back into the Reds' court with a 12th consecutive victory against Burnley at Turf Moor today.
You'd anticipate similar defiance from the sides competing to finish third and fourth. It isn't happening. Three rounds ago, all four won their matches and Premier League fans thought, "Game on!" Then the fatal four-way degenerated into a relegation fight. All four sides lost their next match. Midweek, only hobbled Tottenham returned to winning ways. Chelsea eked out a draw. Arsenal and Manchester United both lost again.
Those results added clarity to the race although it can all become muddled again with three matches still on the card.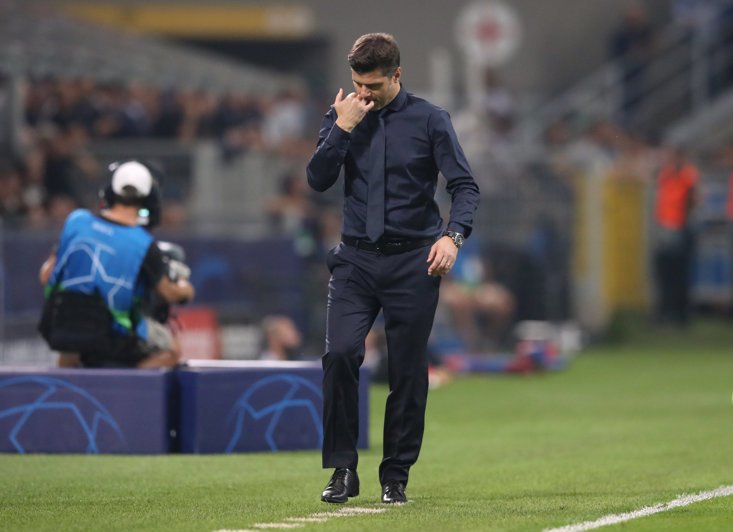 Tottenham in their last 10 Premier League games:
L – Burnley (2-1)
L – Chelsea (2-0)
D – Arsenal (1-1)
L – Southampton (2-1)
L – Liverpool (2-1)
W – Palace (2-0)
W – Huddersfield (4-0)
L – Man City (1-0)
W – Brighton (1-0)
L – West Ham (1-0)
10 points in 10 games. 6 losses.
https://t.co/qwqbCTKKaC
Tottenham
Coming into Saturday's match against West Ham, Spurs were poised to make the fight a three-way battle. On 70 points, a win over the Hammers would bring them within one result of their goal. They could finally spare some thought for what to name their shiny new ground.
West Ham had other ideas. Michail Antonio scored shortly after the hour. Son Heung-min and the rest of the Harry Kane Memorial Front Four couldn't find an answer.
Spurs remain the most likely to claim a Champions League berth. Pending today's results, they remain three points above the other three. Only Chelsea can catch them this weekend. On the other hand, if they fail to accrue any points from their remaining matches, away to Bournemouth and home to Everton, Mauricio Pochettino's Champions League semifinalists could find themselves in the Europa League next fall.
Neither match is a lock. The Cherries play far better at Dean Court. In 2019, the Toffees began feasting on top-six sides. The 4-0 victory over United was just the latest result for Marco Silva's men. Even from a relatively lofty height, Tottenham must be feeling something akin to relegation jitters.
Arsenal
Midweek, the Gunners went to Molineux and came away mauled. The defeat put a serious dent in their top-four hopes. Now fifth, they trail Chelsea by a single point. The North Londoners find themselves rooting for Manchester United in the clash between the Red Devils and Blues. That didn't work out well for Liverpool on Wednesday when City's commute to Old Trafford came off without a hitch.
Unai Emery's side travels to the King Power for a noon-hour tilt with Leicester City. The Foxes hunt for a Europa League place is gathering pace under new boss Brendan Rodgers. Arsenal must halt their hosts' momentum, however, or they'll find themselves in the same competition next season.
Next week's visit from Brighton and the season-ending trip to Turf Moor are challenges as well. The Seagulls still have something to play for and Burnley is by no means a formality in their northern fortress. These are the kind of result Arsene Wenger failed to procure in his final two campaigns. As the candidate of change, Emery must prove he can.
Manchester United v Chelsea
Today's teatime tussle between the last two English Champions League winners is a six-point affair. On 68 points in fourth, the Blues can eliminate United from the top-four chase with a victory. Four points behind, a draw does little for the Red Devils chances as well.
Ole Gunnar Solskjaer's side enter the match starving for goals. They lost their last two Premier League games by a 6-0 aggregate to Everton and Manchester City. When you factor in the 3-0 Champions League quarterfinal surrender to Barcelona at the Nou Camp, the Norwegian's squad hasn't scored in the 280 minutes since Paul Pogba scored a penalty to close out the match with West Ham. United haven't struck from open play since Scott McTominay's 13th-minute effort in the loss to Wolves, six games ago
Maurizio Sarri's team hasn't been setting the league alight either. Burnley snatched a two-goal draw at Stamford Bridge last week. A fortnight ago, Liverpool dusted them off when Eden Hazard missed two gilded opportunities when in alone on Alisson Becker. In fact, both Chelsea and United's last victory came against West Ham. Sarri's biggest problem is his win came in March. If ever there was a match between two big clubs that felt like a relegation scrap, this is it.
Maybe that's a good thing. Fans usually expect a thrilling encounter in marquee fixtures like this and are all too often disappointed by bore-draws. Maybe the low expectations this time out will set the stage for a real barnburner. Again, though, don't hold your breath.