The Premier League's top-six combined XI
Achieving a top-six Premier League finish has always been a tough task. A slight slip can cost a club its status. Consistency is required throughout the season
Another difficult task is selecting a combined XI. Particularly when the six teams possess top quality in all areas, along with high-class managers.
Our top-six combined XI is based on ability and performance this season.
Manager: Jurgen Klopp
Many would have given Pep Guardiola the nod to manage this star-studded XI. Jurgen Klopp, however, has surpassed the Catalan. The Liverpool boss is proving the best manager among the Premier League's top six.
Having gone 22 league matches unbeaten while obtaining the English top flight record for the longest winning streak, Manchester City's brilliance this season is evident. However, no manager would struggle to win games with the talent at City's disposal. Jose Mourinho, Antonio Conte, Mauricio Pochettino, Arsene Wenger and Klopp have all been forced to give up on the Premier League title due to City's extraordinary form. The Citizens, though, would have still lifted the trophy without a manager. The squad should receive the highest praise, not Guardiola.
Klopp, meanwhile, has transformed Liverpool from a somewhat mediocre side into a real threat. The German's tactical brilliance came to the fore once again three weeks ago to end Man City's aura of invincibility.
Klopp has built the Premier League's most fearsome attack. The Reds can score against any team in world football. They are also showing enough consistency to hold on to their third-place league position.
For his excellent work at Anfield, an elite European club will soon approach Klopp.
Formation: 4-3-3
Let's aim for a balanced team. Utilising the 4-3-3 allows for a stern defence, disciplined midfield and ferocious attack.
Goalkeeper: David de Gea (Manchester United)
Little justification is needed on this one. David de Gea is the best shot-stopper in the Premier League, if not the world. He has continued coming to Man United's aid this season with some mind-blowing saves. Keeping 14 clean sheets in 25 games, the most in the division, proves De Gea's credentials.
Left Back: Marcos Alonso (Chelsea)
Arguably the most complete left back in English football. Marcos Alonso is fast, decisive and extremely difficult to take on. His strength allows him to win possession; his pace helps him flash past players. Alonso is also deadly at taking set-pieces. Scoring six times for Chelsea this campaign demonstrates his prowess in front of goal.
Right Back: Antonio Valencia (Manchester United)
A blend of pace, strength and experience. Anthony Valencia's work rate, as well as defensive ability, have seen him emerge as an accomplished right back. His physique frightens all opponents, with his lightning pace proving useful while tracking back. Valencia is an important player for Man United.
Centre Back: Laurent Koscielny (Arsenal)
The Arsenal captain is the best defender in North London and among the Premier League's most highly regarded. Laurent Koscielny is a steady centre-back who reads the game well. His leadership, aerial prowess and solidity make him stand out. Koscielny is consistent and not prone to making errors.
Centre Back: Nicolas Otamendi (Manchester City)
Central defenders need strength. Nicolas Otamendi has it in abundance. At 82kg, he can handle the game's physical side, along with proving effective at making tackles, interceptions and clearances. Otamendi has also popped up with four goals this season to help City's title ambitions.
Centre Midfield: Paul Pogba (Manchester United)
A player is needed to shield the defence as well as set the tone for attack. Step forward Paul Pogba. He is a complete midfielder with exceptional strength, work rate and passing ability. The Frenchman will also tackle, retrieve the ball, dribble past opponents and create goal-scoring chances. Having made nine assists for the Red Devils this season, his passing range is phenomenal. Pogba's presence would improve every team.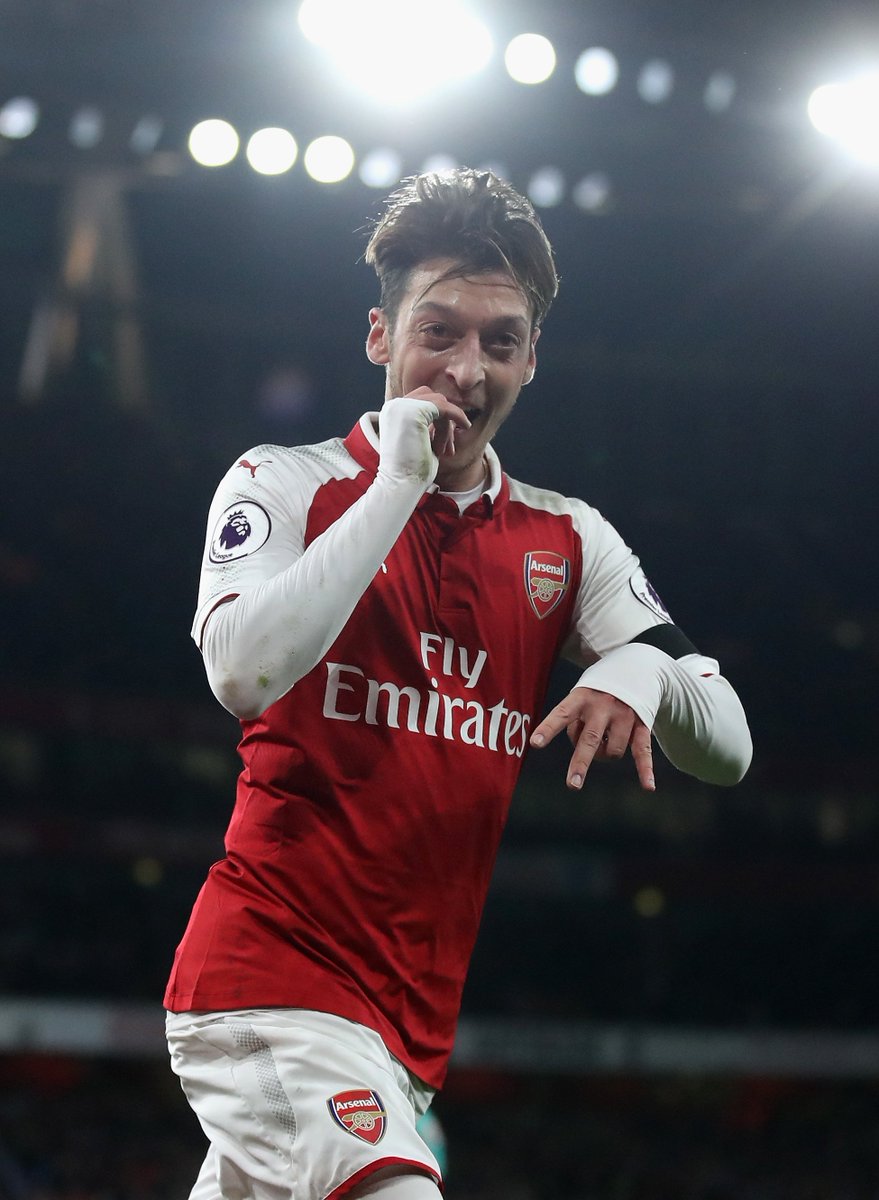 1006 - Since he made his league debut in August 2006, Mesut Ozil (1006) is the only player to have created over 1000 goalscoring chances within the big 5 European leagues. Class.
https://t.co/epqlZHgO3Y
Right Midfield: Mesut Ozil (Arsenal)
The 'German Zidane' is back to his mercurial best lately. Mesut Ozil's vision, dribbling skill, crossing and prowess in front of goal can match the world's best. Although poor at tackling, gaining possession and tracking back, Pogba can cover for the Arsenal playmaker. The duo's collaboration would prove a delight to watch.
Left Midfielder: Kevin De Bruyne (Manchester City)
The Premier League's current best player can't miss out. Kevin De Bruyne's exceptional ability is clear to all. He can scatter defences with a single touch of the ball. The Belgian international has been involved in 18 goals for the Citizens this season and is undoubtedly the main man behind his team's ongoing success
Right Forward: Mohamed Salah (Liverpool)
The reigning African Player of the Year. Mohamed Salah instantly stormed English football with his lightning pace and spine-tingling dribbles. He's a real handful for any defender. Having found the net 19 times so far for Liverpool, Salah is the Premier League's second top scorer.
Left Forward: Alexis Sanchez (Manchester United)
Arsenal need sympathy after losing a rare talent to Man United. Alexis Sanchez is strong on the ball, can hold possession, initiate attacks and provide individual brilliance. His dribbling is a constant threat to teams; he's a nightmare for any opponent. Although Anthony Martial, Marcus Rashford, Son Heung-min and Sadio Mane are all good left attackers, they can't match Sanchez.
Striker: Harry Kane (Tottenham Hotspur)
The man to lead our fearsome attack has no genuine rival. Harry Kane has been at his mercurial best so far having plundered a staggering 21 goals this season. He's now established himself as one of the world's best strikers. Choosing between Kane, Luis Suarez and Robert Lewandowski would be an extremely difficult task. For that reason, the Spurs frontman may soon join an elite European club.
If you think a player should have made the cut, drop your comments below.