Questions people aren't asking about Frank Lampard
It's not conjectured anymore. Frank Lampard landed his dream job. This is by far the biggest leap in his managerial career. Okay, so it's the only leap. The fact remains there is more than a significant gap between the 26th-ranked club in the English pyramid and the third who happen to be reigning Europa League champions. I'm excited. Lamps is excited. You should be excited.
Or worried. If his name wasn't Lampard, fans and pundits alike would wonder if Chelsea had gone off their meds. Super Frank's 'managerial career' comprises one season in the Championship. A successful one by and large but just the one. End of. Who shoves that amount of responsibility onto someone whose horns are that green?
On the other hand, Pep Guardiola's initial success at Barcelona and Zinedine Zidane's at Real Madrid prove that madness should sometimes be allowed in football.
Of course, no one gave Pep or Zizou any chance when they stepped into their roles with no senior team experience. Nor is anyone about to out-deride Premier League fans. The pessimists already put money down that Lampard will be out of a job before the 2019/20 campaign ends or just after.
Experience is the main point raised in opposition to Lampard's appointment at such an early juncture. His emphasis on youth is seen as both a positive and a negative with the Blues electing to serve rather than appeal their two-window transfer ban. But the debate seems to end before other issues are raised. What are they? Let's take a look at four.
Did he really sleep with his sister-in-law?
Oh, wait, that was Ryan Giggs. Ignore this one. It doesn't count.
Puppet manager
Lampard scored 211 goals and played 649 times in a Chelsea shirt. He won the Premier League three times. In fact, no domestic title escaped his grasp. The iconic #8 also plundered the Champions and Europa League. Clearly, Chelsea handed Lampard the big job in large part to appease the fans.
The question is whether Lampard can wield any influence with the board. Failure to do so could potentially cripple his career as Blues boss. Arguably, it ended Antonio Conte's. Typically, when a manager tries to make demands of Marina Granovskaia, Bruce Buck, Eugene Tanenbaum and Guy Laurence, the response is a 'Thank you' card delivered in a burlap sack.
Winning doesn't change that. Maurizio Sarri complained bitterly of the lack of communication between himself and the Chelsea chiefs. More than 90% of 'his' signings were completed before he arrived at the Bridge. After winning the Europa League, there was no indication anything changed and Sarri returned to Italy to the welcoming arms of the Old Lady, aka Juventus.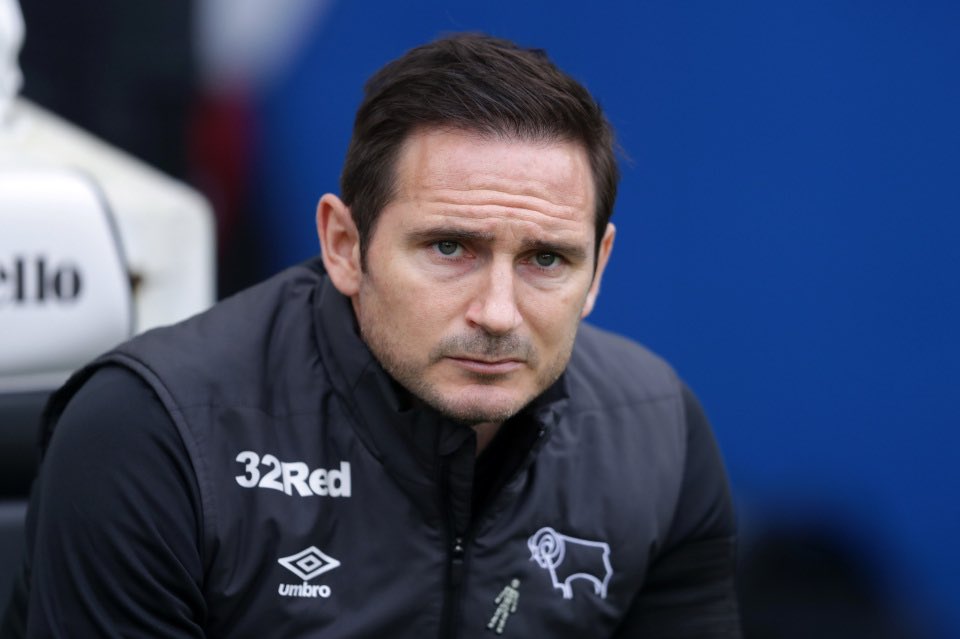 ✍️ Maurizio Sarri has officially been announced as the new Juventus manager
Chelsea have identified Frank Lampard and Kepa Arrizabalaga as the front runners to replace him
https://t.co/lhxA19zpIk
Lampard is coming to work for a billionaire who signed him as a promising youth talent nearly 20 years ago. Any friendship he had with Roman Abramovich is immaterial, however. When Her Majesty declined to renew the Oligarch's visa, he took Israeli citizenship and halted all progress on the new Stamford Bridge. He didn't attend another Chelsea match until the Europa League final in Baku.
Until the transfer ban is lifted, Lampard's influence on transfers will remain unknown. Clues will be gleaned from the club's loan policy this summer. Will he have a say in which young [and older] players are recalled? Or will he be handed players in heat-sealed bags and forced to cook up a squad a la Gousto? Why doesn't the meal ever come out like the picture on the recipe card?
Old teammates?
Chelsea is expected to be younger this coming season. The likes of Mason Mount and Ethan Ampadu can expect more opportunities. On the other hand, there are some 30-something players who might have misguided expectations for their relationship with the new manager.
Will Gary Cahill anticipate a return to the lineup with his old friend in charge? Antonio Conte did as much for John Terry and they were strangers. Will David Luiz also expect to have the boss' ear. What of Willian, Pedro and Cesar Azpilicueta? Will they believe their places are safe?
Inherited problems
Lampard will also be introduced to some prime talents who arrived in the wake of his departure.
He must make a decision on Tiemoue Bakayoko's fate, for instance. The midfielder allegedly refused to go on as a substitute when his relationship with his Milan manager, Gennaro Gattuso soured. What happened in San Siro might well stay in San Siro, as far as the new Chelsea gaffer is concerned. Or it may not.
What happened in front of the world at Wembley cannot be ignored, however. Kepa Arrizabalaga's refusal to come off when summoned by Maurizio Sarri sent the Italian into a rage. He nearly decided to walk to Turin then and there, only turning around when he realised he wouldn't be able to buy any cigarettes until he reached the other side of the Chunnel.
Can Lampard establish his authority to prevent any further insurrection? He was a force in the clubhouse as a player, so you'd like to think he can. That said, part of his legacy in a Blue shirt was to establish the aura of entitlement that has only increased in his absence. Is it karma that he must put an end to that upon his return?
Can Cech help?
Just before Chelsea announced Lampard's return, another prodigal legend was unveiled. Petr Cech became the new technical director. The duo played together for many years although the keeper could never convince the midfielder to don a padded helmet to symbolise their solidarity. Nevertheless, they should get on well.
With Cech running point rather than guarding the door, Lampard may have an easier time with the board. Then again, if push comes to shove, their friendship will be tested. Don't be surprised to find the Englishman thrown under the bus first.