Radja Nainggolan and Inter: A Millennial relationship
Radja Nianggolan's move from Roma to Inter is a classic millennial relationship. Bundled in huge expectations and promises at the start, the reality of contrasting ideologies soon kicks in, leading to conflict, arguments and finally separation. NaingGolan and Inter are well down that road.
The happy welcome for the star seems more than six months past. Now, an early separation appears unavoidable.
Nainggolan crashed his car on the day he came to Inter. A tyre burst on his Ferrari. The accident was not his fault. Looking back now, it feels like an omen.
Inter paid a steep price to acquire Nainggolan. Sending Davide Santon and Nicolo Zaniolo along with €24 million in cash took the price to roughly €40 million. Whereas Zaniolo was a bright prospect, the Belgian was a proven commodity, the high-power engine Inter always wanted.
Radja's arrival christened Inter's new journey. He was the flagship in a fleet of experienced professionals laden with quality and setting sail for the Champions League. If not officially the captain, he was the pivotal player in Luciano Spalletti's quest to close the gap with Juventus.
Five months into the new campaign, expectations haven't been realised. Hampered by injuries, Nainggolan missed crucial games against Barcelona, Lazio and Juventus. He limped from matches with Milan and Tottenham before half-time. When he managed to get through 90 minutes, Nainggolan rarely impressed. The Ninja hasn't been spotted [which isn't a good thing].
Instead, Inter's collapse puts Spalletti in the spotlight. Crashing out of the Champions League with just three wins in seven tends to draw heavy scrutiny. Spalletti relies too much on Mauro Icardi for goals. His squad is vulnerable down the flanks, ponderous in midfield.
A day after an unsatisfactory draw against Chievo, Ninja made unwanted headlines. Inter suspended him for "disciplinary actions". Known for his bad boy image, Nainggolan never hid the fact he enjoys a smoke, a drink and good times, arguing these are normal behaviours that do not prevent his performing to a high standard. The punishment for arriving late to training after a night out clubbing represents a significant rift between Radja and Inter. It opens previously unimaginable scenarios.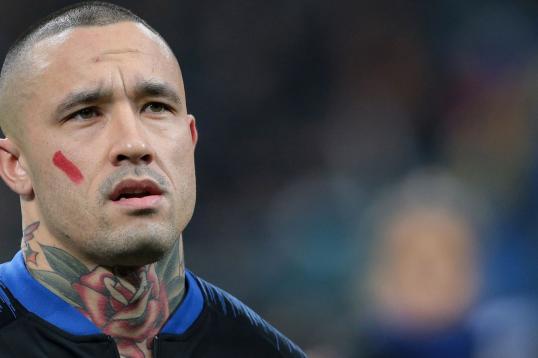 If the rift isn't repaired, fans will question the decision to sacrifice Zaniolo more loudly. The summer deal may boomerang on Inter. The club sanctioned an expensive transfer so Spalletti could reunite with his favourite player from his Roma days and, together, take Inter to greater heights. It hasn't happened. Inter bounced from the Champions League. Player and manager clashed. Nainggolan's status lies in jeopardy.
Reports are already circulating that the club is prepared to sell him if the right offer arrives in January. An "indecent" offer from China, like last year's from Guangzhou Evergrande, might find receptive ears. Selling an expensive star who isn't delivering value looks good on the books and ticks the UEFA Financial Fair Play boxes. Radja's good friend, former teammate and newly appointed club director at Roma, Francesco Totti might influence a return to the Eternal City similar to Leonardo Bonucci's reunion with Juventus following a year with AC Milan. Such a sale generates funds for a fresh arrival at the Giuseppe Meazza.
Unless Nainggolan shows more discipline, the ban may become a permanent separation. Now 30, it won't be easy to recover from a career misstep.